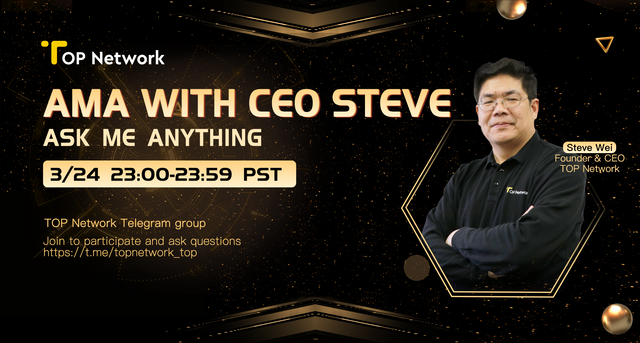 We are having our very third AMA with CEO Steve! TOP Network CEO Steve will be addressing community questions. Submit questions now for the AMA!
AMA Time: 3/24 23:00–23:59 PST
AMA Place: TOP Network Telegram Group
Submit questions here for rewards:
https://goo.gl/forms/RIgj9Bs7D1u4eTzd2
So far our technical development has been sticking to the roadmap and our world-class developer team is working hard to achieve more. We've launched Testnet 2.0 and we will be releasing BitVPN, the world's first decentralized VPN soon. Our mainnet is planned to launch in Q2!
Most exciting of all, we just made it the first project on Huobi Prime. We believe our community has burning questions for our CEO! So far, we've had two successful AMAs with our CEO Steve. Now it's time for a third one! Don't hesitate to ask tech questions and participate!