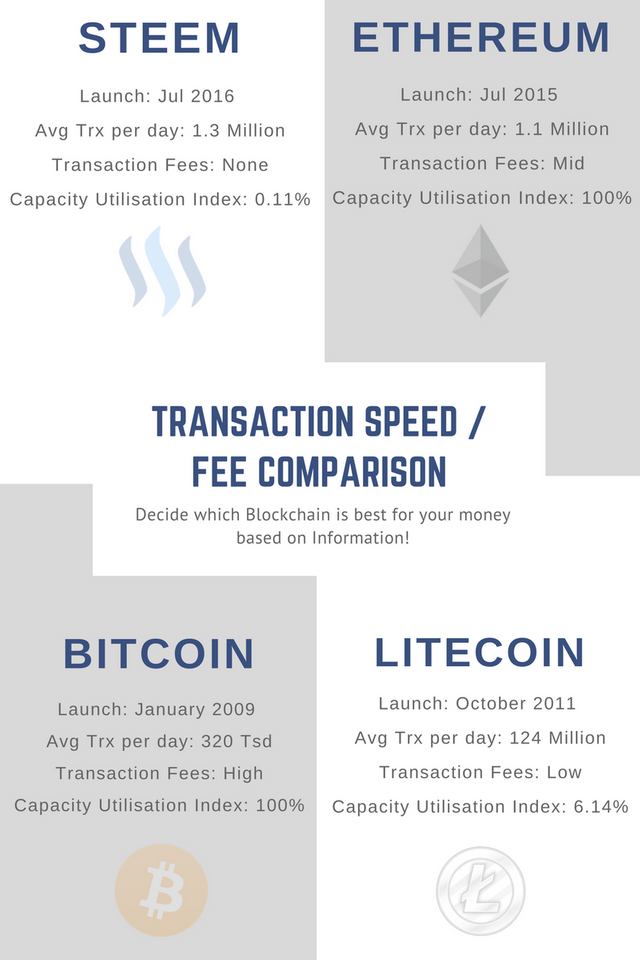 Some of our new Steemit users might be new to crypto currencies and wonder what else has the STEEM Blockchain to offer other than powering social media apps like Steemit and DTube.
Information for our new users joining steemit and the STEEM blockchain.
This info-graph presents the advantages of the STEEM blockchain, specifically regarding Transaction Speed and Transaction Fees. One of the most important features new users / investors are looking into when selecting a blockchain are, how fast can it process my transactions and how much in fees do I need to pay.
The STEEM blockchain has a relative low market-cap compared Bitcoin, Litecoin and Ethereum but don't get fooled by that!
The STEEM blockchain processes more Transactions per day than any other Blockchain!
This information is not widely know yet but can be verify on the blocktivity site. I encourage any new user to research this yourself !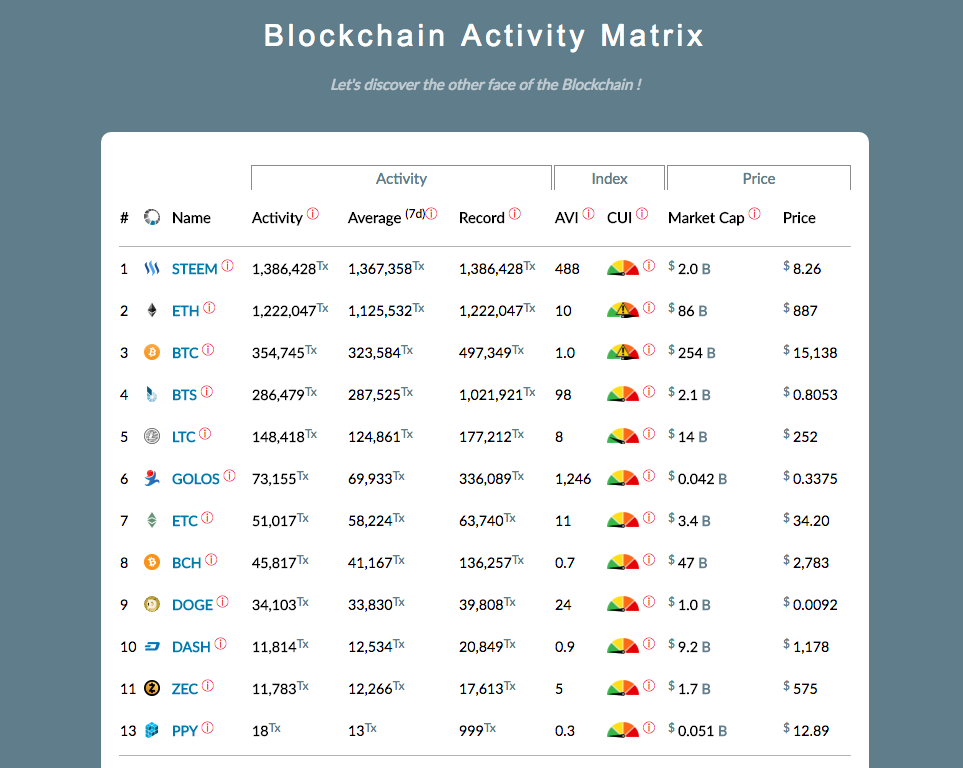 So what are the key metrics on that site and what does it mean. Lets go through this step by step.
Activity
Activity shows the number of Transactions per day. In order to get a better view I have listed the Average number of transactions per day which takes the average of the last 7 days. You see that the STEEM blockchain takes the lead over all the other popular blockchains by far!

CUI (Capacity Utilisation Index)
This is a equally important metric because it shows how much capacity the blockchain uses. You see that even thought the STEEM blockchain is the most powerful when it comes to Number of Transactions, it only uses 0.11% of it's capacity! Think about that for a moment, this is important.
The STEEM blockchain can handle many Million Transaction more without any capacity issues, that is huge!


Finally look at the price of STEEM. If you agree that Transaction speed and Transactions Feed are a crucial part for any successful blockchain now and in the future, well than you hopefully agree with me that STEEM is at a bargin price when compared compared to Bitcoin and Ethereum.
I hope this information was helpful to you. If you don't agree with anything in my info-graph than please let me know. Even though I am 100% into STEEM I want to be sure I share correct information with you about Bitcoin, Ethereum and Litecoin.
All the best!