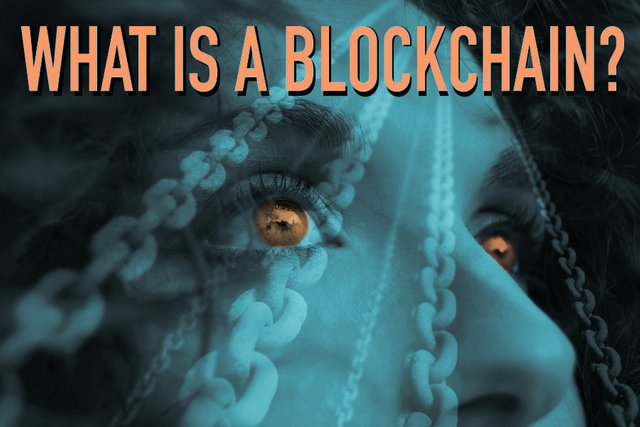 You'll see this image once Amazon's servers are back up. For now, enjoy a video of the image I was going to use as the main image. Yes, we're all not seeing images right now. It's not just you. You can take a big sigh of relief.
By now I bet you've heard the word blockchain.
If you haven't heard about the blockchain, you're likely living under a rock. The same amount of hype is currently surrounding blockchain that was once surrounding the world wide web in the 1990's.
If you don't know what a blockchain is, don't worry. My hope is that after reading this you will. I have scoured the internet to find videos for newbies that answer the question, What is a Blockchain? I don't know about you, but I find that videos are much better at explaining difficult topics than are written articles. Too bad this article isn't a video. Maybe I'll make it into a video some day.
There are lots of videos on the subject of blockchain, but below are three videos that do a great job of explaining what the word, blockchain actually means.
This first video was created by Amanda Johnson and you don't need any prior knowledge of blockchain technology in order to understand it. It was made especially for newbies:
That video covers the nuts and bolts of blockchain technology, but after watching it, you may be asking yourself, what does the blockchain actually look like?
The coolest aspect of learning about blockchain technology is that there are many blockchains in existence right now that you can look at.
If you're reading this on Steemit, you're interacting with a blockchain and you probably have a good idea about it already. But if you're a newbie, you may not know about it. Blockchains are very different because they are viewable online by anyone. They are public and you don't have to possess special permission to see them in action. This is very different from how companies are being run. Companies usually have an intranet that is viewable only by employees from that particular company. Companies have a centralized structure and the databases within them are only generally accessible by those in the IT department.
Blockchains in their original design are public and decentralized.
They are maintained by many different computers all over the world. This is hard for people to wrap their minds around because we have been raised within the concept of centralized control structures. We are used to hierarchies, CEOs and chains of command. But if you were around in the 1990's, you might remember that the internet was mostly a peer-to-peer (p2p) system. There was no centralized company collecting your personal data. There was no Google or Facebook. There was just you, your computer and your friend who sent you files over the internet. There was no company in between your computer and your friend's computer. If you think back to those early p2p days, you'll have a better chance understanding what blockchain technology is.
Here's a video that will open your eyes to the innovative aspects of blockchain:
Now, before we take a look at a real, live blockchain, I'd like you to understand why the blockchain is so powerful and why there's so much hype surrounding it. This next video actually shows you what a real live blockchain looks like in the flesh:
That video illustrates perfectly why the blockchain is so valuable. Fraud is a huge problem in the world, and blockchain technology effectively gets rid of the problem of companies, organizations and governments "cooking the books." With blockchains, you can't go back in time and change the ledger to benefit yourself or steal from someone else. Its designed to be immutable. This is huuuuuge!
Ok, now the fun begins! If you've never seen a blockchain, take a look at the Bitcoin blockchain. It's the one that started this entire blockchain craze:
https://blockchain.info/block/000000000000000001aae5e3f52cd74864d0ae56208521ccb34789a627e6c4f7
It might not make sense to you, but it might be just enough to get your curiosity going and make you go down the rabbit hole. If you're reading this right now on Steemit and you want to see your own account on Steemit's blockchain, go here:
https://steemd.com/@stellabelle. Just replace "stellabelle" with your own account name to see your own activity. It gives you an entirely new look at what's happening on your account. You can see who upvotes (or downvotes) your post in real-time. If you've never seen your account on Steemit's blockchain, now would be a good time to do so (since you can't see images right now.) As you can see, the blockchain is functioning normally, even though the images are not displaying.