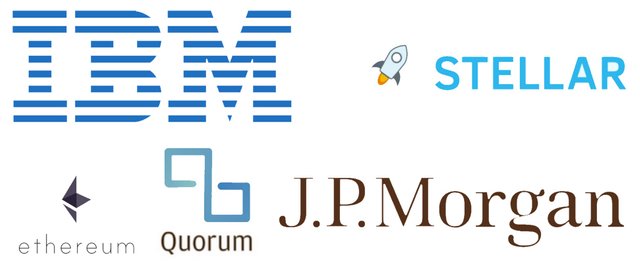 IBM announced their Stellar based "IBM Blockchain World Wire" cross-border payment service. Lets compare IBM and Stellar's offering with JPM Coin.
Stellar is a public blockchain that's been live since 2014. It uses a base currency named Lumens with symbol XLM, which is not tied to any fiat currency value. It's permissionless which means you don't need to ask any company's permission to become a server or user of it. For instance I bought some public Stellar tokens a couple years ago and Coinbase users can now purchase it. There are currently about 19 billion XLM circulating worth 11 cents USD each for a market cap of 2 billion dollars.
JPM Coin uses Quorum which is a private copy of the Ethereum blockchain. JPM and it's partners are the only servers and users allowed to access the network. Quorum does not have or need a base currency token or coin. The private blockchain has no price, supply, or market cap.
Public networks require spam control. Since they are permissionless, they need something to prevent a malicious user from sending 1 cent back and forth between London and Seattle a zillion times for instance, which could clog the network. On Stellar, each transaction costs 0.00001 XLM or 1/10,000 of a cent USD. If a bad actor tried to send 1 million times repeatedly, it would cost them a dollar. New banks using IBM Blockchain World Wire have to pay this spam control fee in XLM just like all public users of the Stellar blockchain.
JPM Coin's Quarum based network doesn't have or need a fee based spam control feature. If their network admins spot a bad actor, they simply expire that server or user's certificate and they are no longer allowed to use the network. With Stellar, a central authority doesn't have permission to stop others from using the network.
Both IBM and JPM solutions use a fiat backed token called a Stablecoin. As an example, you can put a million EUROs and a million USD into a vault. You can then create two new tokens with a million units each. The million units of token costs less than $1 to create. JPM and IBM's bank customer's honesty keeps them from printing more stablecoin than fiat they have locked away.
As the Stablecoin tokens are created, they have an equal value to the fiat locked up. If the bank owes a international customer or partner $10,000 for instance, they have the choice of withdrawing real fiat with a 7 day wait and heavy fee. They have also have the option of keeping their value on account with the bank until later. Stablecoins offer a brand new option which is similar to the IOU of keeping an account at the bank. It basically gives them the option to skip the fee now and withdraw cash later.
The new feature that Stablecoins have over keeping money on account at the bank is that you can now send it to others, similar to the way you send cash. For instance if a Bank has two partners A and B with partner A having a balance of $10,000 at the bank. If partner A owes partner B $4,000, they might be able to call the bank and ask the bank to assign $4,000 from A to B. With Stablecoin, partner A can send value directly to partner B without the banks permission. When partner A wants to withdraw cash later, the bank trusts the blockchain set the balance of A to $6000 and when B withdraws, the bank trusts its blockchain balance is $4000.
New security inherent in blockchain plays the former role of the bank to make sure the ledger is accurate and no funds are doubled or missing.
When JPM wants to expand it's coin to a new partner, they have to allow private network access. Depending on the customer, they may want to run their own Quorum node to participate in blockchain consensus and validation as well. To extend the IBM Stellar network, partners just need a public Internet connection and can generate their own security credentials. They can also install as many public Stellar blockchain consensus and validation nodes as they wish.
Stellar is public and open source. This means banks could write and use their own stablecoin token code without IBM if they wanted. IBM is providing consulting value and offering them features above and beyond Stellar like recordkeeping, security, KYC, and blacklisting malicious accounts.
I'll briefly mention there's a different class of non-bank branded stablecoins designed to be held by the public. Popular brands are DAI, USDC, TUSD, GUSD, and USDT. Not all are backed 1:1 by fiat.
In summary, to use private JPM Coin you need to be allowed by JPM to access the network. You don't pay any fees other than what it costs to run the network servers themselves or whatever JPM wishes to charge for access and use. To use Stellar based IBM Blockchain Worldwire, you need just enough XLM to pay your own fees on the public blockchain. The value you transfer in Stablecoin is your own fiat value and managed similarly on both blockchains.