Blockchain will change the Recruitment and staffing industry as we know it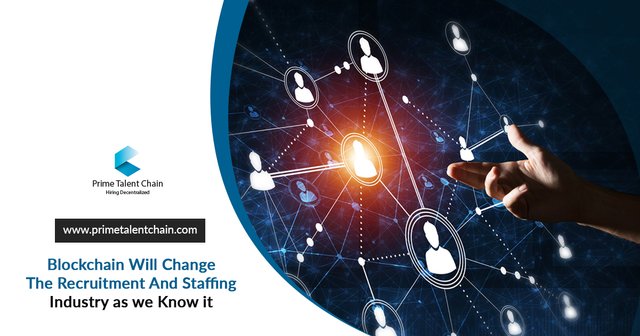 Technology has always brought revolution in the traditional industry, and recruitment industry is no new to evolution. For an industry to keep up with the times, they must adapt to the latest tech, and some of the promising ones are Blockchain that is harnessed to transform the recruitment and staffing industry. 
A peek into Blockchain
Finding talented candidates has become a muddled and cumbersome process. Blockchain has streamlined the process by serving as a data bank with clear indicators for the recruitment industry to find out the top talents best suited for their organization. 
Privacy 
Organizations sometimes access the candidates' confidential information without blinking an eye. The express permission of the candidate is non-existent. Blockchain offers a solution to the candidates who can allow access to view their profile easily through the data bank. Therefore the trust is maintained between both parties. 
Background verification
Since one of the critical elements of Blockchain is immutability, all data and resumes are pre-validated and stored in the Blockchain. The information can be viewed by any organization granted access by the candidate. The consensus protocol allows the candidates to control the education and employment information and their profiles without any hassles. 
Smart Contract
Blockchain technology in recruitment industry extensively uses Smart Contract to control the distribution of digital contracts for employees. They can also input in benefits, wages, packages, and bonuses, thereby reducing the costs and increasing productivity. 
All these and much more can be done by integrating Blockchain in the recruitment and staffing industry, and this is where Prime Talent Chain comes in. Prime Talent Chain is an end-to-end platform that is powered by the behemoth technologies such as Blockchain, Big Data, Artificial Intelligence, and Machine Learning. It is one of a kind recruitment solution that offers highly curated to resolve the pressing problems of the recruitment industry. 
With the adoption of Blockchain, all the candidates' records pertaining to the identity proofs, educational qualifications, and employment history can be validated and stored on a secure platform. This allows organizations to access the right profile for the job.