Your Personal Data, Your Great Asset MyCreditChain

Although personal information is all about 'individuals', most individuals do not own the data. The data is stored in the servers of hundreds of companies and financial institutions, and each rating agency evaluates individuals through its own evaluation criteria.

1. Full ownership over one's own data
MyCrediitChain returns the ownership of personal information back to individuals.
2. Accessibility to personal credit data
MyCreditChain provides credit data to 4.5 billion unbanked consumers. With credit data, these consumers can actively participate in economic activities.
3. Distribution of personal data value
On the full control of the user, personal data can be gathered and monetized.
MyCreditChain's Solution

"Personal information" to be handled by MyCreditChain is accurate and most up-to-date data, which will be used for various means, such as credit evaluation and commercial purposes. For instance, one's personal information includes his/her education, income, financial activities, social media, location information, spending habit, etc. MCC plans to bring the ownership and control over such information back to the owner.
Technologies to bring the ownership back to individuals

Blockchain-based
User consent platform
Total control over one's own data.
Monetizing the data without the risk of legal liability.
Technologies to create and assetize data

Technology
Over 20 years of experience in developing financial soultions.
Our board members have experiences in leading various multi-million-dollar projects.
Scrapping (19 years)
MCC's data scraping engine, the leading technology in the South Korea's FinTech industry, has been provided to major Korean financial institutions. MCC's advanced data collecting technology is applicable to wide range of web information. MCC's Information technology will now serve on the behalf of people.
Alternative DATA (3 years)
Alternative Data, which can be used for the credit evaluation of unbanked customers, has already been recognized as a major subject in the global FinTech industry. MCC's solution, called FinCB(Fintech Credit Bureau), has been used by major banks and insurance companies in South Korea.
BlockChain (2 years)
MyCreditChain will adapt HyperLedger for off-chain Daily AirDrop transaction and IPFS on private servers for personal information data storage. We have finished POC on the data transfer architecture with HyperLedger and IPFS. MCC token is on ERC 20, and MCC token's initial operation will be on Ethereum until we find right alternative.

Token & Expense

Token: Standard ERC20
Issuance: 1 billion MCC Token(10,000 MCC = 1 ETH)
Soft cap: 5,000 ETH
Hard cap: 25,000 ETH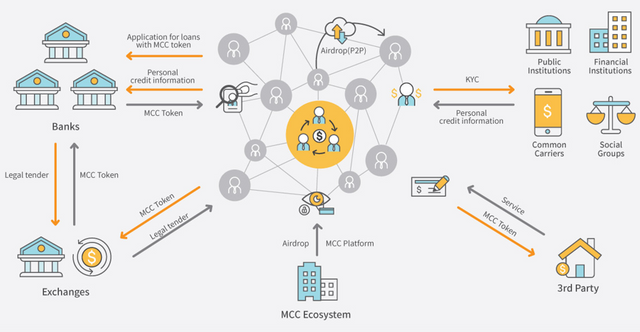 MCC To the Moon ~!
If you have any questions, please feel free to contact us at any time.
Email [email protected]
Telegram: https://t.me/mycreditchain
MyCreditChain(MCC) is…
▶In-house venture of a company that has been leading the development of Korea's financial system for 20 years
▶MCC has already been recognized for its business and technological potential with investment of 3 million dollars.
▶Our ongoing ICO is about raising funds to work together with various partners and users from across the world. We also want to combine proven technology and business with the ideas of Blockchain
▶MCC is not just a product or service. It is a platform and solution for various global partners.
▶MCC enables transparent distribution of "People to people" credit information and new value innovation for anyone in the world.
---
Join our Credit information Blockchain revolution!
▶Homepage▶Telegram ▶facebook ▶twitter ▶YouTube
▷Bounty Program