Consensus 2018 at the New York Hilton Midtown
Consensus 2018 at the New York Hilton Midtown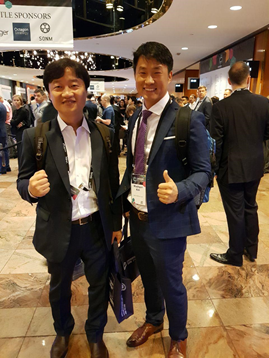 A news platform site specializing in cryptocurrency and blockchain, CoinDesk, is presenting the 4th blockchain technology summit. (https://www.coindesk.com/events/consensus-2018/) Our CEO Woo-sik Kim, team leader Mooh Kim and advisor Yemi has attended the event.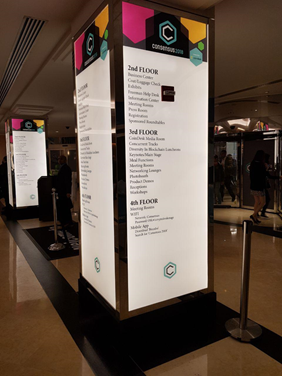 The consensus will be held for two days, May 14-16 at the New York Hilton Midtown. It is expected that more than 4,000 people, consisting of blockchain enthusiasts, investors, academic and political figures, etc. from more than 70 countries will be attending.
As our project plans to take its vision global, the team members will actively interact the participants, sharing the MCC's ideas and building strong networks and partnerships.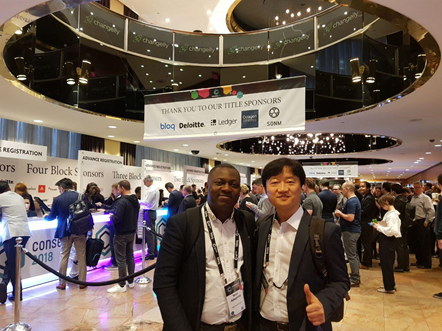 While the main issue of the Consensus in 2017 focused on the potential of cryptocurrency and blockchain technologies, the main focus of the Consensus this year will be redefining the nature of new technologies, thus distinguishing "good" and bad."
We do not know what and how new innovation will emerge. We can only make a rational inference. Decentralization is inevitable and GDPR will come into force. As task after task becomes decentralized, the growing desire or need for decentralization exerts a pressure on more things to be democratized or get left behind. With the new regulation, personal information market will be disrupted. MyCreditChain has already developed necessary technologies to carry out its business models within the network. Unlike most of the other ICOs, it is much more than white paper. Also the company plans to build an ecosystem in which individuals have full control and ownership over their own personal data. Based on these facts, one can reasonably come to the conclusion that MyCreditChain's potential and vision are second to none.
MyCreditChain(MCC) is…
▶In-house venture of a company that has been leading the development of Korea's financial system for 20 years
▶MCC has already been recognized for its business and technological potential with investment of 3 million dollars.
▶Our ongoing ICO is about raising funds to work together with various partners and users from across the world. We also want to combine proven technology and business with the ideas of Blockchain
▶MCC is not just a product or service. It is a platform and solution for various global partners.
▶MCC enables transparent distribution of "People to people" credit information and new value innovation for anyone in the world.
---
Join our Credit information Blockchain revolution!
▶Homepage▶Telegram ▶facebook ▶twitter ▶YouTube
▷Bounty Program