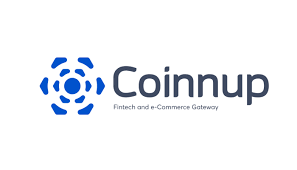 Coinnup is a single platform that provides many functional innovative services to meet needs of everyday business customers. It is an all-in-one platform.
Coinnup is an innovative integrated ecosystem for users and businesses that provides well organized connections between all major components of digital asset management.
C0innup creats a decentralized blockchain supported ecosystem that will be scalable and centric platform in which customers will be able to tackle the everyday transactions in shape of cryptocurrency or Fiat, trading, deposit and withdrawals and many new services.
Coinnup ecosystem aims to establish extremely simple, portable, secure and technically highly developed platform that will drive the digital economy. Cionnup will be user-friendly ecosystem that will dismiss all sophisticated systems and applications.
Coinnup will ensure a single platform that will enable customers to join with major banks globally to benefit domestic level services along with 24-hour customer support. A scalable and centric platform built to tackle the everyday transactions in shape of cryptocurrency or Fiat, trading, deposit and withdrawals
Team of Coinnup:
The Coinnup team consists of very successful and experienced financial experts, marketers, innovators, developers, designers, and economists. They are eager to create a meaningful decentralized innovative ecosystem.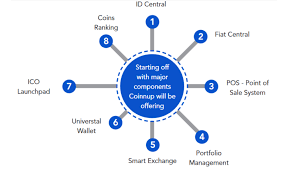 The Structure of Coinnup Ecosystem:
• ID Central
• Fiat Central
• POS- Point of sale System
• Portfolio Management
• Smart Exchange
• Universal Wallet
• ICO Launchpad
• Coins Ranking


What are the features that distinguish Cionnup from the others platforms?
Non - existence of Global Central platform
Many online web based marketing platforms are available for different purposes. Each platform is for a specific purpose. There is not exist one platform for multiple purposes. People have to apply one specific platform for marketing, then apply to another platform for asset management. Coinnup provides one single platform for multiple functions and purposes. Additionally, even though there are a lot of platform that crypto currencies are used as a payment means, users face many problems during trading, buying and selling process. Cionnup offers contemporary solutions for all existing problems of online platforms with its blochchain backed technology.
Non-existence of Point of sale system (POS)
Easy and effective payment method is very important for the online platform. Existing online platforms allow to use credit cards and debit cards as payment method. Crypto currencies are not acceptable for everyday spending, like buying the groceries, paying the electric bills, or buying the pair of shirts. Cionnup introduces Blockchain-based POS system that is very effective way to reach masses, and it will not change anytime soon instead will be advanced to newer technologies. POS system will allow an ordinary user to use crypto currency for everyday spending.
Problem with Existing Fiat Exchanges
Existing fiat exchange process causes great loss. When investors or customers would like to buy, sell or exchange crypto currency, they have to pay 10-15% more for the transactions on local market. Additionally, they have to verify their identities and wait for days.
Coinnup offers efficient fiat exchange system with is blockchain supported infrastructure. Investors and customers will not lose money during exchange process. They will buy, sell or exchange crypto currencies through efficient, stable and secure Cionnup' ecosystem.
Problem with Crypto ranking websites
Coin ranking websites are very important for the cryptocurrency investors. Cryptocurrency investors decide to invest or not according to the information placed on the Coin ranking websites. Most of these websites rank coins by market capitalization and calculate an average global price. But this rank is system is not efficient to determine vitality and risk factor about the coins. Cionnup will provide robust coin ranking system through its developed blockchain technology and information based ecosystem.
Porblem - Lack of portfolio management
Portfolio management needs to involve more than tracking the current value of your assets. Existing wallet systems have very limited features. Cionnup portfolio management system provides very efficient, secure and compatible features. applications.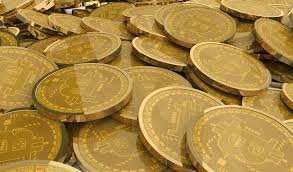 COINNUP COIN (PMZ):
Coinnup Coin will be launched for all transactions and operations through Coinnup ecosystem. Cionnup coins will based on ethereum blockchain ERC20.
TOKEN DISTRIBUTION AND SUPPLY: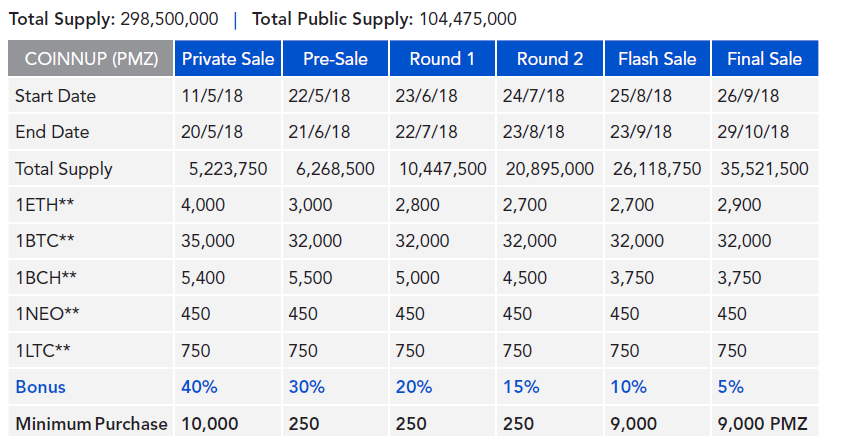 For More Information:
https://ico.coinnup.com
 https://ico.coinnup.com/whitepaper
 https://www.linkedin.com/company/coinnup/
https://twitter.com/coinnup
https://t.me/coinnup
https://www.facebook.com/coinnup