We often talk about the inherent benefits that using cryptocurrencies over fiat currencies brings; borderless money accessible to everyone, a decentralised and anonymous transacting system, and fast, efficient payments. Right now though, the cryptocurrency space is in a strange position. The recent market explosion is not driven by widespread adoption of cryptocurrency as a means to buy goods or services, but as an investment vehicle. And the flipside of that is this: it is still difficult and time consuming to hand over your coins in place of fiat for the stuff you want to buy.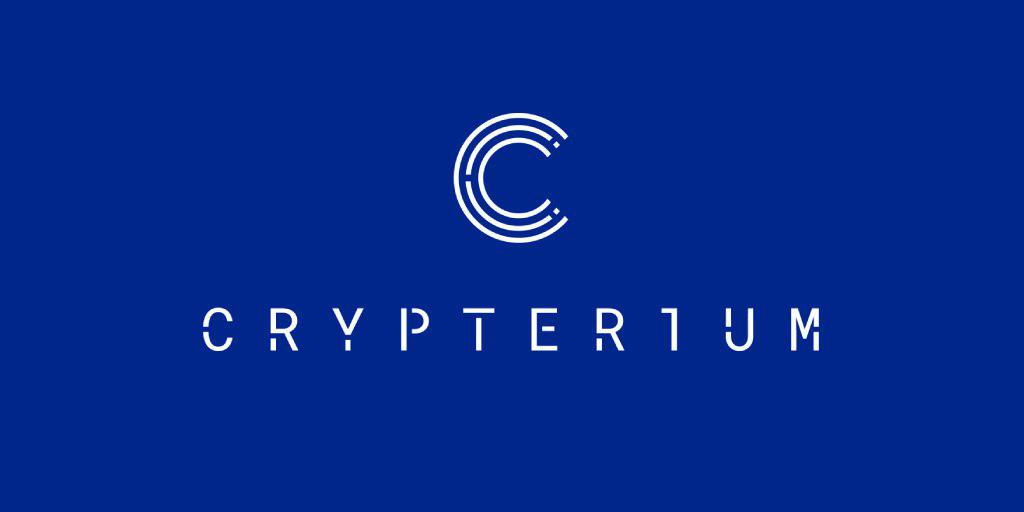 Crypterium are here to change that. By way of quick introduction, Crypterium are promising to be the JP Morgan of cryptobanking for merchants and consumers. Their goal is to implement a banking and transacting experience leveraging blockchain technology and mobile payments infrastructure. For consumers, this means paying for goods with your smartphone, in either fiat or cryptocurrency, instantly. For merchants, it means widening the pool of money that they accept, and changing the way they can pay their vendors in turn. There are 2 key problems that Crypterium can solve.
Growing Sectors That Face Barriers
The global cryptocurrency market is booming, up roughly 1000% this year alone. There are between 6 and 11 million active crypto wallets out there, according to the Cambridge Judge Business School. While these numbers are significant and have exploded this year, there are still few outlets for holders to exchange their cryptocurrency for goods.
At the same time, the mobile and cashless payments sector is on the up. In an increasingly digital world, people need quick and cost effective ways to send and receive money. Many of the options that exist today are slow, and on top of that take a cut of the money being sent.
Crypterium gives its users a way to spend their cryptocurrency holdings as they would their fiat money, whilst at the same time removing the necessarily slow mechanism for sending money across borders.
Crossing the Rubicon from investing to spending
What is Bitcoin better known as to the general public- a currency or an investment vehicle? If the market continues to boom in 2018 without an increase in the ways you can spend your crypto, the answer is going to be the second option. And that will drive the current bubble and the price volatility we see, which will make merchants weary about pricing in cryptocurrency, which can double or plunge in value in the space of an hour.
To give an example of how Crypterium solves this problem, imagine you're buying a coffee and you want to pay in Bitcoin. You scan a QR code or use NFC with your smartphone to register the payment. In essence, the cryptobank then takes the amount of Bitcoin that equates to the value of the coffee at the rate set by Crypterium and buys fiat currency to send to the merchant. From the merchant's point of view, they received fiat currency as they would any transaction. Through this mechanism, Crypterium are already able to offer their services in over 40m retailers that accept Visa or Mastercard payments.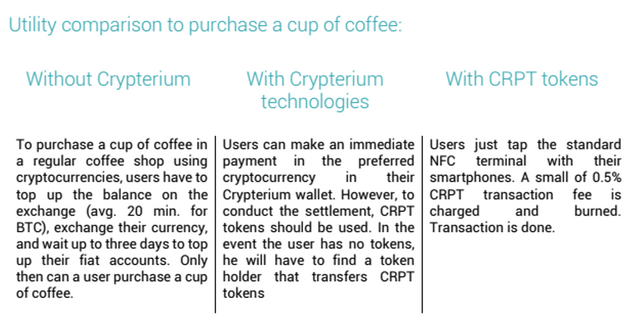 2 Tokens to empower
Crypterium is in the middle of a wildly successful ICO. As I write, they have raised over $33m, smashing their soft cap after just 5 hours and are now closing in on their hard cap. The CRPT token will be used as gas by the consumer, with 0.5% of the transaction value deducted from their account. This makes it a demand-based token that will always be able to maintain liquidity. The user doesn't have to do any of the legwork themselves- it is automatically deducted based on the best rate available. And if you are holding CRPT, you will accumulate more as transactions take place on the blockchain, which acts a little bit like an inbuilt loyalty program.
There is also a 'subtoken' CRED, which can be used to obtain a currency loan underpinned by a smart contract. This smart contract takes into account credit history and applies a customer-specific interest rate. The customer is then free to exchange his CRED balance for fiat currency. When its time to repay, the customer is obliged to buy the same amount of CRED as borrowed. The use of CRED allows not only cross-border lending, but also access to the world's unbanked population, which the World Bank has estimated to be around 2 billion.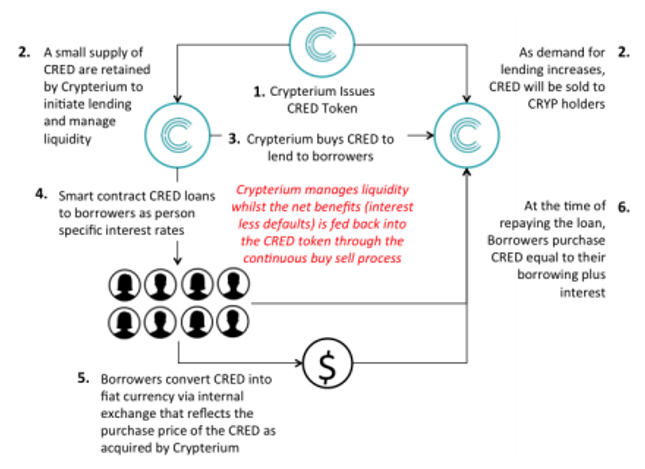 With cryptocurrency adoption just beginning, and the digital payments space continuing to grow, the services that Crypterium offer are becoming ever more relevant for buyers and sellers. Crypterium is another interesting and liberating development that promises to be at the forefront of the nascent cryptobanking market.
Crypterium by the numbers
42m
stores can offer instant cryptocurrency transactions
30%
of CRPT transaction income redistributed to holders
$10tn
cryptobanking market in 2025
$33.8m
raised so far in its ICO
100%
mobile and worldwide
crypterium2017
https://steemit.com/cryptocurrency/@originalworks/125-steem-sponsored-writing-contest-crypterium