On the ground and in the sky: WELL aims to gain height with Aeron
As a global telemedicine platform, WELL is reaching for borderless healthcare; when they met with Aeron, blockchain for aviation safety project, the team of WELL had been searching for a way to extend their impact to the most hard-to-reach areas. One of them (you bet!) is the sky — Aeron's homeland. With the help of aviation experts affiliated with Aeron and clinicians partnered with WELL, we will make the best efforts to assist with safe and healthy flights.
While the use of telemedicine in-flight is still limited by slow or unavailable internet connectivity (or limited bandwidth) in the air, on the ground is another story. Passengers and aviation crews will be able to check their health condition or ask for better ways of preventing travel sickness before the flight, through consultations with WELL doctors.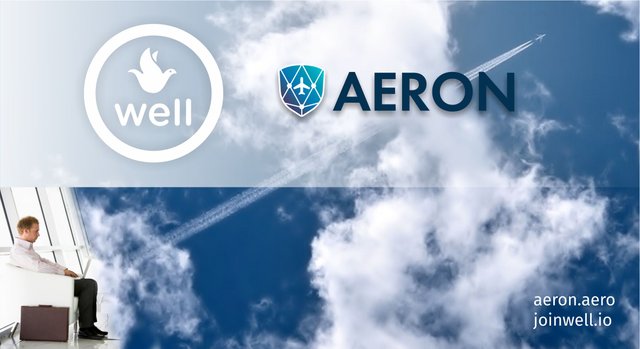 WELL will provide special benefits for Aeron token holders — with ARN tokens, already available on major cryptocurrency exchanges — unlocking discounts for some services provided within the WELL telemedicine platform. And WELL supporters can use the advantages of Aeron blockchain solution while booking services at aerotrips, Aeron's web consumer portal.
---
WELL is a virtual-care platform, with a solution built using blockchain technology. It encompasses telemedicine, biometric devices and telemonitoring to engage and manage patients and at-risk populations. WELL has built their private clinical network of over 1,600 providers covering 49 states in the U.S. and other parts of the world. WELL doctors and specialists speak a multitude of languages including English, Spanish, Chinese, Tagalog, Russian, Hebrew, Japanese, and more. The WELL team seeks to make healthcare borderless and more efficient, decreasing costs per visit, organizing educational seminars for medics in rural areas and expanding the rights to high-quality medicine for nomads and frequent travelers.
To learn more about WELL, visit the website joinwell.io
---
Aeron is the new standard of aviation safety powered by blockchain. The Aeron team believes that aviation safety is closely related to record integrity. Once the log records are stored in blockchain, available for public audit and can't be forged, both authorities and passengers can be confident that a pilot actually has the experience claimed. Aeron will work with all target audiences: pilots, aviation authorities, maintenance companies, flight schools and the airlines. Aeron's team has extensive flying experience and includes certified pilots, aviation engineers and developers.
To learn more about Aeron, visit the website aeron.aero
---
WELL and Aeron's partnership agreement is mutually beneficial. We believe that tokens of both projects will gain value as our communities multiply. More specifically, we establish cooperation to give supporters more practical access to facilities provided by both projects — WELL and Aeron.