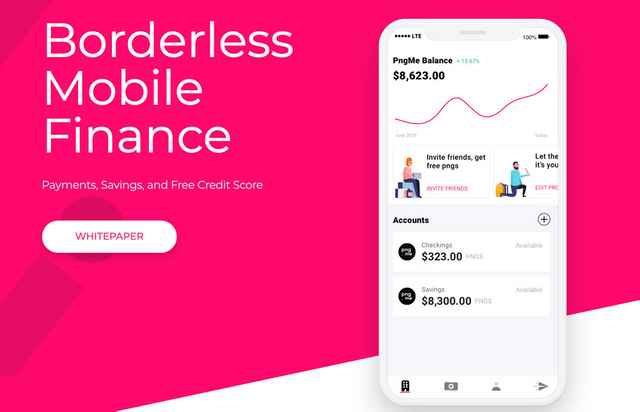 Financial institutions, budding entrepreneurs and people all over the globe have a hard time accessing capital in these emerging markets, so as a solution, PNGME has created a lending platform whose main goal is to maximize the flow of capital to these markets. They plan to do this by offering a digital credit score to individuals and businesses who don't have access to finance.
Pngme creates an open and transparent lending platform where borrowers can get cheap capital, and investors can access alpha through using blockchain technology, digital credit scoring, and decentralized rate-setting algorithms. Borrowers get to have access to the necessary tools to credit score their customers and raise capital through issuing digital bonds which are sold on the platform's lending marketplace to investors.
Their credit scoring APIs ensures impeccable integration with the borrower's mobile payment application for the purpose of embedding credit default risk into the digital bond via the platform's Digital Bond API. Investors can price capital more competently and maximize the supply of affordable capital for borrowers by availing current and historical credit risk information.
THE PNGME SOLUTIONS FOR LENDING MARKETS.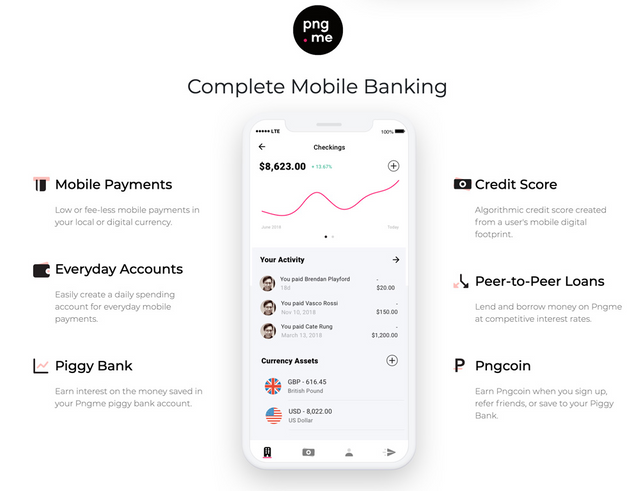 🔗 A competitive lending marketplace with open access to digital asset-based capital markets which targets MFIs, Digital Asset Hedge Funds, Mobile Money Networks, and MSMEs.
🔗 Loans which are within digital bonds can be collateralized through conventional, liquid digital assets and mobile phone locking technology which in turn minimizes the risk and exposure to borrower default.
🔗 Implementing their credit scoring models to customers of MFIs and Mobile Money Networks through their white and grey label mobile App gives the lenders the ability to comprehend the composition of the digital bonds being availed on the marketplace along with their associated risks. This means more accurate pricing of coupon rates and more satisfying outcomes for the performance of a digital bond.
🔗 Mobile lending Apps will be disrupted, and they will have to improve their pricing models to charge a lower effective APR to remain competitive in the marketplace and keep customers.
🔗 Rates of lending are set in a marketplace that is decentralized using reverse dutch auctions where lenders and market members purchase the loans from borrowers at competitive rates depending on transparent digital bond risk metadata.
🔗 The platform's credit score enables borrowers who lack a formal credit score to access cheap credit via a network of MFIs and Mobile Money Networks who leverage this mobile app and lending marketplace to serve customers and manage operations.
🔗 They created a white and grey label non-custodial mobile banking app which enables Mobile Money Networks and MFIs to pass on low-cost credit to their customers considering the minimized cost of administering credit and giving out loans.
🔗 Investors (Quantitative Hedge Funds and Accredited Investors) will have the ability to determine their level of risk exposure and buy bonds including impact-oriented digital bonds which avail desired returns in an alternative asset class while generating yield and alpha.

CONCLUSION.
The mobile banking App maximizes access to finance for consumers and entrepreneurs. Users have easy access to finance anywhere around the globe from their mobile device/phone with features such as mobile to mobile payments, savings, and a digital credit score.
For More Information on the project, please see Links Below:
🌐 Website — https://www.pngme.com/
📑 Whitepaper — https://docsend.com/view/m8fighb
📑 Token Economics — https://docsend.com/view/929pjg2
📧 Telegram — https://t.me/pngmecommunity
📝 Bitcointalk ANN — https://bitcointalk.org/index.php?topic=5140127
🕊 Twitter — https://twitter.com/pngmemobile
📘 Facebook — https://www.facebook.com/pngme/
📝 Medium — https://medium.com/pngme
🔗 LinkedIn — https://www.linkedin.com/company/pngme/
📱 Android App Early Access — https://early.pngme.com/early-access-beta/
══════════════════════════════════
★ Author: jamesndungu1
★ BitcoinTalk Profile: https://bitcointalk.org/index.php?action=profile;u=1856049
★ All Images credited to PNGME project