Where are the Blockchain Dapps Being Built Outside of Ethereum?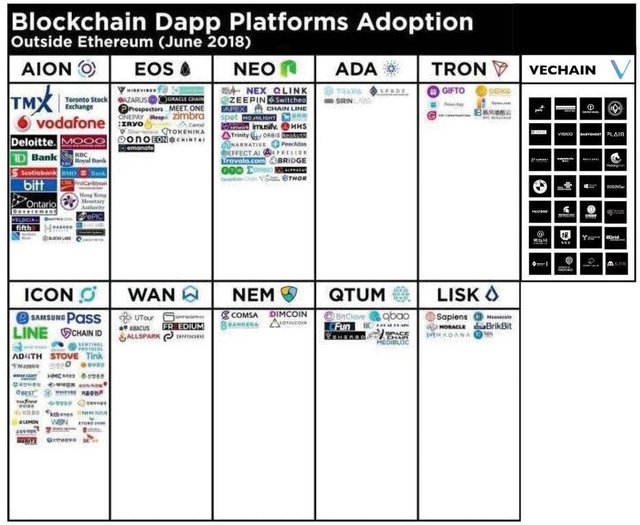 This Infographic Show Us the Current State of Blockchains Built for DAPP's.
I admit that I had no idea the AION and NEO were working with so many projects. I am quite familiar with what is happening on the EOS and VECHAIN blockchains because they are two of my favorite projects.
The surprise for me was the lack of dapps on Lisk. When Lisk launched it seemed like they would ramp up quickly but two years after the ICO they are still lagging behind. Maybe that was the reason they just went through a massive rebrand effort.
I also know that Cardano (ADA), Vechain and EOS have not launched their Mainnet yet. 2 of the 3 are launching this month.
How is This Actionable?
"Buy the Rumor, Sell the News", is my favorite trade. Vechain is launching this month. AION Mainnet will happen this year. I expect the coin values will increase over the coming weeks.
Since EOS and Tron just had Mainnet launches I will wait a few weeks before I start to accumulate again.
Cardano (ADA) has multiple updates happening in 2018 so I am accumulating.
If you know projects are planning to launch their DAPP after a Mainnet launch then it would be time to accumulate. For example Decent.bet is the first DAPP launching on VECHAIN.
I am looking for new projects. Watch for Halo Platform and Guld two platforms that are going to make a huge splash in the Crypto space.
Blockchains That You Can Build a DAPP (Decentralized App) on are My Favorite Types of Projects.
When multiple projects use your platform it gives the underlying blockchain a solid foundation as we have seen with Ethereum. I believe there is room for many blockchains to build DAPP's on. Since these projects will be competing for DAPP's to be built on their blockchain this bodes well for those of us who own the coins. Unlike standalone coins who often do little to improve their technology and blockchains these companies will be forced to or they will disappear.
Survival of the Fittest Blockchain!