Last night the Bank Of Japan's Kuroda spoke and this time it was not about endless JGB purchases or non-traditional easing methods.  He spoke on how fintech or the new technological applications coming to the world of finance pose a huge threat to current financial infrastructure.  To be completely honest, all I can do here is laugh.  The guy, for the last number of years has been all about how to change and progression of policies to make the economy function better and now he is coming out against the one thing that could easily help his very cause.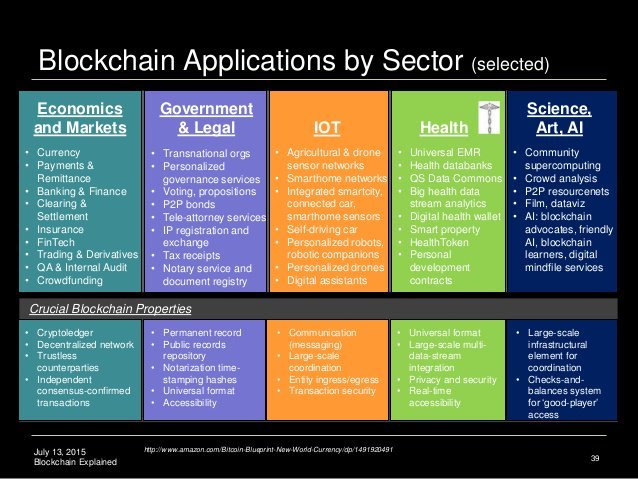 He claims that it will be harder to regulate fintech firms than traditional banking firms.  That markets are more open to more participants and new methods of transaction.  I can only imagine that this lat one largely refers to decentralized trust based transactions.  These pose a problem for large banks, for a couple of reasons, the largest being that trust networks are decentralized so that takes the profiteering from being a so called trusted institution away from individuals and puts it into the hands of many.   

Decentralization is a huge threat to many sectors as you can see in the photo to the right.  But, it is a method that is becoming more and more popular among the public as they begin to grasp what it s about.  Basically you take all of the game out of the system, consumers are no longer beholden to one entity for certain services.  This concept has the potential to change the infrastructure behind many systems currently in place where many companies to profit off the little guy.
 

To get a better handle of what I am talking about here take a few minutes and go over this helpful slide presentation (where the above image came from as well) Bitcoin and Blockchain Explained: Cryptocitizen Smartnetwork Trust.  There are also many educational videos on YouTube simply search for blockchain trust or learning the blockchain.  It will certainly be worth your time, as this is likely the direction that transactional business is headed and an educated public is an empowered public.

The BOJ over the years has been the leader in adopting new policy trends for the advancement of the economy and the fact that they are publicly speaking out against these types of changes coming down the pipeline goes to show the overall resistance large institutions have to these new technologies.  All the more reason, in my mind, to become educated, so that when it comes time to have a voice, you can participate in ways that are helpful for society as a whole, and everyone stands to have something to gain, not just the upper echelons of society. 

Anyone that knows me, knows I am huge advocate for people making the effort to educate themselves on topics that will help to bring us to a better place in the long run.  So, just take the time a few minutes everyday to learn something you were not aware of a few minutes prior and if it sticks and benefits you, that is great, if not, well at least you know you tried that day.  Live well, be well, share and learn as much as possible from others, no one else is going to do it for you.

<3

Original Post at TradersCommunity.com
Check out OOTTNews.com for the latest oil market news and data.