Author: Tim Hamid, Blockchain Enthusiast
Date of Review – 19th of February 2018
Today, I want to talk about a Blockchain Project with an ambitious, yet very exciting vision of creating a new blockchain operating system to create next-generation multi-chain applications, connecting the world's networks to blockchain by bridging existing networks to new blockchains, and enabling interoperability between current and future blockchains via the ability to read and write to blockchains without third party methods. It's called the Quant Network Overledger.
How it all Began…
The idea behind Overledger was born in 2015 when the CEO and Co-Founder – Gilbert Verdian – was working as the CISO for the largest state-level ministry of health in Australia – NSW Health. He experienced first-hand the challenges associated with dispersed, siloed patient record, with the inability to sync and connect patient data across multiple networks, systems, and jurisdictions. At the same time, a good friend of his, who was working in the financial services arena, also wanted to solve a problem with cross-border payments in markets where the systems weren't as mature.
In both cases where the core underlying issues were evident, the solution was clear that they needed to create a platform that sits on top of existing blockchains to solve the problems of interoperability between existing systems, networks and blockchains. It was subsequently from this vision that Gilbert founded TC307, and The ISO Committee, where there are currently 40 Countries and organisations working together to create the Blockchain ISO Standard
So What is Overledger?
In trying to explain it in the simplest, and most understandable way I can, Overledger is essentially a New Blockchain Operating System, designed to tackle a problem not yet solved in the world of blockchains. With the multitude of different blockchains that have emerged in a very short period, the challenge now is making these blockchains communicate with each other. Enter Overledger. For those who are familiar with the Internet OSI Model, Overledger is positioned over the Transaction Layer, and will run the same protocols running on TCP/IP. With Overledger positioned over the Transaction Layer, Overledger provides the means for traditional centralized applications to be run on a decentralized platform. This will be made possible using the Software Development Kit (SDK), which has been developed by Quant Network's developers. Decentralized Applications (DApps) developed using Overledger will be able to interact across other blockchains. In essence, Overledger will facilitate the next-generation of Multi-Chain applications by providing an interoperable platform that connects current & future Blockchains together.
Quant Network's Vision for Overledger
Ultimately, Quant Network's vision for Overledger is to connect the world's networks to blockchains, which was spawned from the learning's and inspiration from the architecture of the internet, and directly applying that to blockchain. Overledger promises to fulfill the original vision of the internet to create an open trusted network of people, machines and data to operate, but without the original shortcomings of having to know everyone within the network, with the byproduct being a trusted network that doesn't require people to know and trust each other, with blockchain providing the mechanism to trust people without knowing who they are.
One of the key principles of Overledger's vision is to foster innovation by creating true multi-chain applications, and removing the limitations of smart contracts not being recognized on multiple blockchains. For example, with the limitation of smart contracts being able to be recognized on multiple blockchains, such as ones executed on Ethereum for example, Overledger aims to enable other blockchains (such as the Hyperledger blockchain) to be able to see that the contract is in place or has been executed – in turn solving the current problem of there being significant limitations in being able to do so. In addition, it aims to allow the smart contract to include code executed on other blockchains as part of its steps.
In Summary, Quant Network are focusing on Three Key Outcomes:
Developing an API to connect the world's networks to multiple blockchains;
Bridging existing networks (e.g. financial services) to new blockchains; and
Developing a new Blockchain Operating System with a protocol and a platform to create next-generation, multi-chain applications
The Overledger's User Value Proposition
With Quant Network's vision to completely change how people interact with blockchains in a way not possible today, whether it be for Start-Ups, Developers, Enterprise or the Consumer. I will try and outline some real world examples to best demonstrate how this may be achieved.
From a start-up's perspective, they can be part of creating the future with distributed applications that span multiple blockchains. The technology can open the market to the number of users instead of limiting it to a single user base or blockchain, which will in turn allow it to monetize their applications in unique ways, that weren't possible before.
For Developers, Overledger will provide the opportunity to easily produce applications that solve their customers' needs without having to rely on capabilities of only one blockchain enabling them to either produce applications as freeware or utilize a subscription model. They can create applications that can incorporate the full diversity of data that will be available on the blockchain.
For Enterprise, Overledger will:
Complement existing blockchain investments and projects
Gain access to new markets and customers that use different blockchains
Spread risk and improve resilience by providing the ability to spread applications and data cross-chain and migrate their applications to different blockchains
Connect with their suppliers and partners that use any blockchain
No longer be required to have vendor or technology lock-in, providing the flexibility to use any blockchain and not be limited
Overledger aims to allow interaction between multiple blockchains meaning that it can easily cope with the complexity represented in the modern supply chain.
For Consumers, an example of this would be via our normal every day interaction with bodies such as Social Security, Hospitals, Banks, etc. With Overledger, recognition of a person's identity by one entity on a blockchain will be acknowledged and verified by every other blockchain on the network in a safe and secure manner, meaning that as a consumer, it eliminates the need to continuously answer the same questions and create a never-ending number of accounts and passwords. The goal is to have a single consumer-controlled data store that is distributed across multiple blockchains. Every time the consumer wants to provide any sensitive data to another person or entity, they will be able to authorize and control access to their data and log it in a safe and secure way.
The Team behind the Project
Quant Network is a team of experienced founders who have been working in industry and government for over 20 years. At present, the team is not a large one as yet, however via their Telegram Channel, their pinned message shows that they are actively seeking to hire more developers, engineers and staff, which shows that the team is making the necessary moves to scale the team in line with their roadmap (which is yet to be released at this stage – see below). Led by Gilbert Verdian, as CEO and Co-Founder however, the core team and advisors look to be very solid and capable to execute this ambitious project. More information on the team and advisors can be found on their website at https://www.quant.network/. Here's a brief summary of the Core Leadership Team:
Gilbert Verdian has been working in Cybersecurity for 20 years at CIO/CTO/CISO level in Governments and Industry. He's also the founder of the Blockchain ISO Standard where 40 countries are working together to develop the standard. You can check out his LinkedIn profile here: https://www.linkedin.com/in/gverdian/

Paolo Tasca is a Digital Economist, an expert on digital innovation with salient expertise on Blockchain technologies and Complex Systems. He's also the Executive Director of the UCL Centre for Blockchain Technologies. You can check out his LinkedIn profile here: https://www.linkedin.com/in/ptasca/

Colin Paterson is technology innovator with a 20-year background in Cybersecurity, Information and AI. You can check out his LinkedIn profile here: https://www.linkedin.com/in/colin-paterson-aa7bb61/
In the Media, and Current Partnerships
Quant Network has already hit the road running, as is evidenced by their development of their Overledger technology, and already striking some key strategic partnerships. In addition to this, they have recently announced that they joined the
Accord Project to provide their input and expertise to the international working groups dedicated to establishing an ISO Standard.
Quant Network also announced a new cross-chain treaty contracts partnership with HAW Hamburg University at Unlock 2018, Dubai. Following is a link to their media release outlining this partnership: https://www.quant.network/blog/partnerships...
One media outlet - The New Scientist – recently covered the Overledger Technology in November, and referred to it as "The first credible solution to a problem that has been called the Holy Grail of Blockchain". You can read the article https://www.newscientist.com/articles...
What's Next?
It's clear that Quant Network are in the very early stages of going public with their project, which therefore unfortunately means that at the time of writing this article, no information about the upcoming ICO have been released, and therefore, token metrics and the like are unknown at this stage. It will also be interesting to see what plans Quant Network has in order to accelerate adoption of their technology to be embraced and used by Start-Up's, Developers, Enterprise and Consumers. Users however can register their interest on their website at https://www.quant.network/. The Overledger Whitepaper is quite detailed, whilst making it one of the more simpler ones to understand for the non-technical person, and by and large looks well put together. You can view it here Overledger Whitepaper 0.1.
The Quant team has advised that they will announce the launch of the Overledger Business paper along with the roadmap over the coming weeks, with both of these highly anticipated key pieces in being able to dive deeper into further assessing and analyzing the project. Whilst there isn't much by way of their Github page at the moment, the team has advised that they will also release more information on this shortly.
In the absence of some of this key information at the current time, the Quant Network team will host an ongoing monthly one-hour live Online Engagement event for investors and developers, with the first being scheduled for Wednesday, 21st of Feb at 2pm GMT via Facebook Live. The aim is to source feedback from valued stakeholders, so this would be a great opportunity to ask the team anything about the project that you may need further clarity on.
In Summary…
Whilst awaiting more information from their business whitepaper, the road map, and details of their upcoming ICO/TGE, the vision of the team and the project itself, looks quite ambitious, and in many way revolutionary in what it is trying to achieve. To me, it appears that the Overledger looks to have many correlations with other impressive projects such as Interledger, Virtualchain, Sidechain, AION, Polkadot, and Cosmos (to name a few), where the Overledger technology appears to draw some of the key points of those projects, however with key differences unique (but not limited) to Overledger. Below is a table, which shows a comparison amongst other projects that aim to increase intercommunication between DLT's.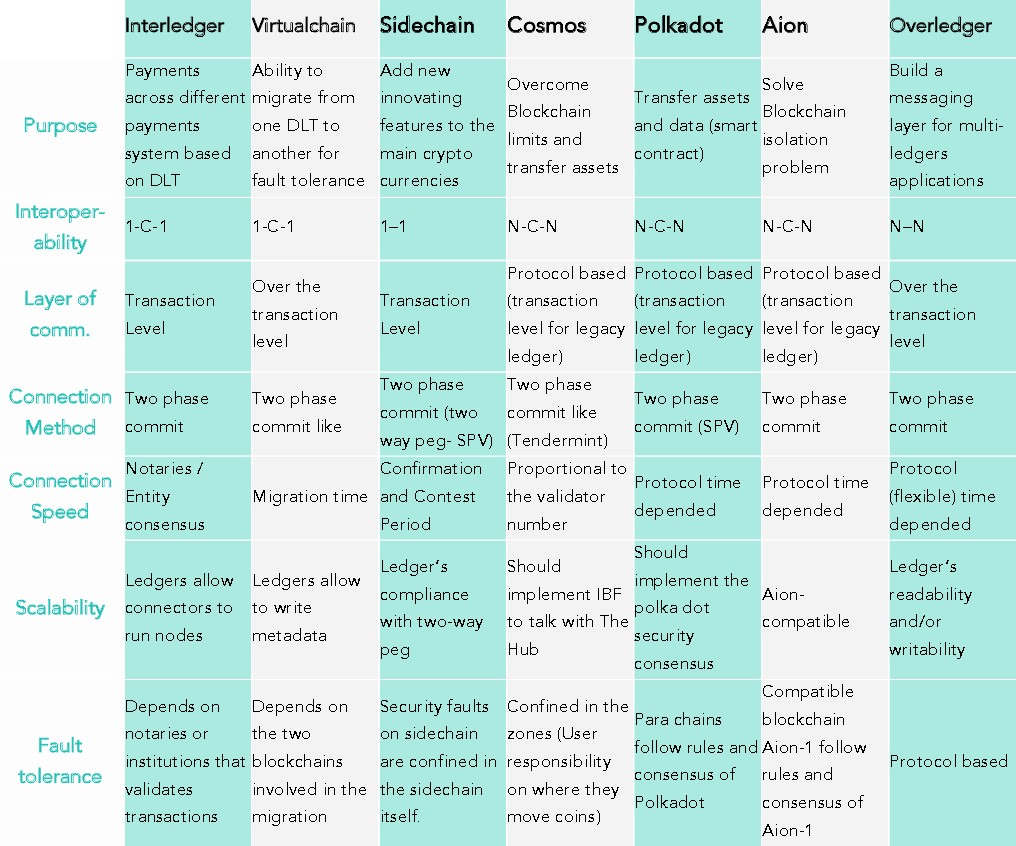 Table - Source: Quant Overledger Whitepaper v0.1, Page 6
Having said all of that though, the monthly Facebook Live sessions will be very valuable in digging deeper into these points, along with others to get a greater understanding of the project and its key points of difference. All in all however, this is a project that I am very excited by and interested in diving deeper into, and with that, will be following it closely.
The information provided in this article is the opinion of the author and not of the project's administration. The author has no association or affiliation with the project or its administration, and makes no claim to be a subject-matter expert, but rather a blockchain enthusiast, excited about the prospects of what can be achieved by the Quant Network team via its Overledger technology. Please use the information provided below at your sole discretion, as it is not intended to be used as financial or investment advice. Please Do Your Own Research.