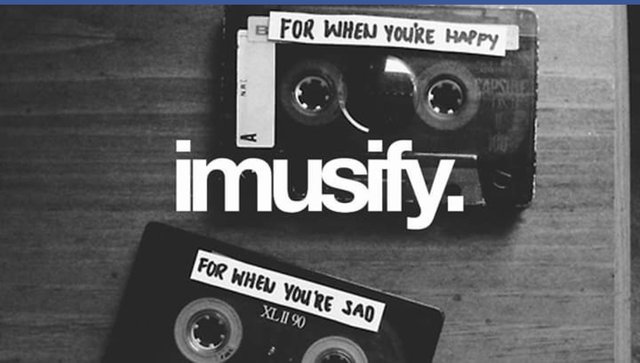 Before I go any further, you can have a view of the iMusify platform here. https://imusify.com/app
For artists, making it to the very top of the musical world isn't a small feat, others are a lot more contented to get their craft to reach a sizeable audience. The art and processes of making music isn't always a fun part. More worrying is the case that even those who have made it to the very top don't even get their adequate rewards as should be. This is very worrying. This cuts across a lot of reasons. If you consider that today, due to the level of technology and innovation we have, creation of copies of digital works is a little task, you can create over a million copies of duplicate digital assets in less than 24 hours, and for free. This means that content creators get nothing for their craft and the work they have put in. This is for every copy you want to create. Very unfair.
Also, today, people, fans, prefer to stream online. This means that every artist or creator endeavour to have a decent online presence and streaming presence. This is a double-edged sword because people can stream for free too. The artist again loses. Yet another sad story. This also gets to mean that because people now stream more, we have had a handful of streaming services like Spotify and Youtube music. But there's been issues too, issues arising from inadequacy in full content monetization, rights, payment structures, cross-border restrictions and policies, etc. This also doesn't end well for artists as they, again, not adequately compensated.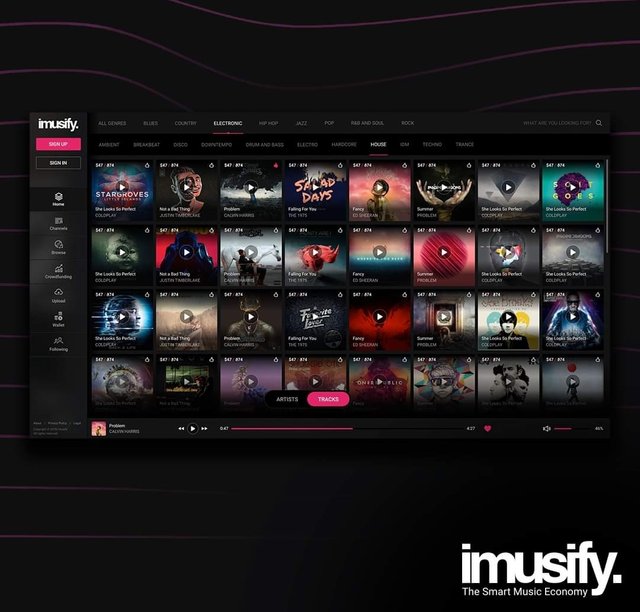 Considering that the music industry worths as much as a $12 billion makes it more painful, not just for the artists alone but also record labels who go a long way in pushing these artists to the very top. A change is needed, a very stable solution that'd keep all parties happy.
Imusify comes with a solution that would be bringing the much-needed change to these problems. This is an award-winning music platform that aims to combine the very important features of streaming, media sharing, social networks and crowd-funding.
The crowd-funding angle stems from the passion to see young digital content curator who faces financial challenges to push their craft. The platform integrates the blockchain to foster a sense of community and oneness in the system. Fans can invest in the careers of the favourite artists and get a reward for that too.
Here, fans, artists, record labels, music entrepreneurs, etc, can interact with each other directly on a decentralized blockchain stage. This will be massive. With the use of smart contracts, one of the latest innovations today, there will be a transparent, fair, safe and efficient distribution of contents, content monetization and payments.
Take part in the tokensales now. https://tokensale.imusify.com/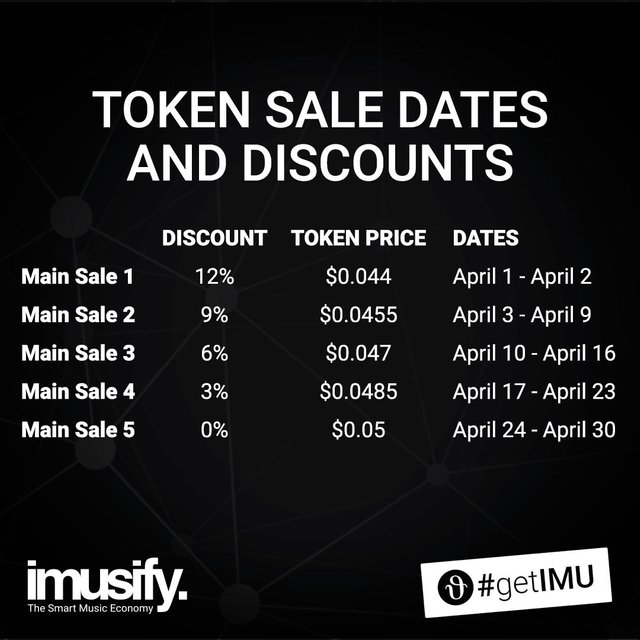 The Imusify platform creates a decentralized marketplace with fans, users, curators, labels, etc can all be rewarded for all their contributions and services on the platform. The platform is safe because there's a very stringent verification system that will be used to verify all contents/services rendered on the platform to prevent fraud and copyright.
The platform aims to solve a lot of issues for the industry through the use of the blockchain. First, with the blockchain, there's the option of creating a fully digital right management system where artists can freely thrive without the need for reconciling latent payment challenges. This will enhance the level of transparency in the platform too, because, with the blockchain, there are a series of transactions that will seamlessly run throughout the platform. With the automated and transparent way of the blockchain, verification and security are automatic, coupled with a full database of complete contents.
Also, with the platform being a decentralized one, artists get the opportunity to easily license and monetize their works freely. This doesn't have to be exclusively for known artists, but even relatively unknown ones, or even upcoming. The platform makes sure to create a market for all and sundry. Artists can easily sell licences of their works easily too through the blockchain.
More information about this project can be seen through the use of the following links.
Project Tokensales:https://tokensale.imusify.com/ .
Whitepaper: https://imusify.com/whitepaper.pdf
Project Website: https://imusify.com/
Facebook: https://www.facebook.com/imusify/
Twitter: https://twitter.com/imusify
Telegram: https://t.me/imusifycommunity
Medium: https://medium.com/imusify
Instagram: https://www.instagram.com/imusify/
ANN: https://bitcointalk.org/index.php?topic=4327428.0
Written by Goodnuel
Bitcointalk username: Goodnuel
Bitcointalk profile url: https://bitcointalk.org/index.php?action=profile;u=1304832;sa=summary