INTRODUCTION
There is no denying that so many betting platform are already on the DLT but the question is why do we still have all of the present limitations in the district. Why is transparency lacking and biasness taking over the operations? It has to be that the project existing for this challenges haven't been working to resolve that i.e they are having a limited scope to their solution and they use a substandard tech that cannot take care of all that. All that can matter now is any project that can provide Security, transparency and will be able to coordinate the operations of the stakersin the community or district well. However, there is an answer to that already and that is BETHASH.
THE SCOPE OF BETHASH
This platform is a fair Innovation with a decentralising pattern of operation. It is designed to achieve the fairness in games and earning in the betting sector and to provide consistent rewards to stakerstransparently as they participate in the operation. The ecosystem is an EOS built style for a long term use and participation in the activities of gambling. Using this platform is more preferable to the old system that had let users down a lot of times. To be sincere, Bethash plans to eliminate cheating during games and will generously lavish rewards on users. It gives everyone in its ecosystem a chance to grow and make more funds from what they love doing while also having fun. Referring others to this ecosystem will bring profit to the referral as they will get bonuses.
The betting experience will be renewed for players, they will get a chance to play freely usinh their smartphones or from their PC in the platform. Staking also will be done with as little fund as they can afford which at the end they will end up having more that the value ot token they staked as reward. This platform provided so much benefits to users through the games played anyways and by the way, that is one of the ways it can help the player that are already losing hope in the district.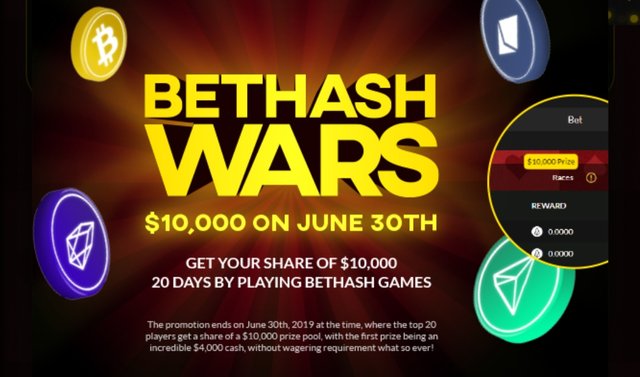 BETHASH FEATURES ARE;
The lottery game which involves the use numbers to get price will be done in a better fashion than before. Playing the lottery will be more beneficial to stakersand winning can't be predicted. Also, some other games like the baccarat and dice will be played too, jack and other Interesting games that will be of interest to stakersand that which they can all relate with and play. All of this will be done daily and rewards will be like an income to the players.
The community will also have something to gain from the entire game because they will be a part of the social media team to support the platform and make other believe in it.
This platform has to rely on the EOS chain for security sake, this will make it worry less about the issue of security and have it focus on other more challenging difficulties. The speed is also worked on as well as the way users perform in it. The Innovation is actually full of fun and yet very active. This is why we can have so many other coins to use or work with like the ETH, BTC, DICE, USDT and some others.



The transactions are done on the ethereum chain with different blocks involved. The random numbers are also used and the use of number generator also make things easier. This will prevent stakersfrom being cheated because the number they have is given at random. It will be hard to cheat when that is done and the EOSHASH can take over in that style. The platform resumes control and is never made to be short of solution. It wont even be easy interfering to such programs which will bore them and make it difficult to interfere with.
CONCLUSION
This is a potential platform with great security with the features provided. As stakersbegin using it, they will find out how Interesting and position their finance will be again. So it is sure that this project will be a source of improvement to the sector.
USEFUL LINKS;
Website: http://bethash.io/
ANN Thread: https://bitcointalk.org/index.php?topic=5129963.0
Telegram: https://t.me/BetHash
Twitter: https://twitter.com/BetHashTeam
AUTHOR'S DETAILS
Bitcointalk Username: Ifychuks
Bitcointalk Profile Link: https://bitcointalk.org/index.php?action=profile;u=2397927