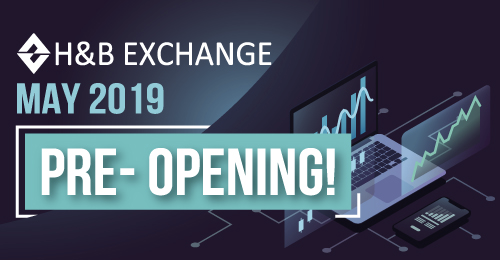 Recently, Elysian has been focusing primarily on development, with the completion of the mobile wallet not far away, and the initial development of the Ecommerce platform underway. During this time, the cryptocurrency market has been relatively stable, which could prove to be beneficial for its future with hopes of a bull run looming.
The team has been in talks with several exchanges recently as well, and we are happy to announce the confirmation of our native token, ELY, to be listed on the new Maltese exchange H&B, which will launch in the early Summer 2019. H&B has already confirmed several reputable projects to be listed as well for its grand opening, and the exchange is showing promise to be one of the top exchanges in the industry moving forward.
Trading will not be available until the grand opening date in approximately 2 months. The platform itself is basically complete and just undergoing some final revisions before being available to the public. At first glance, the platform has an impressive UI/UX and appeals to a wide variety of traders, from novices to experts. In comparison to the currently existing exchanges in the cryptocurrency market, we can expect H&B to provide reasonably strong competition and a chance to climb the ladder into the top 20 and further with proper adoption strategies.
Elysian will be looking to add more exchanges shortly also and improving liquidation for its holders and traders, targeting larger exchanges as the project continues to grow. The year so far has been very productive from a developmental standpoint, and we expect this to continue as we move into the heart of Q2 2019.
The market is slowly taking steps in the right direction but it will still take time. In the meantime, all projects must focus on completing the tasks at hand and their roadmap milestones to provide the community with innovative technology. The reason that this is vital is because mass adoption is impossible without developmental progression. The industry is lacking real products and anything besides speculative investment and this is one of the reasons that outsiders are still hesitant to enter the market, including some large corporations. But, we are slowly seeing a transformation in the right direction that can drastically improve the blockchain ecosystem and increase its user base. This must continue through the completion and release of products that are revolutionary and have a real-world use case that is both different and better than pre-existing technology. We firmly believe that the future is bright for both Elysian and the blockchain industry, but we understand that it will take some time. This is still the ground floor. But, it is undeniable that the technology is game-changing and will improve society as a whole, which is ultimately the primary objective.
About Elysian:
Website
https://elycoin.io
Telegram
https://t.me/elysian_ely
Whitepaper
https://elycoin.io/whitepaper/english
Reddit
https://www.reddit.com/r/Elysian_ELY/
Twitter
https://twitter.com/Elysian_ELY