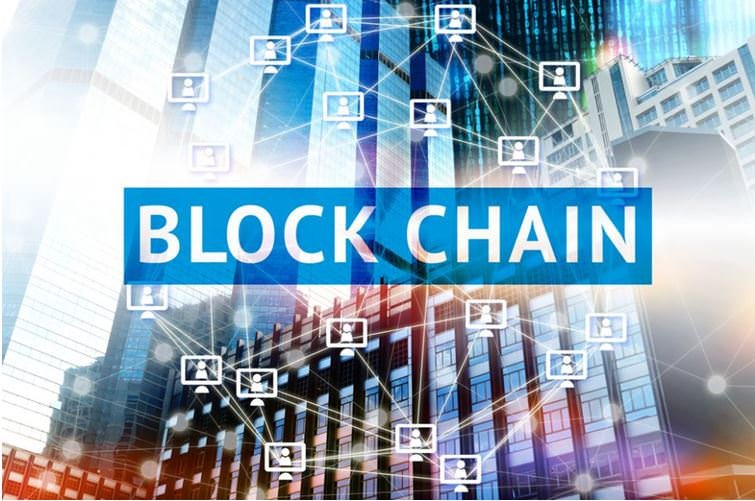 In 2017 the buzziest word on the public's mouth in the world was Blockchain that from the very beginning grabbed users' attention as well as Applicature's.
Its popularity spreads so quickly due to its honesty, integrity, and validity. Creating ICOs has become one of the most popular possibilities to raise  money for a project. Consider the information about the cost to launch an ICO to find out many important tips for providing a successful ICO campaign.
As one of today's key possibilities of capital-raising, it has both supporters and opponents. There is a growing chorus of adherents and, on the other hand, there are those, who find it a confusing phenomenon and as a result, perceive it with some caution.
But after all, the power of blockchain impact on financial services of the 21st century is becoming more and more noticeable. The result is establishing record highs: every day it is discussed, used and, of course, criticized. But the world experience shows - any PR is effective.
What is Blockchain?
The blockchain is a distributed digital ledger that keeps a verifiable and unalterable record of transactions. It is governed by a token, a special mean of currency that is decentralized. Due to a fact that records of transactions are stored and available at any moment, tokens are granted with a power of user's credibility. 
 Such altcoins as Bitcoin (BTC) and Litecoin (LTC) are well-known forms of cryptocurrency that are used more and more often as opposed to the fiat currency. The main advantage is easy and convenient use that turns, for example, Bitcoin into such popular thing as morning coffee and pizza.
It seemed to be unstable in price and have some capacity limits on amount of transactions per second processing, so now many people prefer to use it mostly in investments instead of usual transactions. Otherwise, tokens like Dash (DASH) and TenX (PAY) are very suitable for everyday purchases with much more higher capacity for transactions per second processing.
Global Banking
Global banking is another blockchain for financial services use cases of 2018.
Firstly, explore how many banks already prefer blockchain to a traditional banking system. And it's just the beginning.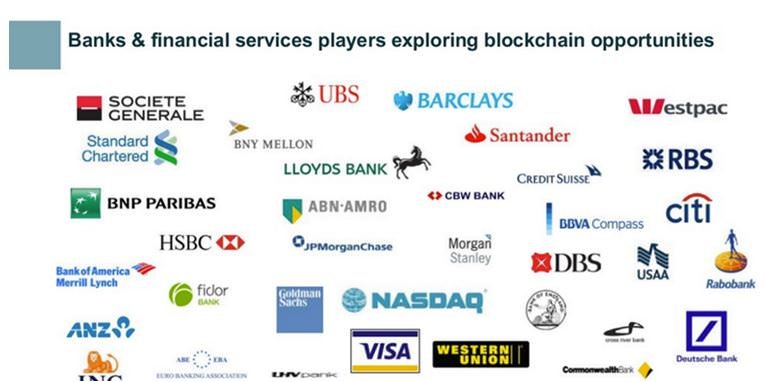 It's worth mentioning Ripple (XRP) and Stellar (XLM). Usually, transactions are famous for long-time banking procedures, low level of service and high failure rates. That's why banks prefer to carry out their transactions directly with each other using Blockchain currency to decrease the total costs of the settlement.
Today, its digital asset XRP is currently the fourth biggest cryptocurrency by market capitalization (after Bitcoin, Ethereum and Bitcoin cash). It allows to implement payments immediately and at a low cost. 
 At the end of June, the first blockchain-powered instant-remittance service was established to form a way of payment between Japan and Thailand. Thailand's Siam Commercial Bank and Japan's SBI Remit started to cooperate and use Ripple to accelerate the speed of money transferring and cost of the countries' remittance corridor. As a rule, it took "two business days" to implement transactions from one country to another. Siam Commercial Bank announced that now this can be accomplished in two to five seconds.
Stellars' XLM is the same as XRP, but it is more decentralize due to another way of tokens distribution. It is make it harder to use by huge financial institutions, but more efficient for small and medium companies that provide banking services.
Trade Finance
Let's compare conventional trade finance and blockchain trade finance. For this transactions you must be familiar at least with power of Ethereum (ETH) and Cardano (ADA) platforms. With idea of other cryptocurrencies blockchain like Bitcoin and Litecoin, those platforms provide not only ledger of transactions, there are implementing ability to execute computational code with set of virtual machines. This make a worldwide distributed computer for financial transactions.
This computational code executed with SMART-contracts, that allow to set rules for transactions distribution.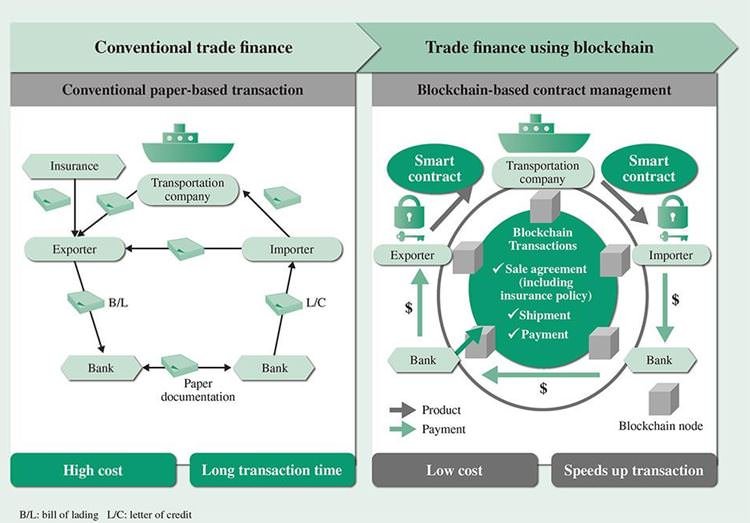 Do you see the difference?
Today's trade finance sphere is facing the following problems:
as most of data is paper-based, it's vulnerable to inefficiency and fraud
sending a letter of credit to a bank takes a lot of time
numerous bills of lading.
By creating smart contracts there is no need to execute payments for people as it's an automated option.
Decreasing cases of fraud are possible by providing only one bill of lading for a shipment. It can be automatically approved by all the nodes of the blockchain. Also, documents will be translated at a lower cost of LC's for traders. 
 To check the customers banks spend from 2 to 4 months. But it can be implemented instantly on the blockchain by customer's undergone CDD.
That all is indicated on great blockchain impact on trade finance.
Sport betting
One of the most popular examples of us blockchain in finance is betting. The well-known blockchain betting platform Blitz Predict can solve a set of problems with the current way of a betting system working:
1) to speed up the process of delivering payments (as usual it takes a few weeks) 
 2) to find books with the best odds to win
3) blockchain predictions are a more true source of trust than the advice of false experts.
Blitz Predict includes an aggregator to scan and to search the best variant of betting. This helps customers to be really sure of their choice. Also, there are auditable liquidity reserves, due to which everyone will receive his payments at the end of an event. Initializing with smart contracts provides the possibility to create wagers taking into account all criteria. BPZ can also be used for other betting transactions, like purchasing expert advice. 
 One more advantage of BPZ is that it allows to implement and pay smart contracts. Due to this, there is a possibility to place wagers according to the experts' opinion. Moreover, BPZ is a currency that participates in betting that makes the process more comfortable.
All these blockchain finance services demonstrate that blockchain has a great impact on the financial industry and will strengthen it in 2018. People make their usual transactions using Bitcoin. Ripple is gaining more customers' credibility than banks. And even sports betting is changing its work in favor of blockchain platform Blitz Predict. So, it's just the beginning of the worldwide blockchain financial system that 2018 prepares for us.
Microtransactions 
 Any blockchain provide ability for user to set a numerous microtransactions with only one fee for processing of it. XRP and XML already doing it for financial organizations that are reduce their cost on its processing. Bitcoin and Litecoin introduce ability to configure transactions without any intermediaries that reduce cost of users on fees for processing. Ethereum and Cardano are implementing ability to make such microtransactions continuously with their SMART-contracts.
For now, there are numerous custom blockchains or Ethereum based tokens that significantly reducing fees and cost in their specific areas of use.  There tokens that provide cheap microtransactions for various services, like identity and access managements, logistic tracking, loyalty programs, storage of data, use of others computers computational power, energy distribution, etc, without any need of financial intermediaries services. 
Original article was posted on our blog:  https://btcupload.com/bitcoin-news-blog/how-blockchain-will-impact-on-financial-services-in-2018