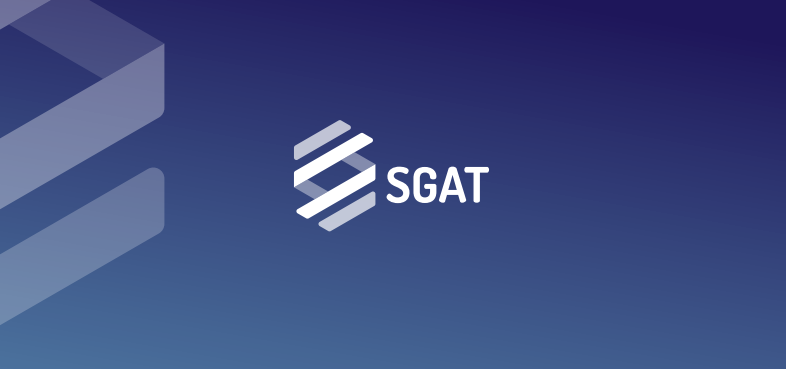 In the modern world, there are often irregularities when conducting transactions that are associated with the involvement of the third party in the payment process. As a rule, this is a bank. Usually, money from one settlement account is quickly credited to another, but there are cases when the delay in receiving funds is delayed for a day for reasons beyond bank's control. The reasons may include a technical malfunction on a bank server, incorrect filling in details, a mistake of a bank employee in manual payment, etc. It seems that participation of a third party is insignificant, but business can suffer serious losses, since the timely delivery influences the stage of shipment of goods, signing of documents, transfer of ownership. Decentralized SGAT project allows minimizing the participation of intermediaries in a transaction and making payments using smart contracts.
https://www.sgat-technologies.com/en/
Key features of SGAT
The goal of SGAT project is to introduce the use smart contracts to a wide audience that will help business partners and individuals to pay for services and contracts quickly, steadily and profitably. SGAT is a new ecosystem that is based on blockchain technology. The project infrastructure contains individual smart contracts and decentralized applications that can be used both in corporate business and when making individual transactions.
Advantages of SGAT
SGAT platform runs on its own blockchain technology ith the released cryptocurrency. SGAT has a high level of adaptation to existing technologies and services and applications released on their basis. The installation of SGAT will help to introduce smart contracts into existing projects and ensure fast payments for daily use. A significant advantage of smart contracts is the elimination of intermediaries in a transaction, that allows saving money on commissions and time on operations. With the help of smart contracts, you can automatically perform a transaction within a few minutes by using a digital signature and without the need for depositing.
SGAT platform is a two-tier system that consists of blockchain technology and an innovative system using smart contracts. SGAT operates on a technology that will allow generating smart contracts without creating a blockchain-based platform, i.e. project users will be able to use smart contracts without transferring their project to blockchain-based system. The project creators are working on constant improvement of the platform, adapting it to new releases of smartphones.
You should register to implement a project. After that, a user gets access to his/her personal account, where he/she can choose the best modification for the application using smart contracts. Naturally, all purchases of users are carried out using smart contracts.
https://www.sgat-technologies.com/en/
It is important to note that SGAT project does not support Ethereum cryptocurrency. This is due to the implementation of the platform based on CryptoNote protocol. The project is supported by a non-stop support service, allowing customers to timely resolve issues and help them when adapting an application with an existing database.
SGAT cryptocurrency
The project uses a SGAT token to perform internal calculations. The price for one token is 1 euro. A total of 12 million SGAT were issued, of which 65% are available for sale. The project's softcap is 1.5 million euros, hardcap - 6.5 million euros. 164,209 dollars were collected during preliminary sales. The terms of the main crowdsale will be announced additionally. You can buy the cryptocurrency using fiat or other cryptocurrency (ETH, BTC).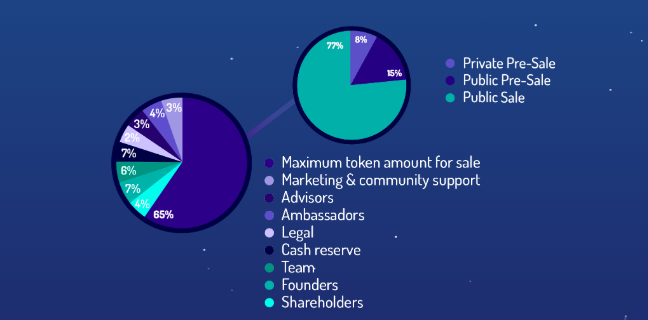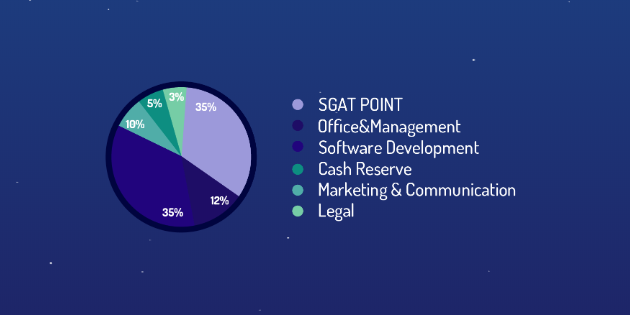 Summary
Thus, SGAT platform allows its customers to implement innovative payment technology, called smart contracts, without introducing additional tools. The use of SGAT will allow the introduction of smart contracts into mass use, providing business with modern technologies when performing calculations. Thanks to SGAT, the payments will be carried out easily and quickly without additional commissions. The project was launched relatively recently, and is currently testing the platform's alpha version. The lack of commission, adapted to the use of the application and the effectiveness of the project will allow working on the platform with the maximum comfort.
Links:
Website: https://www.sgat-technologies.com/en/
WhitePaper: https://bit.ly/2N3y7sb
Telegram: https://www.t.me/sgatcoin/
Facebook: https://www.facebook.com/Sgatcoin/
Twitter: https://twitter.com/Sgatcoin
Medium: https://medium.com/@sgatcoin
ANN: https://bitcointalk.org/index.php?topic=4421668.0
Author: https://bitcointalk.org/index.php?action=profile;u=980049
Disclaimer
This review by Bonanza Kreep is all opinion and analysis, not investment advice.