The potential of blockchain technology for transforming the global economy has long been acknowledged. It is not limited to using cryptocurrencies as a means of payment. As this technology advanced, new possibilities for its use have emerged. For instance, smart contracts have already found many different uses.
What is the next step forward? Some say that it might be the tokenisation of real world assets, from houses and cars to expert services. By creating tokens tied to assets, it would be easier to integrate them into the blockchain infrastructure and streamline their use and exchange. However, doing this would require a reliable way of converting assets into tokens.
MUST, which stands for Main Universal Standard of Tokenization, is meant to provide just such a service. The project will create a quick and easy way to convert real assets and various connected aspects into non-fungible tokens (NFTs) that could then be used in smart contract transactions. With the help of this protocol, developers and businesses in different spheres will be able to move more of their operations to the blockchain than ever before.
How will MUST be used to tokenise assets?
The tokenisation process will involve the use of several off-chain and on-chain dApps. First of all, a digital asset containing all the relevant data about the real asset will be created on the DAsset CORE. This DAsset will be used to generate an on-chain token of asset confirmation (TAsset) and atomic asset tokens (TAtom) through the TAsset CORE. If basic assets could be something like a piece of real estate or a vehicle, an atomic asset might be a square meter or a kilometer per hour, respectively. TRight CORE will be used to issue a separate type of token: the TRight token, representing the right to use an asset. MUSTEX, a decentralised exchange, will allow smart contract-based transactions using different fungible and non-fungible tokens. Finally, MUST will also include an Escrow NET used to carry out conditional payments through smart contracts.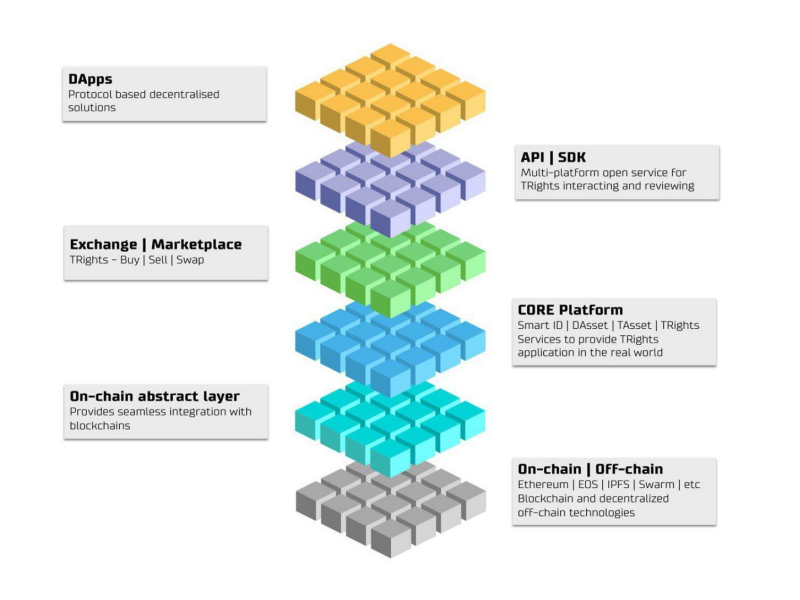 By tying all of those system together with the MUST Protocol, the platform will allow those tokens to be used to represent and support a variety of transactions and use cases. Users will connect to the system using its Smart ID system, tied to their social media addresses, and would need to stake MUST tokens to tokenise assets. MUST could also be used for payments on the MUST Platform. In addition to providing APIs and SDKs for easy to adaptation and integration of the protocol by third parties in their own dApps, the company will develop its own marketplace products aimed at different industries:
1. Currency – for fiat money tokenisation;
2. Rent Auto – which will allow car rights to be tokenised with the help of rental agencies and then leased for a set amount of time with automatic payments per kilometer driven;
3. Profit House – used to tokenise real estate and support purchases, leases and investments;
4. Insurance – allowing the use of digital information for risk management and trading, primarily for auto insurance;
5. Token Bond – for smart contract-based rental bonds and their purchase and sale;
6. Retail Trust – enabling transactions with various commodities, especially consumer goods and luxuries.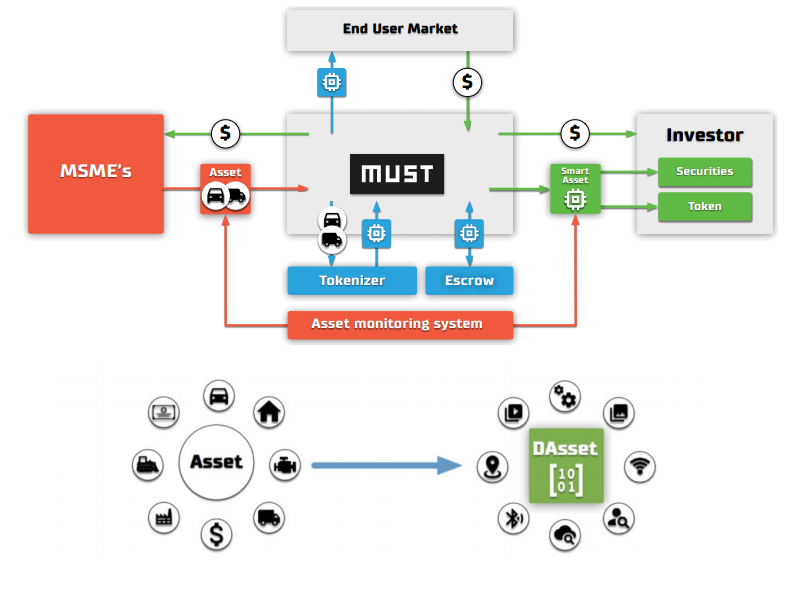 What makes this project look promising?
By tokenising assets, MUST could bring many advantages to the real economy. Despite its complexity, its protocol would be fairly easy for businesses to integrate and use, especially as the digitisation trend continues to acquire momentum. Tokenisation would bring higher flexibility, reliability, transparency and security to different fields of economic activity, and could help cut out many extraneous middlemen involved in asset authentication. By keeping an immutable record of information, it would be very helpful for compliance and auditing purposes as well.
The MUST Foundation was created by professionals from different areas of business, who have a strong concept of the protocol's many different uses and know to pay attention to the diverse needs and regulations facing different industries. Its project has gone through several iterations since work on it began in 2016. A large part of the architecture is already prepared. The MVP versions of two products using the MUST Protocol – Rent Auto and MUST Profit House – will become publicly available within Autumn 2018. Several cryptoindustry companies have stepped forward as partners. MUST promises to provide SDKs and collaborate with those and other partners to speed up the adaptation of its protocol.
Token sale details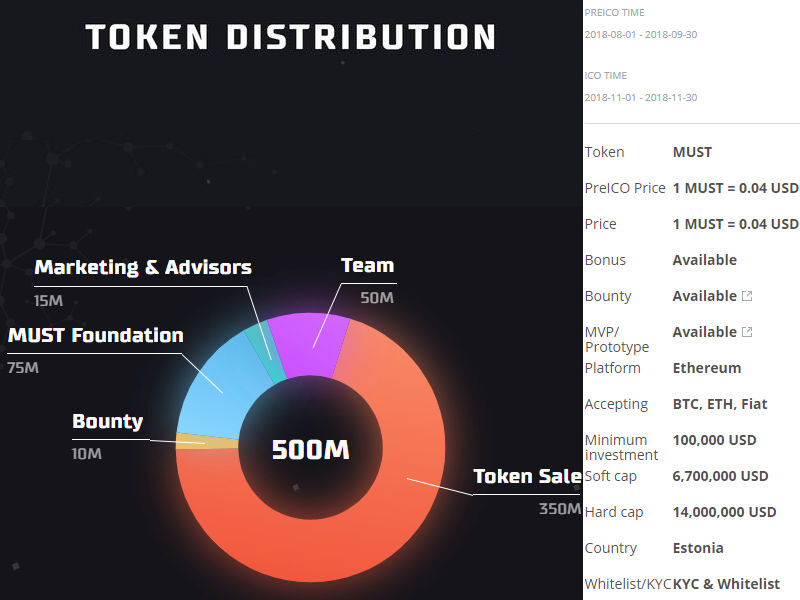 Building an infrastructure for the economy of the future
Exchanging assets lies at the foundation of all economic activity. Tokenisation, if executed correctly, could reinvent this fundamental process, giving it all the advantages of blockchain technology. This would not only make many everyday transactions more reliable and convenient, but also streamline the economy as a whole, bringing considerable benefits to society.
However, this is very much a long-term process. Even if the technology for it is ready, it will take some time for businesses and customers to get used to token exchanges as a medium of asset trading. Also, while blockchain technology can make information immutable and secure on the chain, it has a weakness on the side of off-chain data entry. Good faith participation on the part of all stakeholders will be essential for the successful adaptation of the MUST Platform. Still, this is a promising project, and it could attract the support it needs to eventually reinvent the way we rent a car or sell a house.
Links:
Website: https://must.io/
WhitePaper: https://must.io/pdf/whitepaper_en.pdf
Telegram: https://t.me/must_en
Facebook: https://www.facebook.com/mustfinex/
Twitter: https://twitter.com/mustfin
Medium: https://medium.com/@ru_must
ANN: https://bit.ly/2QnaybI
Author: https://bitcointalk.org/index.php?action=profile;u=980049
Disclaimer
This review by Bonanza Kreep is all opinion and analysis, not investment advice.