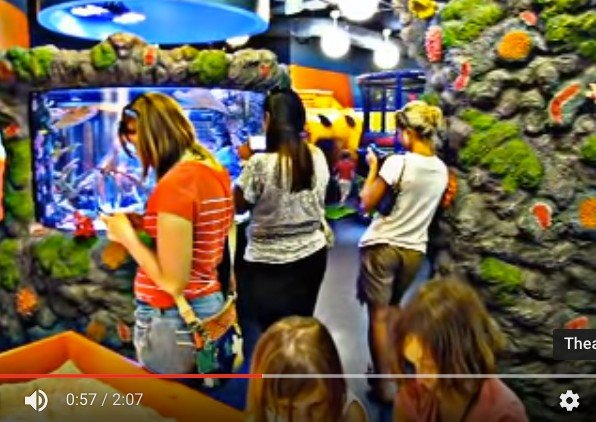 Image Source: YouTube still from my video Smartphones and The Death of Pure Experience
Back in 2012 before I owned a smartphone, I spent one day pretending I was from a different planet and I observed and documented the behavior of human beings on earth.
I chose to spend the day at an entertainment spot called Sea Life while I documented and observed people's behaviors. I filmed everyone in secret and I did this by pretending to be a tourist taking photos. I was surprised by how easy it was to spy on people. Everyone was obsessed with their bright little screens and so I had no problem filming them without their knowledge. I have been doing street photography for many years and learned that if people are out in public places, you can make artistic films legally.
After the day was over I had a creepy feeling sweep over me. I then made my observations into a video which has a very uneasy and dystopian feel to it. Anyone watching Black Mirror will see some similarities.
Here's my video that was secretly filmed titled, SMARTPHONES & Death of Pure Experience:
For me, the one shot that really gave me the creeps was the one where the 3 mothers are all on their phones while the 2 girls in front of them are having a conversation. The juxtaposition is rather shocking.
If you're wanting to know where we are all headed in the near future, Black Mirror, the Netflix show, is probably a good place to start. I don't have Netflix, but I found a YouTube folder that contains many of the episodes:
The concept of 'Reputelligence' in the Black Mirror show is quite interesting when one thinks of the parellels within Steemit. Look at this tweet from the official Black Mirror Twitter account:

image source:
https://www.brandwatch.com/2016/10/react-black-mirror-season-three-social-data-review/
You have to do a double take and confirm that this tweet was not coming directly from Steemit, Inc.'s future marketing director's Twitter account.
When thinking about 'Reputelligent Tips', I am immediately reminded of some Steemit users whose reputations were destroyed by being the victims of sexual harassment and speaking out against it (@anxietymaven).
Also many users who see the cracks within Steemit's design and point it out are also reputationally destroyed by abusive whales. Some people have tried to tarnish my reputation also.
Some of these normal and free thinking users who snapped under the pressure of conforming to a system that is weighted against them have spoken out and pointed out the flaws of Steemit. Some of these people have been reputationally destroyed. Of course, along with them, the trolls and stalkers and blackmailers also have been reputationally destroyed. They all acted exactly like the characters in Black Mirror who crumbled once their reputation score was reduced to zero. There's one user, @luminousvisions whose reputation has also been destroyed recently. I looked into the cause and it appears to be because he was critical of the flawed centralized power structure within Steemit. See for yourself how the parellels are exactly the same, and in fact many of these plots are actually reflecting a current reality in many kinds of digital micro communities like ours.
Some of Black Mirror's episodes are not set in the future.
They are happening now.