How to invest in a bear market. Part 1.
For six months, we had a bearish cryptocurrency market, and many retired people leave the market. Many people lost their money by climbing the hill when everyone around was shouting, urging them to invest in cryptocurrency. Now the dust has settled. Someone lost it, and those who became a farmer continue to count on another cryptocurrency bubble, but there are those who took their capital from the stock exchanges in time and are now ready for new investments and these people are mainly focused on this article.
First, a few things you should know:
As with any self-respecting herd, there is always a leader. In the case of cryptocurrency, this head is Bitcoin. As Bitcoin drops it, and the rest of the cryptocurrency falls, as Bitcoin grows, it is not necessary that the rest of the cryptocurrency grows. Recently, this principle has been used by Binance Coin (BNB) - the symbol of the fastest growing and largest cryptocurrency market in the world, but it also fell on a bear market (the BNB growth trend line was broken). Similarly, in the stock market, where the US stock exchanges are the benchmark for stocks and when they fall, they also fall in the rest of the world, because the US stock exchanges do not necessarily grow on other stock exchanges.
Avoid traders gurus by joining all sorts of automated bots, trainings, courses belonging to closed investment groups, groups with signals in Telegram, etc. They cannot make money in the markets (they are not investors or traders)) but they are very good sellers who, through all the sea of ​​manipulative tricks, acting subconsciously on your initial instincts, can sell you a product with which you will be unhappy, so that you do not earn money and you can go into debt and will remain unpleasant th precipitate. I do not claim that all coaches and authors of books are fraudsters, but more than 90% of them are such. If you hear, read somewhere that someone will teach you to make money in the market, run as far as possible.
Третий пункт тесно связан с пунктом 2. Потому что никто не знает будущего, и никто не скажет вам здесь и сейчас, во что инвестировать, чтобы вы наверняка могли заработать 100% в будущем. Если вы надеялись, что я расскажу вам об этом, тогда вы можете закончить чтение этой статьи. Это также будет означать, что вы - легкая цель для рекламщиков и мошенников, которые ищут своих жертв среди слабых. Если вы не попадете в одну из ловушек, это, вероятно, поймает вас в другую.
How to invest when there is blood in the markets
Contrary to appearances, investing in such adverse environmental conditions is not as scary as it may seem at first. Where to begin? At the beginning, you need to check whether the long-term trend continues to grow, if not, we can immediately switch to establishing long positions and go short or play on dips. Such a situation, when the long-term trend is growing, we have on cryptocurrencies and most stock exchanges - Japan is an unlikely exception, where we had a summit in the mid 80s of the last century, which was not defeated to this day. On cryptocurrencies, the main 3 uptrend line was recently broken through and tested from below, which does not bode well, given the previous story.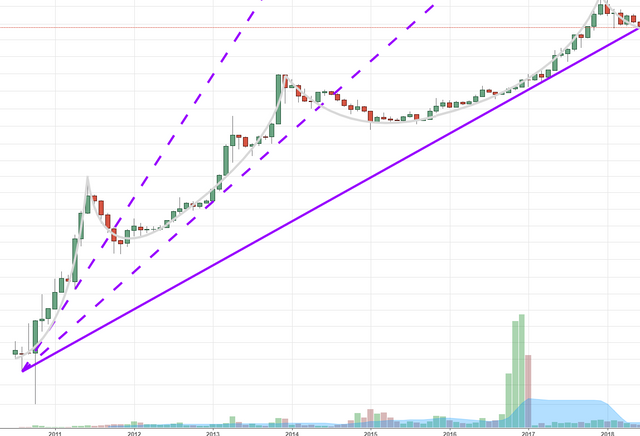 Analyzing the above logarithmic graph for monthly candles, which represents the history of bitcoins from 2011, you can draw different conclusions, and everyone must draw them independently. I will try to present my point of view on the current situation. After the bitcoin bubble burst in 2011 and 2013, the BTC rate, as recently, broke the trend line.
In 2014 and 2015, the rate after the break of the rising trend line was rejected by more than 60%. Translating this into the current situation, the bitcoin rate should fall to about $ 2500. Along the way, we have a lot of support, including an inverted flag range of $ 4,000.
Another important support is the peak of the bubble in 2013 at $ 1,175, which is important because the latter. Therefore, breakthrough support may mean a change in the long-term uptrend and entry into a long-term downtrend or what we currently have in Japan (long-term sideways trend). Please note that I always write about the bitcoin market, and not about the entire cryptocurrency market. Another important point is the fact that we even have reflections on a bear market. Each subsequent reflection is less and less dynamic, in proportion to how the decline dynamics changes. The rebound in which we are now is very weak, the chances have not even managed to break through the last local summit, and 61.8% of the rebound has already been canceled. We had a similar situation in 2015, when we had a side trend for most of the year, and neither bears nor bulls could tip the scales in their favor until we finally left the mountain and the last bubble began to form. This is optimistic, because it can be assumed that after a longer stagnation there will be more reflections.