Bityard Holds a Bitcoin Trading Competition, with prizes of US $ 60000
Bityard, a crypto asset futures contract trading platform from Singapore, is holding a Bitcoin (crypto asset) trading competition with a total prize of US $ 60,000 starting Monday, April 26, 2021.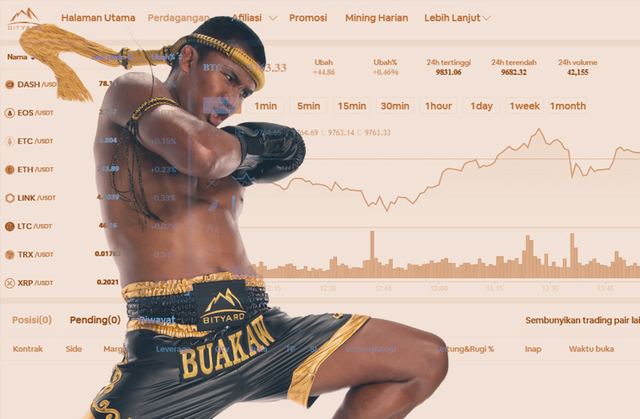 The competition is open to Bityard users with balances of more than 50 USDT. Each user is free to join the available team, consisting of one leader and a minimum of five members.
"Each participant can only enter into one team permanently. There have been a number of Indonesian representative teams that have joined, including DTS Trader, Young Rich Crypto, YT Fighters Receh, Team BTS, mvc, Silent Team, Nafero, 1Anunnaky, Trading Receh, Blessings of Ramadhan, Team Hak'e and Bolot Militan, "said the Team. Bityard yesterday, Monday (19/4/2021).
The total prize given depends on the total number of participants. The more participants, the higher the prize.
With one thousand participants, the total prize pool is US $ 5000, and with more than 10 000 participants, the total prize is US $ 60000.
The winner of the Bityard trading competition is determined based on the trading volume. The top 10 teams will be ranked according to the total volume of team transactions during the competition.
The first-ranked team gets up to 30 percent of the total team prize. The second ranked team gets 20 percent of the total team prize.
And the team ranked third gets 10 percent and the teams ranked 4 through 10 share 40 percent of the total team prize.
"Only members with a trading volume of more than US $ 50000 (using leverage) can win prizes from the prize pool. The team's transaction amount of US $ 50000 can be divided into internal team bonuses, "said Bityard.
The team leader gets 30 percent of the team bonus, while the top ten members share 40 percent of the team bonus. The remaining members share 30 percent of the bonus.
For individual trading, a prize pool of US $ 5 thousand is available. The first winner gets 30 percent, the second winner gets 20 percent, the third winner gets 10 percent. The fourth to tenth winners share 40 percent.
"The team that has the most members and reaches the top three ranks will receive an award. As long as the transaction volume reaches US $ 50000, the first team will receive 60000 TRX, the second team will get 30000 TRX and the third team will receive 10 000 TRX, "concluded Bityard.
Information on the race, can be read on this page.