Two pieces of information:
两则信息:
AEX will remove bitusd market and list USDT market on Jan 24, 2018 (https://www.aex.com/page/news/notice/2018/0122/en_154.html).
AEX 会在1月24日移除bitusd市场,增加USDT市场。(https://www.aex.com/page/news/notice/2018/0122/en_154.html).
laomao, CEO of BigOne (previous yunbi), posted a new article about his visit with Giancarlo, CFO of Bitfinex and Tether. As a previous sketpic of USDT, laomao confirmed there are 1.8 billion USD in tether account and 1.1+ billion usd in Bitfinex. And BigOne will also list USDT market soon. source:  https://mp.weixin.qq.com/s?__biz=MzAxMjMzMDg4OA==&mid=2650539186&idx=1&sn=73daf46d36c034fe7033bc7c284102f7&chksm=83bbd655b4cc5f43e9449febb3906f3da5c7bd8595f2b0ecc932e48b641d2cd7e3afc4a19b74&mpshare=1&scene=1&srcid=0123e4ZECWid0AvYolDFatgX&pass_ticket=B8hVvktp2a%2F8XDARf%2BWC630Si90nKNw7WIIdyGD5cmclZCVGiB3MI9uWhFCcFKA1#rd
老猫发表新文章,关于他和Bitfinex首席财务官Giancarlo的见面。Giancarlo向他展示了tether和Bitfinex的账  号情况,打消了老猫之前的疑虑。BigOne交易所也将上线USDT市场交易对。
Personal analysis: 
个人看法:
Reason why AEX remove bitusd. 为什么AEX移除bitusd交易对
Firstly, compared to bitcny market, the volume of bitusd market is not so high since many of its users are Chinese.  
首先,AEX bitusd交易对的成交量不高,用户更多是中国人,习惯在bitcny交易市场交易。
Secondly and most important, the crypto market is not stable recently and price of BTS fell down a lot which affected the supply of bitassets. And Black Swan Event almost happened to bitusd last week. The critical shortage of bitassets bring liquidity problems to CEX. It causes a situation that people have sufficient fiat fund and willingness to buy the cheaper alt coins while they have to pay a much higher fees to buy bitcny. Exg last week, 1 bitcny = 1.2 fiat cny, which cost 20% extra fee.
第二也是最重要的一点,最近数字货币市场波动巨大,BTS下跌厉害,严重影响了锚定货币的供应。上周bitusd资产甚至几乎发生黑天鹅事件。锚定货币的急缺带给交易所流动性的问题。它导致了人们有充足的法币并愿意抄底的时候,需要首先支付高额的手续费来购买锚定货币。例如上周,1 bitcny等于1.2人民币,即20% 手续费。
But the good point is AEX still keeps bitcny and will list BTS/USDT in the first batch. The new fiat channel will also help stabilize BTS price. As the most friendly CEX to bitassets in China, AEX will consider add BTS-based trade pairs in the future also.但好的一点是,AEX会保留bitcny市场和首先增加BTS/USDT交易对。新的法币通道可以帮助稳定BTS价格。作为国内对BTS锚定货币最友好的交易所,AEX同时也考虑在未来增加BTS基础的交易对。
Finally, it is the photo of Zhaodong (founder of Dfund Capital), laomao and Giancarlo in Tokyo, Japan. 
![屏幕快照 2018-01-23 上午8.28.59.png](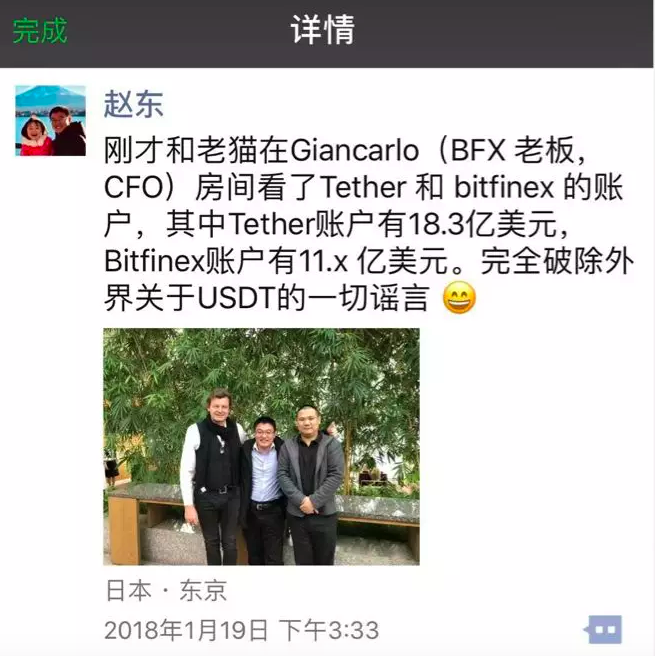 )