A burst of BitShares news! Releases, BSIPs, bitUSD revival ... and a Pishing warning - See inside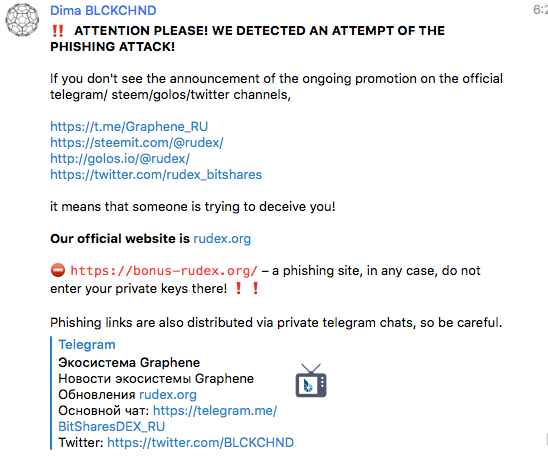 Above: Pishing Warning - Please take note
Question from Telegram community member:
Hey does anyone know what's going on with the resetting of BitUSD after the global settlement? Is there a timeline? Also, how are BitAssets reset?
Answer here! Yes. The status is "installed" on the Available BSIPs listing: https://github.com/bitshares/bsips
Here are the implementation details: https://www.bitshares.foundation/workers/2017-07-peter-conrad
---
Someone say MOBILE APP?
Announced earlier in telegram
The Bitshares Mobile App source code is already hosted on github. You are welcome to review. Github: https://github.com/btspp/bitshares-mobile-app
Any questions are welcome to give us feedback. Telegram: https://t.me/btsplusplus
---
Latest UI candidate
From @sschiessl: "New UI release candidate is out, including collateral bidding!"
https://whaleshares.io/bitshares/@sschiessl/bitshares-ui-release-candidate-181212-20181206t160411566z-post#comments
---
"I'd also like to invite anyone interested to join integration testing, through UI worker bounties"
See https://github.com/bitshares/bitshares-ui/issues/2274
---
That's it! Quick blast as I test out Masdacs here for the new blog. Expect lots more Graphene news to come from @cryptoninja.guru! (edit: masdacs seems to be not working for medium or wls, so back to drawing board).
---
---
Graphene chains community news updates and other interesting blockchain/crypto and general technology happenings cross-posted regularly and exclusively on the @cryptoninja.guru WhaleShares and Steemit blog. Website coming soon https://cryptoninja.guru