1h30 min BitShares Stress Test of the 15 March 2017 - 3300TXs 14000OPs
BitShares Stresstest Highlights: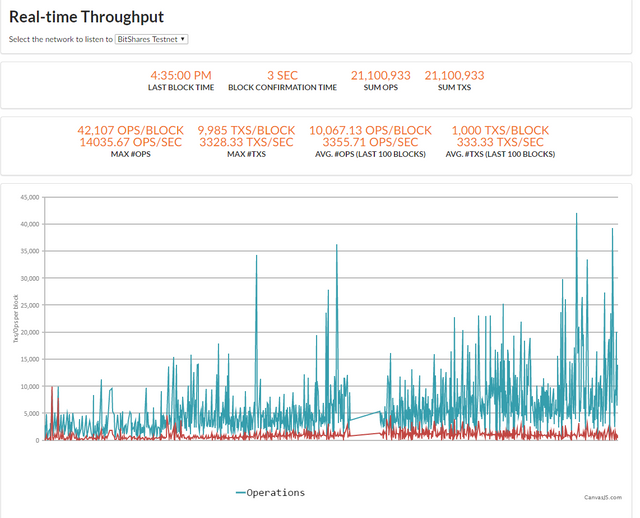 Source: http://stats.bitshares.eu/#test
Block Confirmation: 3s
62645 OPS/BLOCK
20881.67 OPS/SEC
MAX OPS
9985 TXS/BLOCK
3328.33 TXS/SEC
MAX TXS
10067.13 OPS/BLOCK
3355.71 OPS/SEC
AVG. OPS (LAST 100 BLOCKS)
1000 TXS/BLOCK
333.33 TXS/SEC
AVG. TXS (LAST 100 BLOCKS)
To compare, October 15, 2015 the record was 1000 TPS - Source
Blockchain breakthrough
We also were able to reduce the Block time from 3 to 1 seconds seamlessly. No forks, no witness hookups, just smoothly 500 txs per second with 1-second block time.
Thanks to
Big thanks to the whole team who participated in this stress test, especially, @xeroc for the stats page and @valentin for the live stream.