BITSHARES NOW! Stan Larimer describes BITSHARES to Crypto Connie on Blue Rock Talk VIDEO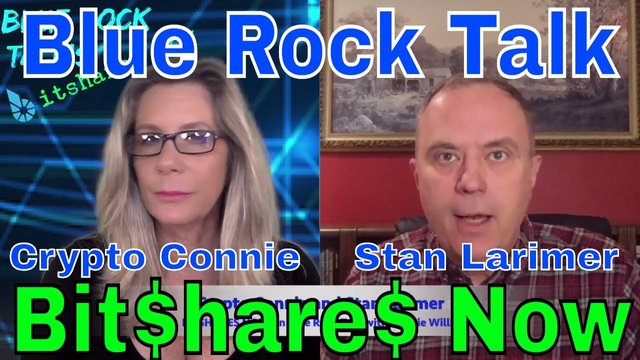 In this episode of BITSHARES NOW, Crypto Connie asks Stan Larimer, the Godfather of Bitshares, about Bitshares.
This is a series of shows to learn the interesting world of crypto currency and how to possibly make some decent money too!
Learn as I learn,
~ Connie🖖
PLEASE SEE PREVIOUS POSTS HERE ON STEEMIT, 2 DAYS AGO, FOR LAST INTERVIEW WITH STAN!
To Steemians:
I know you Steemians know this subject well. I'm just learning and trying to teach others as I go. You support is essential in making it easier for me and those I try to help learn this too. Any suggestions or expertise you can lend to myself or other Blue Rockers or new Steemians in is truly welcomed and appreciated!
Blue Rock Talk with Connie Willis presents:
(Click here to watch)
Follow me on STEEMIT:
https://steemit.com/@bluerocktalk
Follow Stan Larimer too:
https://steemit.com/@stan
Buy into BITSHARES:
https://bitshares.org/wallet?r=connie-willis
*** Go with the LIFETIME MEMBERSHIP while its affordable
I am a LIFETIME MEMBER in Bitshares. I like the benefits and its inexpensive to get in right now, the price will go up. Get in now for that. Or Not. Your choice. I cannot make your financial decisions for you. I will get a one time fee, that costs you nothing, if you go thru my link. Then you can do the same with your friends after that-thanks!
Free Crypto Coins:
http://coins.billionherocampaign.com/ref/u9631838
Billion Hero Campaign
https://billionherocampaign.com/
SHOP AT MY NEW BLUE ROCK TALK SHOP!
All things I have bought or I suggest!
https://www.amazon.com/shop/bluerocktalkwithconniewillis
BLUE ROCK TALK!
Earth's Most Interesting Conversations with Connie Willis!
After 25 years of a successful national broadcast TV and Radio career Connie walks the walk investigating strange anomalies yet to be explained, bringing it home to you.
Subscribe Here on YouTube to be an Official Blue Rocker!!!
SUBSCRIBE ~ LIKE ~ COMMENT ~ SHARE!
MORE ABOUT CONNIE:
~ Founder/Digital Host of BLUE ROCK TALK with Connie Willis
~ Regular Weekend host on COAST TO COAST AM
~ TV: UPN, ESPN, SPEED, TNN Motorsports, FOX Sports DISNEY, OXYGEN, QVC, HSN, TSC...
~ RADIO: COAST TO COAST, WHAS, WWKA, WDBO, WVEZ, WSRZ, WMGB, KISS, KOOL, WAKY, WPHT, KKEV...
JOIN THE JOURNEY:
https://www.youtube.com/c/BlueRockTalkwithConnieWillis
https://steemit.com/@bluerocktalk
http://www.coasttocoastam.com/article/meet-connie-willis
https://www.facebook.com/BlueRockTalkwithConnieWillis/
https://www.facebook.com/ConnieWillisPublicFigure/
https://twitter.com/bluerocktalk
https://twitter.com/conniewillisusa
https://www.instagram.com/bluerocktalk/
https://www.instagram.com/conniewillisusa/
https://www.patreon.com/bluerocktalk
http://www.conniewillis.com/
http://BlueRockTalk.com