Tier #3 Token Sold Out! Are There Any More Tokens?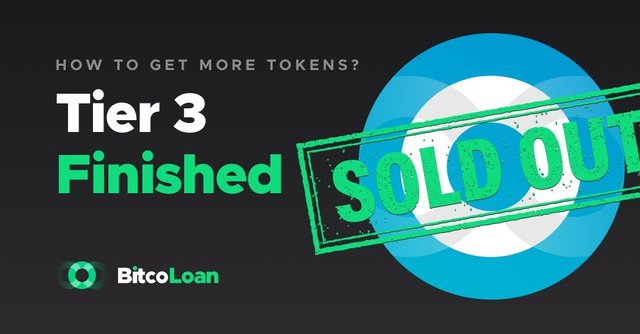 The Private Sale Tier #3 has ended prematurely due to the token sold out! It other words, you can't buy any more BITCOLOAN tokens during the Private Sale.
However, it doesn't mean that you won't be able to get more tokens as there are two more methods to obtain it.
Let's take a look at each method and discuss our further plans.
How to Get the Token
All tokens are sold out, which means that the Private Sale purchase is no longer available. Fortunately, you still can obtain some tokens. Here are the two options:
Option №1
You still can complete the Bounty program tasks in the Dashboard "Token" section. The Bounty program continues and still is one of the most convenient ways to obtain the BITCOLOAN token.
Option №2
Invest and get 64 BITCOLOAN tokens for each $1 invested. This is the most profitable option which is also still available.
What's Next
The premature Tier end doesn't mean that we're going to shift the platform update schedule. The token will get on to the Uniswap exchange after July 7, just as we planned. All the following updates are taking place according to the Road Map schedule.
More details about the token getting on to Uniswap and the exact event date will be announced in our blog later. Stay tuned!
New Podcast
If you haven't had time to keep up with the latest company news, we have just what you need! A new convenient format podcast will brief you on the latest news. Turn it on, listen, and carry on with what you're doing .
And for those who's been staying tuned for the news, the podcast hosts have prepared something special. Don't miss a thing it and turn it on now! https://soundcloud.com/bitcoloan
Liked reading this article? Spread the word!