Here is my 3 year old post predicting Bitcoin's 2020 price of above 20k USD: https://steemit.com/fiction/@xwerk/cryptocurrency-market-cap-in-the-year-2020-or-bitcoin-ethereum-komodo-monero-bitcore-steem-decred-byteball-litecoin-lbry
I feel we are getting close to my prediction very soon. There are a ton of positive indications that we are indeed at the beginning of a new very bullish trend right now.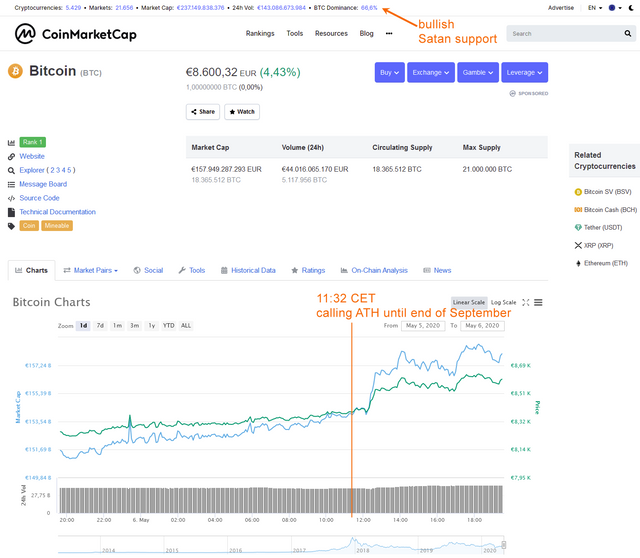 Among some of the most important indicators for a new Bitcoin all-time-high within the next 4 months are:
The Bitcoin Halvening (obviously)
Yes, it might be priced in (partially) already, however nobody knows for sure. Previous Bitcoin performance after the Halvening has always been exceptional. Also don't forget, miners only get half of their mining rewards, which leads to a severe reduction in daily sell pressure.
Some pretty charts regarding this info: https://www.tradingview.com/chart/BLX/zbK2878B-Bitcoin-halvening/
Some info about the halvening: https://www.bitcoinblockhalf.com/
Mainstream attention has increased during the last few months, partly because of the covid-19 crises and its implication on the financial market.
Trading volume has reached ATH again, always a sign of great changes in the Bitcoin ecosystem - one way or another.
Check out: https://coinmarketcap.com/currencies/bitcoin/ for a nice volume chart.
Search trends for Bitcoin are slowly but surely increasing again!
In terms of market cycles BTC seems to be at a turning point again. Search for "stock-to-flow ratio" and "Plan B" and other indicators if you are interested in details.
This is not investment advice, just my personal view on the current crypto/Bitcoin market situation.
Stay safe and HODL :)