Bitcoin has risen from $ 6,300 to $ 7,500 on Bitfinex, a major crypto-regulator operating Tether LLC, which monitors the development of the stable coin Tether (USDT).
A memorable day for the entire electronic money market when so many events and news are launched. Within an hour, a 5% reduction in Tether prices has unintentionally helped Bitcoin and the altcoins trade in pairs with USDT up nearly 20%. Among the negative factors, the most talked-about question is, 'When Bitcoin has a storm, where do we go without the USDT?' And above all, 'Tether is telling the truth when he claims. that every digital coin is supported by a US dollar? '
Maybe the Stable Coin needs something new, and a better path than the current lack of transparency model!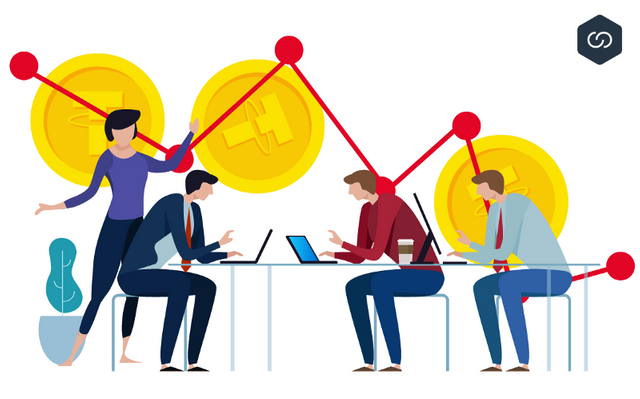 In fact, the USDT is one of the most active electronic currencies, because, for the community, it is a substitute for the US dollar. Most of all, USDT can easily switch between e-money platforms and other online platforms, because they do not have to go through the banking system. Stable prices have made it a useful tool for investors to bet on other currencies.
Tether fell to $ 0.95, the lowest level since February. At the time of writing, its price reached $ 0.948. Accordingly, Bitcoin prices have increased by nearly $ 1,000, pulling the entire market overwhelmed with blue.
The dollar that is fixed with this currency usually does not fall below $ 0.98, and rarely falls below $ 0.92. Even when it falls, it quickly pushes the price back to $ 1. However, not at this time.
As far as we can see, the lowest point it ever made was in April 2017 for $ 0.89. It fell in November 2017 and in February this year, but in all cases, Tether saw a red candle in a week, perhaps due to the price action fast.
However, this time, the currency has fallen significantly below $ 1 for three weeks, the first time since it began trading in Kraken.
Market capitalization also witnessed the sharpest decline so far, evaporating about $ 400 million over the past five days to $ 2.4 billion.
Bitfinex recently suspended fiat deposits as a bank account for which it has secretly hidden with HSBC, which may have been closed.
That means the current exchange floor cannot move the fiat. Of course, including Tether. Now they may be trying to secretly secure another bank account, but it is unclear whether they will continue to do so or not.
Without the ability to move fiat, it is also possible that Tether cannot hold its fixed value. This situation occurred earlier in early 2017 when the premiums at Bitfinex reached a very high level.
As noted, Bitcoin prices across all exchanges have increased to $ 7,600. Large pumps pushed Bitcoin up nearly 18%, making most of the market respond to a market cap of $ 13 billion.
If the BTC can surpass the resistance threshold of $ 6,800 in the short term, the pre-market will probably begin a long rally. However, if the BTC fails to break through the major resistance, it is likely that the leading currency will hardly hold the momentum and fall back to the support level of $ 6,000.
-Compiled and edited by Twogap -
====================
For more information, please visit our sites at https://twogap.com
And don't forget to reach the news on https://twitter.com/twogap_official and send us your questions on https://www.facebook.com/twogapofficial