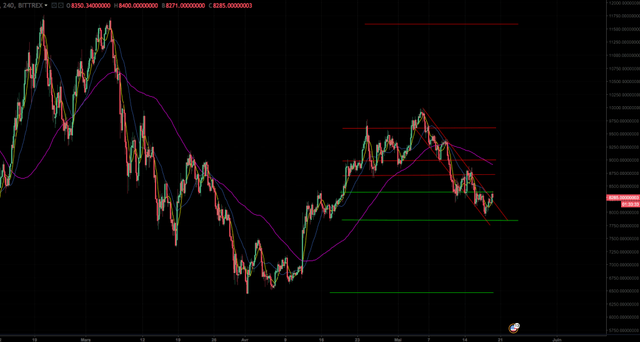 The trend seems to be picking up again on the market. The expected pull back intervened. For the first time since the start of the fall, we are closing off our bullish channel. The trend should therefore start up again. Nevertheless, although buyers have made a great effort today, we can not say that the decline is over. We will have to wait until they break resistance at 8400 USD and close beyond. If so, we should then join the 9000 USD quickly.
Nevertheless, the channel we are trying to pass has already pushed us several times. It will thus be necessary to remain attentive to the pivot with 8400 but also the support with 8200 USD. In the event of a downturn, if we re-enter our downtrend channel, and therefore break the support at 8200, this will be a sign that buyers have run out of steam, and therefore the return to the downside.
How to position yourself?
If we break the 8400 USD, it will take a position to return to 9000 USD, so a take profit to 8950 seems relevant. And conversely, in the event of a fall, if we close under the 8200, we will have to sell and buy back around 7800.
The signals lean in favor of a return to the rise on the Daily chart, personally, if the resistance at 8400 has passed, I iron buyer. In the meantime, place in day trading within the range (8200-8400).
Should we expect a new correction?
We are not immune to a new correction, we are trading in a bearish channel but the signals are bullish and buyers have just put themselves in a very good position. A priori, no correction. Our bearish pivot will be $ 8200.
Not to miss anything, join us on our Channel Telegram!
Highlight Keys:
Essential Resistances: 8400 - 9000
Essential Supports: 8200 - 8000
The plan:
Signals are going up on our indicators, especially on the daily, as we approach the resistance of our bearish channel. A return to the rise is possible. Here are some suggestions for positions: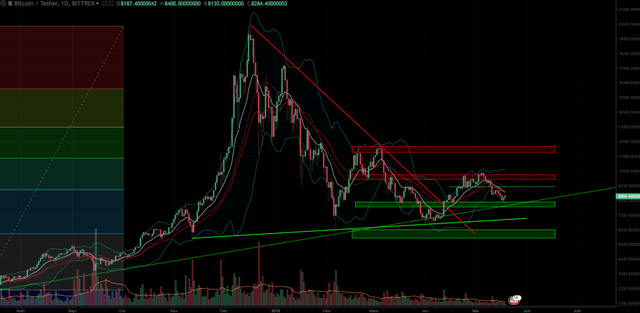 Buy limit : 8300
Sell limit : 8800
Buy limit : 8210
Sell limit : 8380