Hello folks,
Have you ever had problems buying coins at pump&dump and missing out of an opportunity to become rich in cryptocurrency ? OR Are you tired of always losing in pump&dump because you bought the coin at a high price which was caused by you entering the pump late and can't sell ?
Well i have good news for you :)
Lemme tell you a little about PUMMP3R

PUMMP3R is a cryptocurrency pump&dump trading robot for Cryptopia, Binance, Yobit and Bittrex which helps to place buy and sell orders on coins called in pumps quickly.

In the above image PUMMP3R took a total of 3.58 seconds to buy the specified coin, imagine using 3.58 seconds to buy a coin at every pump you participate in i'm pretty sure you'll make a lot of money as you would be one of the first persons to buy into the coin at the pump, i'm also pretty sure you would take more than 3.58 seconds to login to cryptopia, open the market, place a buy order manually and the order gets filled within 3.58 seconds, can you do it in less ?
Here are some of the pumps the bot has successfully carried out:





Awesome isn't it ? well you can enjoy all this too!
PUMMP3R features:
Support for Cryptopia, Binance, Yobit and Bittrex
Live mode and Training mode (Live mode places real orders, training mode does not)
You choose how much you invest into a pump, how much to buy above and how much to sell above
Warns you if the coin is already above 100% so you aren't entering late (Cryptopia and Binance)
Very fast speed (The better your network, the faster the bot)
Easy to set up
User friendly interface
Makes use of API keys to place orders and does not require your account login details
Tells you if you entered a wrong coin ticker name and asks you to input another
Starting up PUMMP3R for the first time.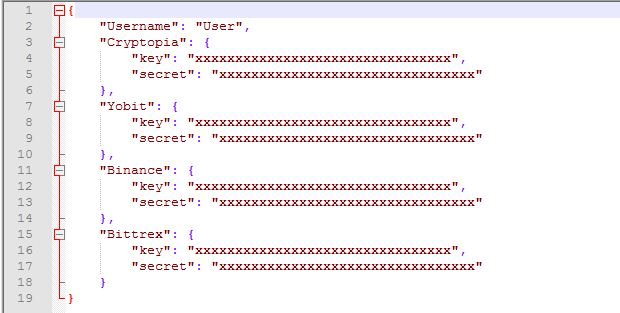 first you will need to setup your configuration file, this contains your trading API keys on the exchanges, you need to put your api key in the api key slot and secret key provided by the exchange in the secret key slot under the specified exchange in the configuration file as this is where the bot will take your api keys to trade on the exchange.
Then start the executable PUMMP3R.exe, you should see something like this:

Here you choose the exchange you want to pump at, in this exchange i want Cryptopia so i will choose "1"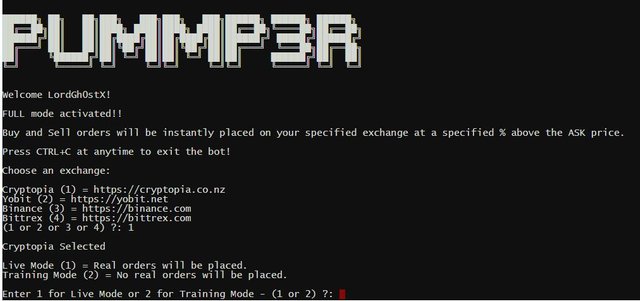 Then choose between Live mode or Training mode, since i want a full run i'll choose 1 for Live mode (Live orders will be placed)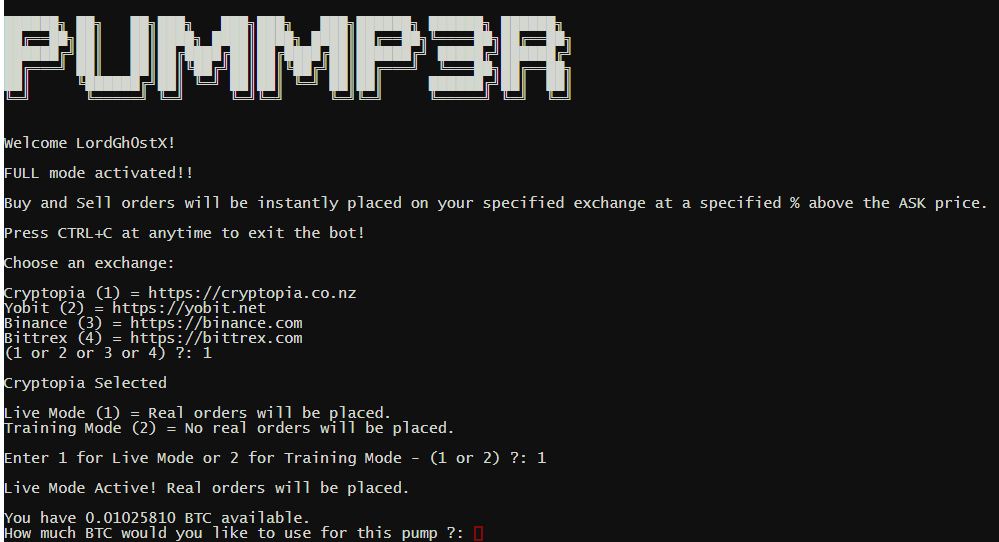 Here it displays my account BTC balance and asks how much i want to put in the pump. I will enter 0.00051 (just for testing as i am not doing any pump as of the time of writing this article, just be sure that the amount you enter is above the minimum trade on the exchange, for Cryptopia it is 0.0005 BTC)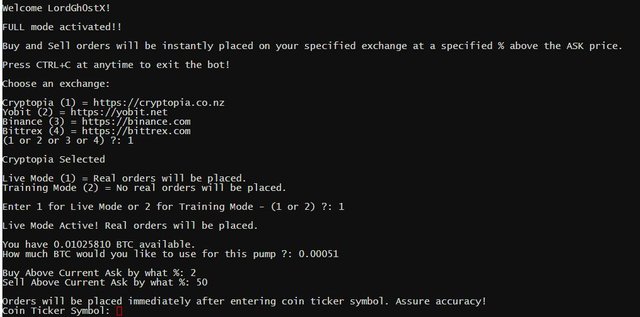 I selected to buy it at 2% above it's current price (put higher for real pumps) and sell at 50% its current price, then i will be asked to enter the coin ticker, in this example i am going to buy NEO

Success!!! PUMMP3R placed the order on my account and it has been taken. In this example PUMMP3R took 1.62 seconds to do it, remember when i said better network improves PUMMP3R speed, also in the above screenshot where it took 3.58 seconds, Cryptopia was laggy that day.

Screenshot of my Cryptopia account showing the NEO trade that was placed 1.62 seconds after i told PUMMP3R to buy it and a corresponding sell order followed it :)

Here is another example of an order placed for SKY coin which took 0.49 seconds to place order, it wasn't taken because the buy % was negative (i'm buying below the coin price).
With a bot like this you'll never miss any pump in your life :)
This bot is up for sale for 0.3 BTC, making the initial payment gives you the full version of the bot and 12 months licence (renewal costs 0.01 BTC every 12 months)
For more information about the purchase of the bot join PUMMP3R group on telegram https://t.me/pummp3r Here you can chat with the admin https://t.me/josephnanyju for getting the full version of the bot and licence, he will also add you to the paid group of the bot and you receive free updates of the bot!
There is also a demo version of the bot which is available for download free of cost but has some limitations i should mention
Maximum investment of 0.01 BTC in a pump
Maximum sell above at 75% in a pump
4 seconds delay before placing buy order
No warning is the coin is already above 100%
You can get the download link of the bot on the telegram group https://t.me/pummp3r and also updates :)
Here is a channel where you can get updates on a lot of pump and dump groups and the time of pumping and exchange daily https://t.me/pumpanddumplist
You'll get channels that are going to pump coins and its updated daily.
If you invest 0.025 BTC in each pump then exit at 100% profit and pump at least 5 times a week, you'll get 0.125 BTC every week, and in before 3 weeks you would have gotten your 0.3 BTC used to buy the coin and enjoy profits till the next 12 months then buy another licence for just 0.01 BTC (Isn't this a reasonable investment ?) The bot also has a readme which contains instruction on the bot usage and setting up api keys
Have a nice day :)