What a day today my fellows Steemians, I was looking to give you this update earlier today, but Steem decided that the Bandwidth was too high for me.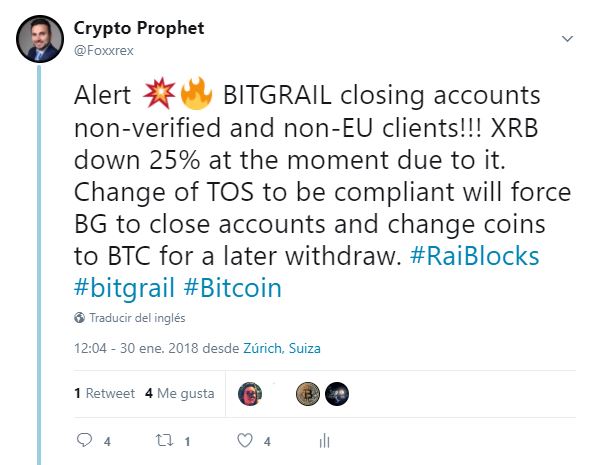 Therefore I had to post it on Twitter. Though it was not my first idea. According to a non-public communication, Bitgrail decided to change its ToS (Terms of Services) and to close all the accounts that are not compliant with the applicable EU laws.
This decision will affect therefore the following persons;
-Non-EU clients;
-All those accounts not yet Verified
If you want to read the full thread on Reddit please click here and for the CEO update here.
To summarize, the change of ToS states that only clients from the EU will be served as clients, all non-EU will have to close their account. Secondly, for those closing the account, they will need to go through a KYC and AML process, to certify that BG is not circumventing any applicable law on the mentioned matters. On a personal view, this is more than expected; if BG were to let all the non-EU accounts to withdraw the funds freely, it would be violating many regulations and probably risking facing fines.
XRB a victim of its own

The growing community of XRB (Raiblocks) suffered a huge dip immediately on its price, mainly in the BG platform, due to the understanding that all non-EU clients would have to have their XRB converted into BTC, even when their accounts were successfully verified. The issue was serious enough to gather Reddit users to start a thread, where people would put information to start arranging an Action Class Suit against the Italian exchange.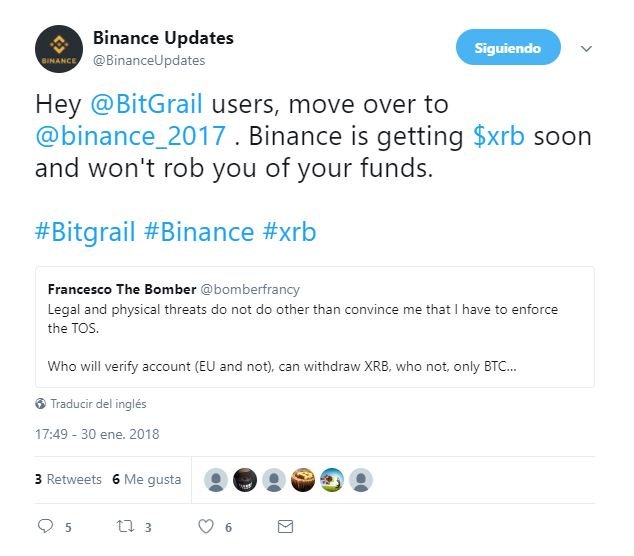 Even the situation escalated to make Binance, which announced recently it will list XRB in their platform, to make fun out of the situation on Twitter;
Hey @BitGrail users, move over to @binance_2017 . Binance is getting $xrb soon and won't rob you of your funds.
Link
But Francesco The Bomber, as is known in the social media, made an earlier statement to clarify the situation regarding the withdrawal of XRB;
Who will verify account (EU and not), can withdraw XRB, who not, only BTC
That's all
Meaning all the verified accounts will be able to withdraw XRB, those who not, only BTC.
Market Reaction
As expected
#XRB
suffered heavily from the update, turning on a max. low of 25% red as per CMC, or from USD 18,65 to a low of 12,89. Those who were paying attention to the news, and also Twitter, got a chance to buy XRB at a lower price, hoping for a fast price accommodation.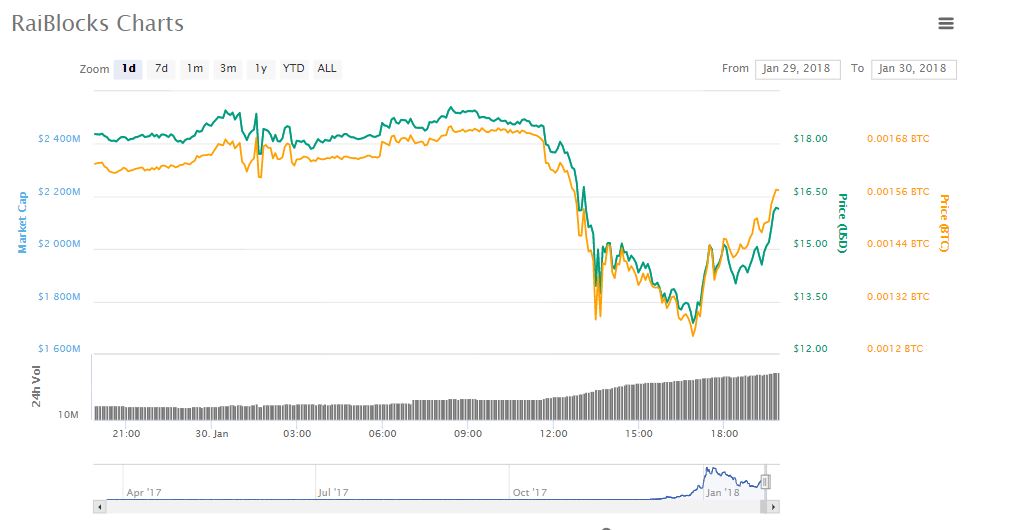 Current price at press time is USD 16,15 on average across the Exchanges.
BTC suffering from Tether FUD and other news
Not surprising, because of the above, and further news in the Tether drama, the Market turned bearish after the afternoon.
As your servant reported yesterday (though was only able to upload it today... thanks, Steemit :S ) the USDT looks every day worse than the day before.
According to Bloomberg;
The U.S. Commodity Futures Trading Commission sent subpoenas on Dec. 6 to virtual-currency venue Bitfinex and Tether, a company that issues a widely traded coin and claims it's pegged to the dollar, according to a person familiar with the matter, who asked not to be identified discussing private information. The firms share the same chief executive officer.
It calls my attention that if this happened in Dec. 6, there are yet no results, and also I ask myself what is the CFTC position now that Friedman LLP cut ties with Tether. Let's look next at the news impact on BTC price.
BTC Price
#BTC
traded today deeply in the red, raising fears that a 8K floor could be met as expected by many traders. According to Coinbase chart, 9.7K was the low for today's dip, quickly recovering closer to 10K territory.
By the time of press the pair is trading at 10,029 on a red doji 1 hour candle.
BTC was not this low since the end of November, before making a huge jump of 10K in less than a month.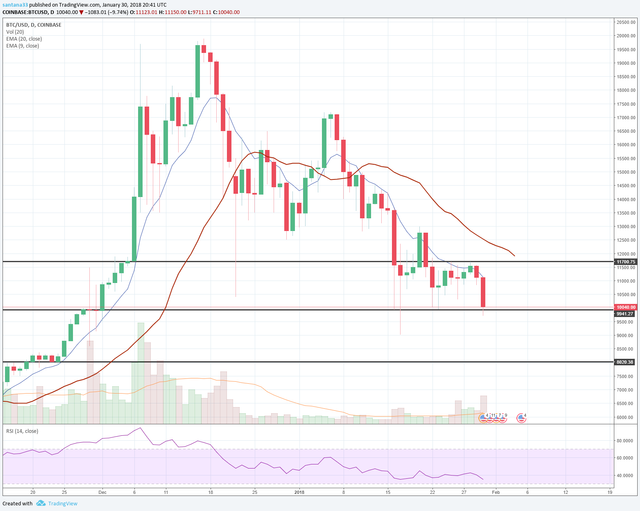 To add some perspective, I have chosen the 1 Day candle chart, which shows clearly where we are standing now. A downtrend is confirmed, with a probable visit of the strong support of 8K, which would probably trigger some significant buys. If the bulls want to try to turn the market, they would need to confirm the trend above 11.7K which has showed to be an impenetrable wall.
Final thoughts
Real is that both things together, with #BitGrail scandal, are eroding the confidence of the public. Regulations are pushing Exchanges for extra measures, which in turn make onboarding harder and longer than before. All the mentioned makes that lot of fresh capital, needed to raise the prices, just sits in the bench, waiting for what we all are expecting, the new ATH to call finally "2018 The Year of Cryptos".
Happy trading, happy HODLing. Yours truly CryptoProphet