FUD from South Korea had, without a doubt, the biggest impact on the cryptocurrency markets last week.
South Korea
Last week, The Korean justice minister suggested a complete shutdown of cryptocurrency exchanges in the country and many western news agencies picked up the news as if a ban was already set in stone. This resulted in quite a big sell-off.
Today, the South Korean government officially put to rest the rumors about a closure of Bitcoin exchanges in the country. Bitcoin and other cryptocurrencies won't be banned in South Korea in the near future. However, the government is strictly monitoring illegal acts related to cryptocurrencies such as money laundering and tax evasion.
A ban could have a negative economic impact on the economy in South Korea. Estimates indicate that around 30% of the people in South Korea are invested in cryptocurrencies and it is known the government wants the country to remain at the forefront of innovative developments. Competition in this sector is particularly fierce in Asia.
Russia
Russia is also considering legalising the cryptomarket. Russia's Deputy Finance Minister Alexei Moiseev said last Thursday:
"We support the legalization of trade in cryptocurrencies on official exchanges. The Finance Ministry does not want to limit and regulate, but we will set some limits."
This seems a refreshing turn in Russia's attitude toward cryptocurrency regulation. In August of 2017, Alexei Moiseev said that it was "hard to argue cryptocurrency is not a pyramid scheme".
Venezuela
Venezuela is already in a position to issue its own cryptocurrency. A currency covered by the country's oil reserves. Venezuela's president Maduro has called for 10 other countries to adopt his planned oil-backed cryptocurrency, the petro. However, his move follows the country's parliament declaring the issuance of the new cryptocurrency illegal.
Indonesia
Bank Indonesia (BI), the Central Bank of Indonesia, has been warning its residents for cryptos currencies for quite some time. They recently introduced a rule that prevents companies that manage payment systems from accepting cryptos as a payment method. They are now exploring further regulation options. The central bank also focuses on the popular tourist attraction Bali.
Office head of BI Bali, Causa Iman Karana, said over the weekend:
"We are looking out for bitcoin transactions in Bali, particularly in tourist spots. We will take measures against non-rupiah transactions."
Singapore
Meanwhile, the Monetary Authority of Singapore (MAS) is trying to pursue an open policy and even gives companies the opportunity to carry out semi-authorised ICOs.
Although Ravi Menon, head of the Singapore Central Bank, is particularly keen on blockchain technology, he remains slightly sceptical about Bitcoin. He said today he hoped the technologies underpinning cryptocurrencies such as blockchain would not be undermined by an eventual crash in the virtual coins.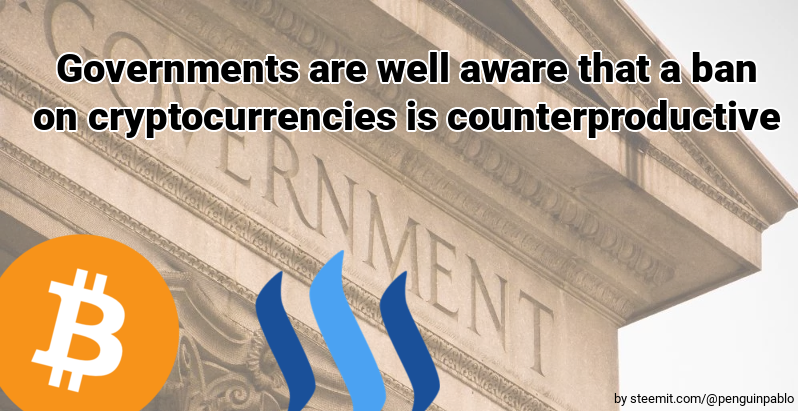 A ban would be counterproductive!
If South Korea were to move to a complete ban of exchanges, then surrounding countries would like to jump into the vacuum that would arise. After all, the authorities know very well that a ban is counterproductive. Because of its decentralized nature, cryptocurrencies cannot be stopped. A country like Japan was the first to understand the real power behind Bitcoin and took the necessary steps. Many countries will follow.
If you can't beat them, join them!
Sources:
https://www.ccn.com/south-korea-govt-confirms-no-cryptocurrency-trading-ban-market-optimistic/
https://www.financemagnates.com/cryptocurrency/news/draft-russian-crypto-bill-legalize-trading-approved-exchanges/
http://www.thejakartapost.com/news/2018/01/15/bank-indonesia-police-prevent-bitcoin-transactions-in-bali.html
https://www.reuters.com/article/singapore-cenbank-cryptocurrency/update-1-singapore-c-bank-head-hopes-cryptocurrency-tech-will-survive-crash-idUSL3N1PA1J8
---
¯\___(ツ)____/¯ Don't miss out on my next post! Follow me @penguinpablo