The ratio of BTCUSD longs vs shorts on Bitfinex has never been this high this year. It has just hit a record high of 1.4 as you can see in the second chart below. The previous record was 1.2 which was set on April 12th. Look for yourself what happened on April 12th with Bitcoin. We saw a massive short squeeze on that day! Bitcoin surged by $1,000 within one hour. Will the same happen again this week?
Bitcoin price + BTC short positions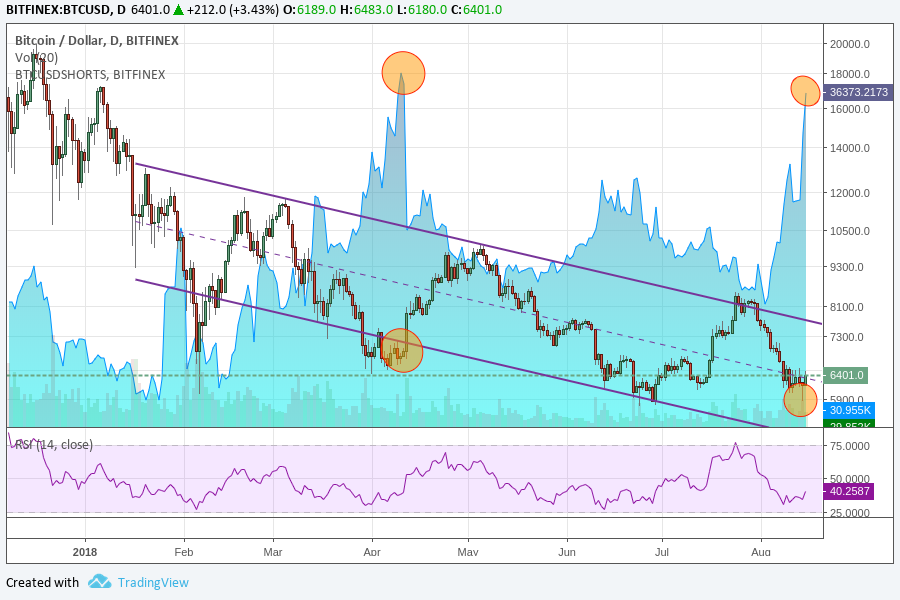 BTCUSD longs vs shorts ratio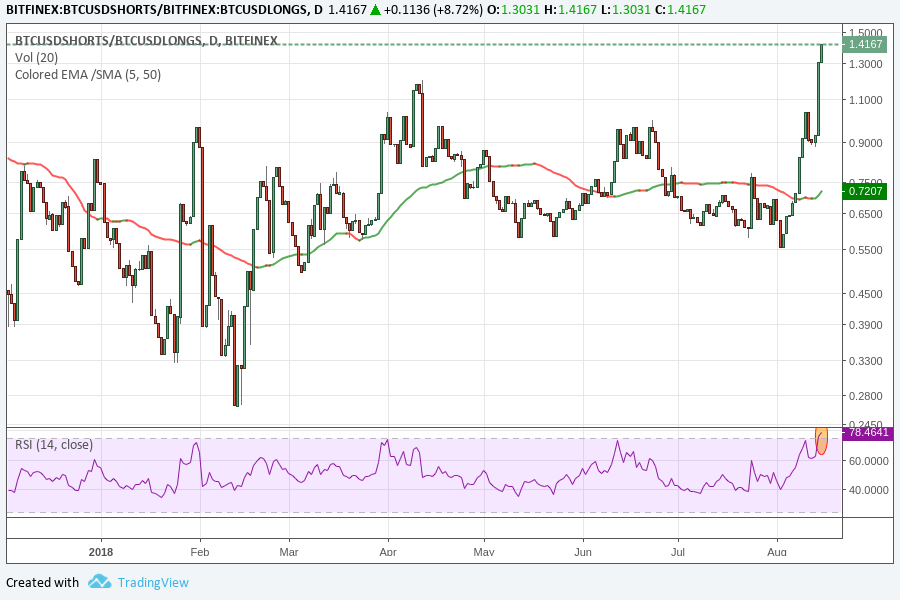 What does this ratio mean?
A record high longs vs shorts ratio means everyone is betting on a lower Bitcoin price. Many people are lending huge amounts of Bitcoin on Bitfinex to sell them on the market to buy them back at a lower price. At least, if the price goes lower. It also means hardly anyone expects a higher Bitcoin price. Everyone goes short, nobody goes long. But as everyone has sold their Bitcoins there are no sellers left to press the price lower. The number of sellers is drying up. And then the opposite happens. Bitcoin is slowly going higher and everyone who bet on the short side is getting nervous. They did not only sold their own Bitcoins, but also borrowed Bitcoin to buy back later. They have to buy those coins back once to pay back their loans. As the price of Bitcoin goes higher and higher more people have to close their short positions which means they have to buy Bitcoin on the market. This is pushing up the price even further. This is called a "short squeeze"
A short squeeze is a situation in which a heavily shorted stock or commodity moves sharply higher, forcing more short sellers to close out their short positions and adding to the upward pressure on the stock. It implies that short sellers are being squeezed out of their short positions, usually at a loss. investopedia.com
What could trigger a short squeeze?
Bitcoin has its first resistance at $6540 and the next at $6628. I expect most people have their stop loss orders closely above these levels. Once we break these price levels I think we can expect to see a short squeeze which could push Bitcoin back to $7500 in a very short time.
Lending on Bitfinex
Borrowing Bitcoin on Bitfinex has become quite expensive since a couple of days. Bitcoin shorters are currently paying a 15% APR (Annual percentage rate) while 3-4% is normal. This also means the demand to short Bitcoin is extremely high.
When these shorts get liquidated.... Moon!
Disclaimer: This is no trading advice.
---
Visit my websites:
SteemBlockExplorer.com - SteemNow.com - CoinMarkets.today
¯\___(ツ)____/¯ Follow me @penguinpablo