1/30/2018 The Market View and Trading Outlook (Shit bag Edition)
Reposting after haejin blanked my entire blog and every post that had earnings.. real cool..
In my desire to succeed I have decided to modify my market report to be in line with what appears to be the winning Steemit format:
https://steemit.com/foodphotography/@travelingsomm/my-thai-addiction
98 posts, Account 1 Month Old, Rep 61, $200 per post.. (I'm obviously doing it wrong busting my ass here)
So the new Market report format (which is as close to the winner above as I can make it: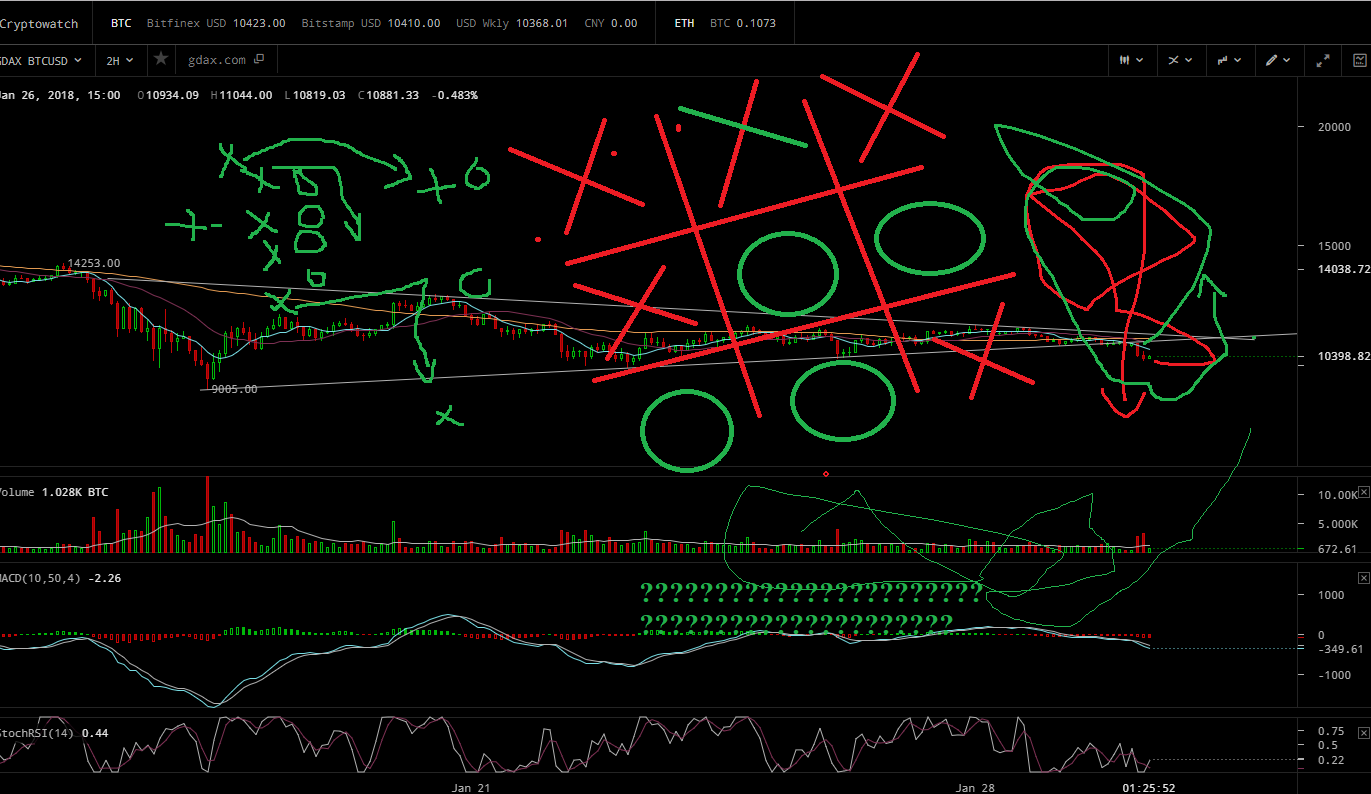 My last post talked about charts so I thought I'd share with you guys one of my favourite charts from Bitcoin - A Correction! This is a specialty of the technical analyst, so don't bother trying to figure it out if you're just beginning to trade, you will not know what you're doing. With that said, PLEASE let me know if you figure out how to predict price!
The chart is similar to other charts, with a mix of green candles and red candles, moving averages, numbers, technical indicators, and an order book. I'm so excited about it as I type this...
Have you ever seen it? Or do you know how it occured? Let me know! <3
---
This was much easier, took me like 5 minutes max to toss this bullshit post together. Gotta be worth $250 per the example format. I even kept the stupid " <3 " .
---
On a real note, I cannot be that much of a shit bag even if I try..

That said we broke through the bottom of my updated symetrical triangle from yesterday.
https://steemit.com/bitcoin/@pawsdog/1-29-2017-the-market-view-and-trading-outlook
Support will be $9800, $9400 (1 Week 21 Perioda MA) and then in the $7000's at the 3 day 77..NOt much else to report, but to sit on the sidelines for the moment..
---
My Previous Analysis: (incorrect losing format, but included below for comparison purposes.)
https://steemit.com/bitcoin/@pawsdog/1-27-2017-the-market-view-and-trading-outlook
https://steemit.com/bitcoin/@pawsdog/1-26-2017-the-market-view-and-trading-outlook
https://steemit.com/bitcoin/@pawsdog/1-25-2017-the-market-view-and-trading-outlook
https://steemit.com/bitcoin/@pawsdog/1-24-2017-the-market-view-and-trading-outlook
https://steemit.com/bitcoin/@pawsdog/1-23-2017-the-market-view-and-trading-outlook
https://steemit.com/bitcoin/@pawsdog/1-22-2017-the-market-view-and-trading-outlook
https://steemit.com/bitcoin/@pawsdog/1-21-2017-the-market-view-and-trading-outlook
https://steemit.com/bitcoin/@pawsdog/1-20-2017-the-market-view-and-trading-outlook-evening
---
Who Am I? STEEMIT INTRODUCTION
---