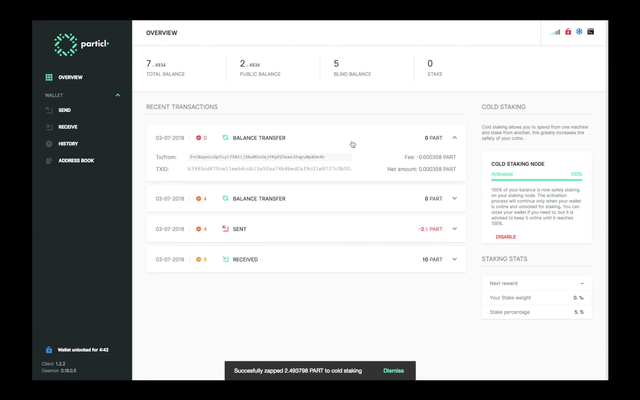 Particl Desktop, Particl's main wallet on which the entire platform is mostly hosted, is a user-friendly and powerful client filled with potential. While it currently only supports the wallet feature on mainnet, its potential will be realized when we start pushing the more advanced features onto it such as Particl Marketplace (which is already available on testnet), decentralized project governance, multi-wallets, future privacy-focused dApps, and more.We have, however, been more or less quiet about it, only showing off images and gifs. This is why our Social Media Coordinator, Christina, helped me put together this Particl Desktop video showcase which highlights most of the features currently available on mainnet. This demonstration uses Particl Desktop 1.2.2 (which should be publicly available soon) and runs Particl Core 0.16.0.5.
0:10 -> Create/Restore a wallet
1:00 -> Receive coins
1:47 -> Address book
2:02 -> Send coins & balance transfers
2:54 -> History tab
3:06 -> Enable staking
3:20 -> Enable cold staking
3:51 -> Debug window
The team has been super busy working on some new Particl Desktop features. We recommend users interested in staying on top of Particl Desktop development updates to watch closely our Github repositories. Expect interesting pull requests to be posted in our Particl Desktop repository this week and onwards!