It has now been a full month since we launched the Partaker Hub, a platform aiming at facilitating word-of-mouth and rewarding Particl contributors. A lot of has happened during that time and there's even more coming out soon!
Contests
For the first month, we opted not to hold any contest on the Partaker Hub, deciding instead to focus on the on-boarding of new users and the fine-tuning of tasks. In fact, as managing the Hub is a completely new experience and even a kind of social experiment as it relates to encouraging community engagement, it did required extra attention as to best adapt our strategies.You should, however, expect our first Partaker Hub contest to take place within the next month. Stay tuned for future announcements!
On-Boarding of Partakers

The on-boarding aspect of our strategy for the first month has been a tremendous success. With an impressive total amount of 146 registered Partakers, we have definitely reached our target number of users and are very happy to see so many people interested in talking about Particl! As we are happy with the number of partakers, most of our focus for the next month will be geared towards fine-tuningtasks as well as building a better ecosystem around the Partaker Hub and the Particl community as a whole.
Fine-Tuning Tasks
A good portion of our focus this past month was to find the best and most effective format for tasks. Getting to know our Partakers and how to best approach the many different social media communities with our message takes time, and it has been, and still is, a trial and error process.During the past 30 days, we have been fine-tuning the format of the tasks almost daily and will continue to adjust as needed moving forward. We do, however, now possess a better understanding of the approach we need to have when reaching out to the various crypto communities and will keep on improving it, ultimately crafting more optimal strategies to make our voices heard within a very crowded crypto industry.
What's Coming this Month
While going through the month and as we got collected your many feedback, we identified areas that could be improved and additions that could be created to support the Hub.
Particl Talk
The first thing we noticed is that we needed to have a better infrastructure built around the Partaker Hub to support its community. The look, feel, and control over Fancorps, the platform on which the Partaker Hub runs, is quite dated and doesn't quite possess all the features and stability we wish to offer our community.
Particl Talk (in Development Mode)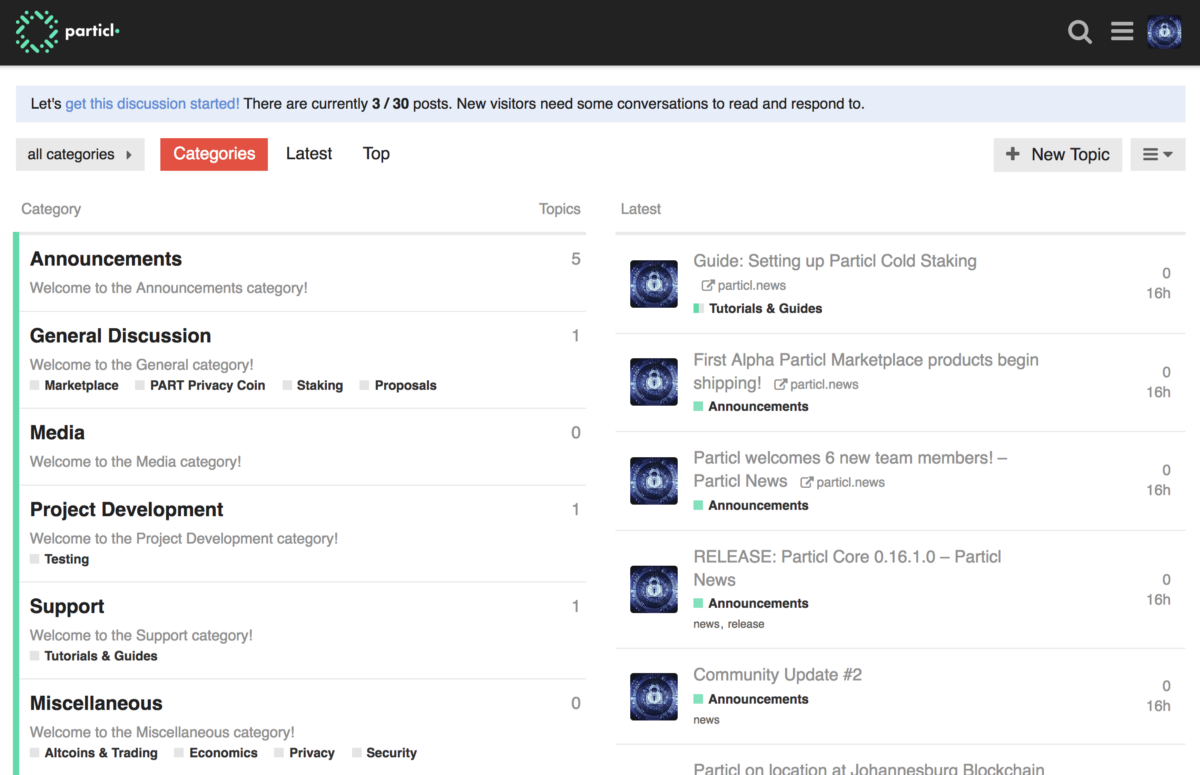 As such, we have been working on a brand new official forum for the Particl community built on Discourse, a very modern and feature-packed platform. Not only will this allow partakers and the general Particl community members alike to better communicate between each others, it will also make all discussions permanently archived in an easy to dig out format. This will make it easy for anyone, Particl fan or outsider, to find the information and social interactions they're looking for without having to scroll days or weeks of chatter history.The forum will include several new features to support partakers such as badges, detailed profiles, and a space to effectively communicate. The forum will also communicate directly with our Discord server for a seamless integration of both platforms. More details about the forum will be coming out soon, follow our blog (particl.news) to not miss the announcement!
Discord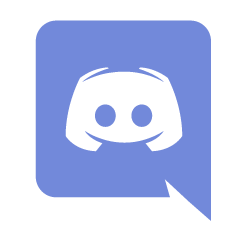 We will also start to use Discord as the official chat platform for the Hub. With its user-friendly interface and more flexible approach, we believe it is the perfect platform to host live discussions about anything Partaker Hub related.
Discord's flexibility when it comes to bots (in comparison to Telegram, for example) will grant us the ability to seamlessly link the chat platform with our new official forum, creating a much more interactive environment than what we have right now.The integration of our Discord channel with the new Particl forum will be an ongoing process for the month to come.