A Quick and Dirty Upgrade on my Ultimate Bitcoin Long Term Analysis Chart
After my last post on Bitcoin, I went on a further quest to Bitcoin value before it started trading officially.
I found that the first transaction was on
12 October 2009, when New Liberty Standard bought 5050 BTC from 'Sirius' at 0.001 USD/BTC
The second transaction was on
22 May 2010, when Laszlo Hanyecz bought 2 pizza's for 10K BTC at 0.0025 USD/BTC
So I added these 2 data to my series of historical bitcoin prices.
I let the chart start on 3 January 2009 when 'Satoshi Nakamoto' mined the first ever 'Genesis Block' of 50 Bitcoins.
This is what came out of it: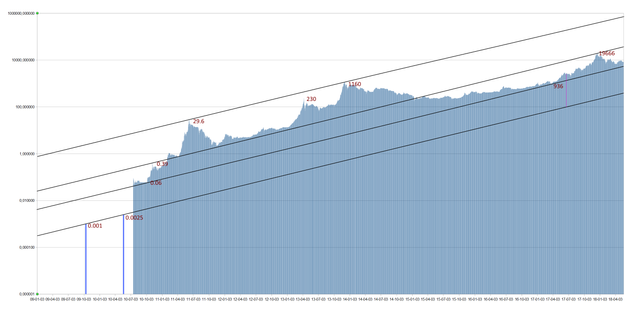 As you can see for yourself, these very first 2 trades have set the basic trendlines for the rest of Bitcoin's price evolution from 2009 until today!
Amazing find, don't you think?