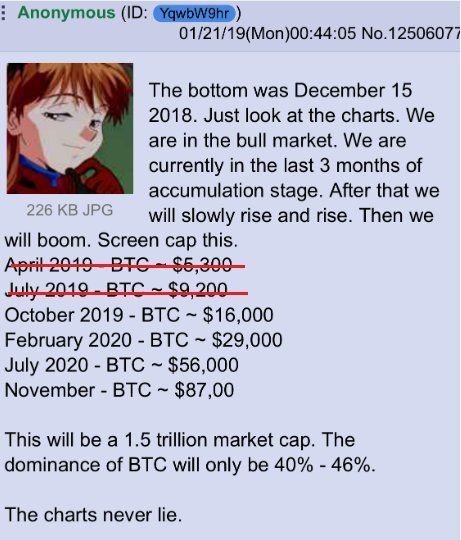 This Image has recently gone viral among the crypto community.
This is a price prediction by an anonymous person.
 In which the person has mentioned the price targets for the months 
APRIL 2019
JULY 2019
OCTOBER 2019
FEBRUARY 2020 
JULY 2020
NOVEMBER 2020
The reason this Picture has went viral is because, the first two price targets for  April and July 2019 have been pretty accurate.
So the entire crypto community is waiting for $16000 Bitcoin within November 1.
Even though the price action and analysis clearly states that such a increase in price is not likely to happen.
Everyone are Waiting for another  pump like the one that took us from $7300 to $10600 few days back.
This may have a Good /Bad impact on the Market Sentiment.
Let's wait and watch.
You can Follow me HERE
Thank you