FORBES: Will Blockchain Ignite Fractional Ownership Market For Homes? Get 0.3 SBD for feedback!
We are proud to present you an article by Forbes about LAToken and fractional ownership technologies!
Source: Forbes Author: Omri Barzilay
The second quarter of 2017 was a wild one for blockchain companies and investors with nearly 60 ICOs closed in the quarter for more than $750M, and it looks like it's just the beginning. Blockchain is going to affect almost every industry as it renders intermediaries obsolete. This is the reason for global giants such as SAP, IBM and others to invest in blockchain: they are trying to become the disruptor, not the disrupted.
The real estate industry has always been slow to adopt new technologies, however, it is becoming more open to the idea that blockchain has the potential to transform the way we buy and sell real estate by lowering hidden costs, expedite the process, reduce frauds and increase transparency.
Chicago's Cook County Recorder of Deeds, for instance, recently completed an eight month pilot program with velox.RE to test transferring ownership of real estate on the blockchain and subsequent recording of that conveyance into the public record. The pilot was considered a success as several tests of a Bitcoin blockchain real estate conveyance with a Chicago property owner were completed and met the all the legal, procedural, and software requirements agreed upon by the pilot program participants. Cook County Recorder of Deeds approved the legal instrument that velox.RE and its user — property owner could use to publicly record a blockchain conveyance.
Cook county is not alone as Sweden's land registry authority 'Lantmäteriet' has also been testing a way to record property transactions on a blockchain. Since last June the body has been testing a way to record property transactions on a blockchain using ChromaWay's consortium database product - postchain. This could save the Swedish taxpayer over €100 million a year by eliminating paperwork, reducing fraud, and speeding up transactions, according to an estimate by the consultancy Kairos Future, which is also involved in the project. In addition, in February the Republic of Georgia was the first government to use the bitcoin network to validate property-related government transactions. This happened 8 months after the government and bitcoin hardware and software firm Bitfury Group had launched a project to register land titles via a private blockchain, which is a tamper-proof ledger, and then to make those transactions verifiable using bitcoin's blockchain, which is public.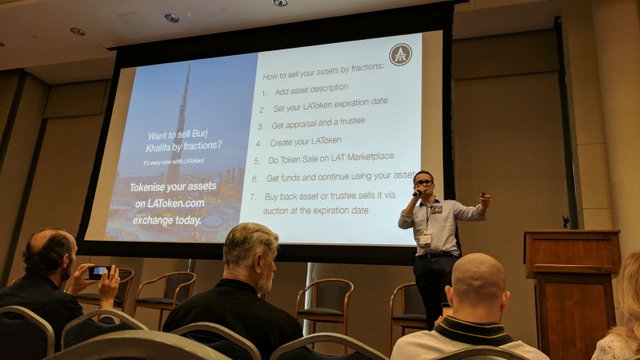 LAToken CEO, Valentin Preobrazhenskiy, at CoinAgenda 2017
Selling an entire property via blockchain is a tremendous milestone for the industry, however, some companies are already working on facilitating some more advanced applications. LAToken (Liquid Asset Token, LAT) has announced it will issue 1B LATokens at a Public Token Sale on August 22 to allow selling fractions of any assets including real estate. The platform is based on an existing home equity marketplace, founded by Valentin Preobrazhenskiy CEO of LAToken, that has facilitated 12,000 mortgage offers and more than 1,000 deals for 7 banks and 25 investors in the past year.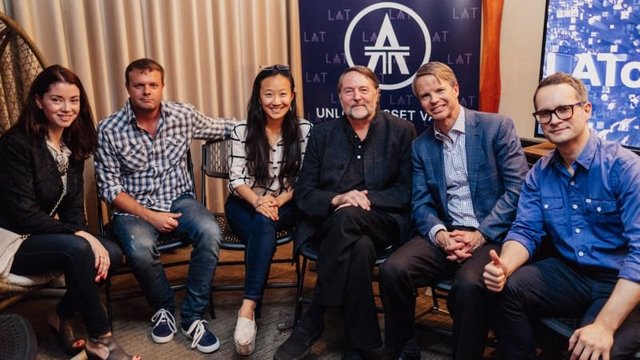 LAToken held a Meetup in San Francisco while the Silicon Valley Fintech Week
The LAToken platform gives asset owners a new way to gain liquidity by making fractional asset ownership possible and tradable with minimal transaction costs. Asset owners can quickly get cash by issuing LATokens and selling fractional shares via the LAT marketplace, while keeping the actual asset for their use instead of borrowing money and paying interest or renting.
According to David Drake, chair of LDJ Real Estate Fund and member of LAToken's Advisory Board "The secondary and primary markets of fractional ownership of home equity and mortgages are now on the verge of a breakthrough, thanks to cryptocurrency blockchain smart contracts".
No one can really predict how long it will take for the blockchain to dominant real estate transactions, however, Ragnar Lifthrasir, Founder of velox.RE and the IBREA (International Blockchain Real Estate Association) believes it will be much quicker than most imagine "Like any emerging technology, blockchain will reach mainstream adoption when entrepreneurs create secure, easy to use applications that solve a problem. Real estate owners and businesses who adopt blockchain earlier will experience the biggest benefit and will set themselves apart as leaders for the next revolution in the property industry." Said Lifthrasir.
About us.
LAToken is a platform connecting investors with borrowers and assets owners via blockchain allowing each party to get the best offers. LAToken combines the concept of fractional ownership with tokenization of the real-world assets, creating a new era marketplace. Thanks to the platform the anyone can sell assets and still have them in posession, and the investors can use the fast, safe, agile and incredibly transparent blockchain system to make sure they got what they paid for. LAToken's advisory board is joined by Anish Mohammed, advisor to Hyperloop Transportation Technologies, David Drake, Chairman of LDJ Capital, and Ismail Malik, Executive Chairman of Blockchain Lab.
Follow, resteem and give constructive feedback (questions/concers) on our project - LAToken and you'll get 0.3 SBD. We will choose 3 best comments and will give 1 additional SBD each.
You can read LAToken executive summary here: https://sale.latoken.com/whitepaper
And follow our other channels:
Github: https://github.com/latoken
Facebook: https://www.facebook.com/LiquidAssetToken/
Twitter: https://twitter.com/LATokens
Telegram: https://t.me/latoken
Subreddit: https://www.reddit.com/r/LAToken/
Slack: https://latoken.herokuapp.com/