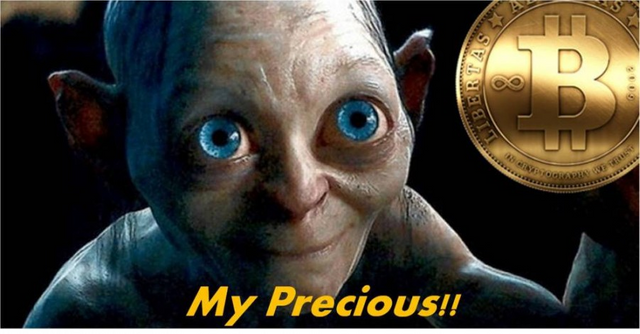 Before I begin let me just say that I was one the first supporters of Bitcoin when the project begun. I studied the economics behind it and it made better sense compared to a world that was just coming around after a major financial collapse.
Today, many things have changed. If you have been following my blog over the past 2 years you will see that I am appearing very skeptical in regards to Bitcoin's evolution. I am also very cautious about alt currencies and the way the entire economic model is treated from VCs and normal investors alike. I am not a believer anymore nor will I become if the market turns bullish.
One thought in particular seemed to cloud my thoughts about Bitcoin. Let's assume for a second that Bitcoin became the world currency. The concentration of wealth would still be worse than any other FIAT currency that came to be with over 80% of the wealth going to no more than 10.000 people (If we are optimistic. In actuality the number of people is far less). Bitcoin does not solve the distribution of wealth. It makes it worse. Heck, Bitmain is about to gain 51% of the entire network.
When Bitcoin becomes a world currency, for better or worse, those on top would not want to spend it, but rather hoard it. The more they hoard the less they get spend since they will drive demand exponentially. They can wait for the 99.9999% to drive the demand sky-high and then use the large stakes to basically control everything. This scenario is as dystopian as it can get. Imagine having an entire warehouse full or rice and you just decide to give to the commoners enough so they can barely survive. Bitcoin hoarding is much the same.
In contract, FIAT inflationary currencies that print money on will, do not have this problem. Sure the economy collapses every few years, forming cycles of debt, but the economy emerges stronger and stronger even if the debt multiplies. The simple reason this is happening is not because of some kind of superior economic modelling but rather due to simple human nature. Debt is as an abstract concept in the human mind as it is in practical terms. This is why the entire planets ended up owning money that is 5 times its combined GDP.
The problem with Bitcoin and in retrospect, gold, is that it freezes the exponential growth of an economy due to lack of liquidity among parties. Without debt humans cannot engage in economic endeavors. They will hold on to their stash rather than bet their tiny amount against much larger holders. Same thing applies with the crypto markets today. A few whales move the entire market. They slowly unload for profits, milking everyone die and then buy super cheap.
And this is really what it comes down to. Bitcoin does not reflect the hunger for economic growth, advancement and risk that is made possible with unlimited supply FIAT money. In the long run, the benefits of the FIAT system outweigh the drawbacks because a handful of players create new kinds of paradigm for the entire species. Bitcoin on the other hand is a safer and much more logical economic model but limits this capacity of human enterprise for economic growth.
I believe that no party would ever agree to take part in a globalized world economy that is based on Bitcoin because a few individuals we be the ultimate overlords as we have already seen. In comparison with those in control today, it will shadow how much worse things can do since they won't even need to issue policies or print money. They will simply hold and watch the world bow before them. I used to believe in the better part of human species but the events that have unfolded over the past few years in the Bitcoin world have made me change my mind both ideologically and economically.
Humans are much the same whether they hold FIAT or BTC. We are assholes by nature that just want to survive. We are extremely simple to figure out if one pays enough attention. This is also why I am a believer in humans. I believe that no individual ever changes. Rather, much like evolution, humans become more and more of whom they already are, stacking up strata of experiences upon one another. The economic modeling that has driven us up to today with BTC will not just erase everything that came before us. What will likely happen is that banks will take the best features of cryptocurrencies and employ them in their own already established system.