Is a similar pattern playing out indicating that the bottom may be in?
Bitcoin has been going sideways for some time now, pretty much ever since it broke down from $6k in November.
Now, looking at the price action, we may have done something recently that we saw back in 2014/2015 when prices bottomed.
Not sure what I am talking about, check this out: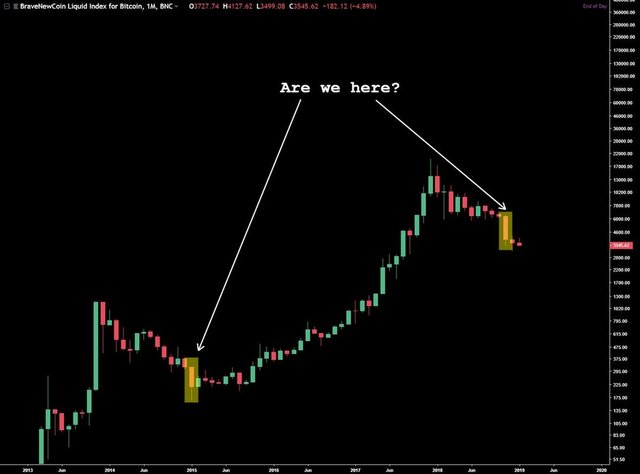 (Source: https://twitter.com/MoonOverlord/status/1087624393499574274)
What am I talking about more specifically?
Back in November, bitcoin put in one of its worse monthly candles, ever.
Man that is one ugly candle...
Prices dropped from roughly $6k all the way down to just over $3k during the course of the month.
Now compare that to the ugly monthly candle back in 2014/2015.
If history were to play out similar to what took place the last time bitcoin faced a similar bear market, we could expect for bitcoin to go mostly sideways for the next several months.
Going a bit further, if the pattern were to remain similar, we wouldn't see bitcoin get back to that $6k level that it broke down from for roughly 7 more months.
Which would pin a recovery somewhere around August of 2019.
Normally, I would like to see more of a "V" shaped recovery before I say the bottom is in.
However, with bitcoin sometimes the bottom is much more gradual as we saw back in 2014/2015, a rounding bottom if you will.
And who doesn't love a good rounding bottom?! :)
For those that think bitcoin will go much lower and test $2k or even $1k, you may be right, however, I think there may be too much money in the way for that to happen: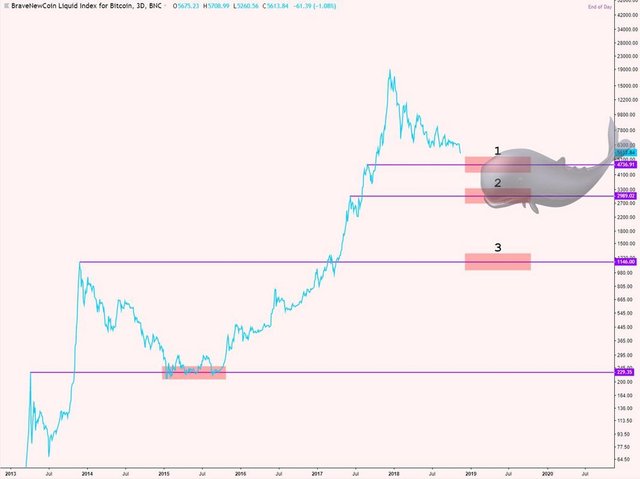 (Source: https://twitter.com/MoonOverlord)
We are currently at support level 2.
There are likely some hungry whales waiting to gobble up the sell offs from here.
At least that is my suspicion based upon what I have seen over the past year or so.
Stay informed my friends.
Follow me: @jrcornel