Whales have been buying what retail has been selling
I stumbled upon a very interesting chart the other day.
It shows the percentage of bitcoin's total supply held by wallets with 1,000 or more bitcoin in them, whale accounts.
Well, not technically "1,000 or more", it's technically wallets that hold between 1,000 and 1 million bitcoin, though in my defense there are not many wallets out there with more than 1 million bitcoin in them.
Anyways, the data is showing something very interesting.
Check it out: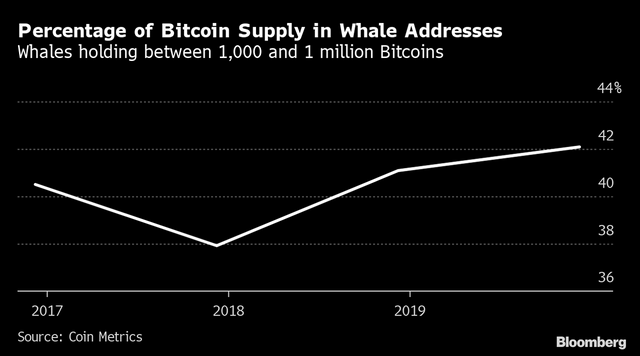 (Source: https://www.bloomberg.com/news/articles/2019-12-12/bitcoin-whales-consolidation-may-mean-more-turbulence-ahead)
Some observations....
Looking at the chart above something very interesting stands out to me.
During the height of the last bull run in late 2017, the percentage of bitcoin held by these largest accounts was consistently falling.
Which is exactly what you would expect when you have a flood of retail buyers entering the markets.
However, what is most interesting to me is the fact that the largest wallets holding's very closely move inversely related to the price.
Meaning that has the price went up, their percentage of the total bitcoin holdings went down, and as the price went down in 2018, their percentage of the total holdings went up.
Hmm...
Crazy like a fox?
Looking at this data, it looks very much like whale accounts were selling during the most euphoric phase of the bitcoin rally in late 2017.
They stopped, interestingly enough, right about the time bitcoin peaked around $20k.
Then as the price drifted lower through much of 2018, their holdings swelled again as a percentage of total supply.
Given that information, it looks very much like the largest accounts were dumping while retail was buying and it looks like they have been accumulating for much of the past 2 years while others have been unloading.
Perhaps they are gearing up for the next euphoric phase where they can sell to the new comers at inflated prices.
Rinse and repeat.
Stay informed my friends.
-Doc