The CME Bitcoin Options Contracts went live today
CME currently has one of the most popular and liquid bitcoin derivatives products in the world with their bitcoin futures contracts.
Those products are cash settled and routinely do many multiples of the much talked about physically settled Bakkt Bitcoin Futures contracts.
Trying to build on their futures products success, the CME announced today they are launching Bitcoin Options contracts.
The announcement can be seen here:
https://www.cmegroup.com/trading/bitcoin-futures.html
It appears these options contracts will be tied to their cash settled futures contracts.
A derivative of a derivative...
What could go wrong?!
Will there be any demand for them?
It will be interesting to see what kind of demand there is for these products as we move forward, but JPMorgan put out a note last last week saying they expected a decent amount of demand for the options products.
More on that can be seen here:
https://www.bloomberg.com/news/articles/2020-01-11/jpmorgan-sees-high-anticipation-for-cme-bitcoin-options-launch
Either way, both Bakkt (who launched cash settle options contracts last week) and the CME have a long ways to go before they really make a dent in the Bitcoin options markets.
Deribit has been far and away the leader in this space for some time now: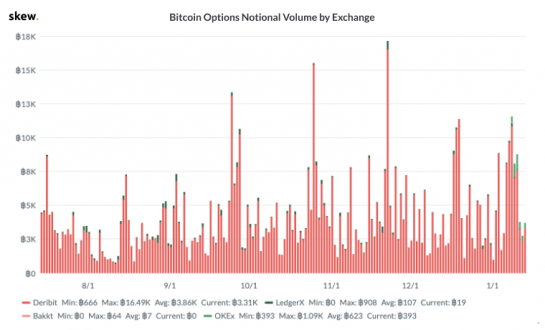 (Source: https://www.coindesk.com/cme-takes-its-bitcoin-options-live-competing-with-ices-bakkt)
Deribit currently accounts for roughly 95% of all bitcoin options trades in the world.
Though it will be interesting to see if that holds up as Deribit recently announced a move to Panama due to regulatory concerns:
https://www.coindesk.com/dutch-derivatives-exchange-deribit-to-move-to-crypto-friendly-panama
We shall see what, if any, effect that has on their current dominant market position.
The financialization of bitcoin continues.
Stay informed my friends.
-Doc