BTC - Bitcoin sees highest on chain dollar volume ever
Bitcoin just set a new record in on chain dollar volume
Yesterday (Dec. 4th), close to $9 billion in dollar volume moved in one hour.
For those tracking those kinds of things, it was a new hourly record.
Check it out: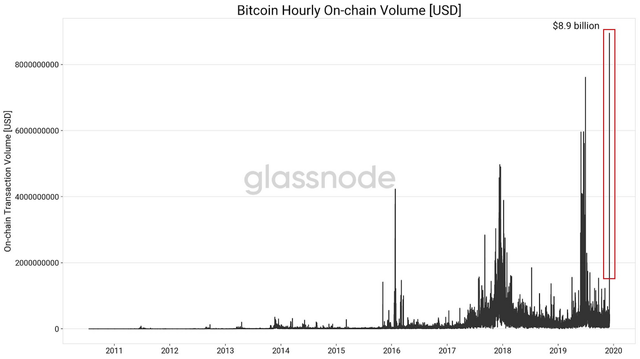 (Source: https://twitter.com/n3ocortex/status/1202354579217797120)
As you can see, we just saw the highest dollar volume one hour period ever for ol bitcoin.
Why the large volume?
Unlike many of the strange occurrences we see in crypto/bitcoin land, we actually nailed down a reason for the move.
Well perhaps not so much a reason, but more of a source.
The large volume movements seem to have mostly come from Bittrex.
Bittrex performed 21 on-chain transactions within one hour, each of which moved around 56,000 BTC, which was worth roughly $416 million at the time.
Interestingly enough, it appears the fee to move that amount of money was in the $.60 range:
https://twitter.com/n3ocortex/status/1202529865397874689
And who says bitcoin doesn't work as a money transmitter?!
Add all those transactions up and we get very close to our $8.9 billion number.
It looks like Bittrex was indeed responsible for about 90% of that volume during the record setting hour.
It wasn't clear why exactly Bittrex was moving around those funds but it appeared that it may have been them moving their cold wallet funds around.
Bittrex responded stating no hacks had taken place.
Phew, we have seen more than enough of those already in the past few years.
Stay informed my friends.
-Doc