When Next Altcoin Season? 4 Important Factors Explained
Everybody who has some skin in the game or inherited a crypto bag from the recent bull run in cryptocurrency is waiting for 'Alt season' to kick off. When will this finally happen, or will it ever happen again? As a matter of fact, these are very legit questions to ask.
In my opinion, there are 4 main factors in the cryptocurrency markets which have big impact by kicking off next alt season.
Bitcoin dominance
New retailers entering the market
Bitcoin halving
Bitcoin making new ATH
Bitcoin dominance
First, there is the Bitcoin dominance. Bitcoin dominance can be described as a number which indicates the total market share of Bitcoin compared with total crypto market. In the past few months this number has been on the rise in a very linear way. As a result, the Bitcoin price in USD dollar has been on the rise but Bitcoin price in 'Alts'(ETH/BTC, LTC/BTC, XRP/BTC) has been in decline. At the moment the demand for Bitcoin is strong and this results in further rise of BTC price in USD.
Previous altcoin season kicked off with Bitcoin price in USD taking off steam. As a result, the Bitcoin dominance was in decline but the total market value of crypto isn't in decline or even better on the rise. This is a very strong indicator altcoin season is there.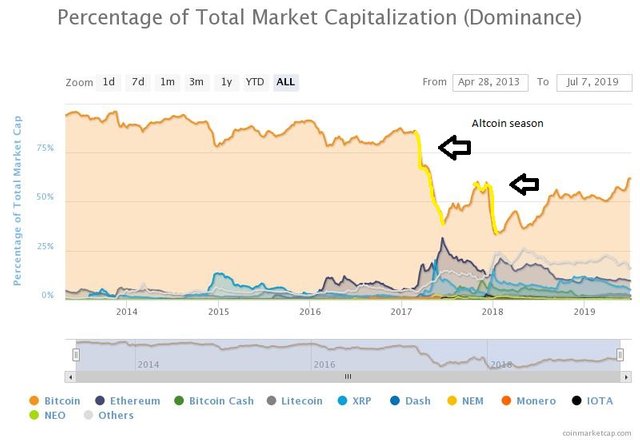 Retailers
Second indicator for Altcoin season is the amount of new retailers or crypto traders entering the crypto markets. At the moment the total market is in accumulation state and more and more traders are entering the crypto markets. This money is mostly flowing into Bitcoin right now.
At some point in the near future there will be a turning point where all this amount of new money will be spread into altcoins. In my opinion this will be next year when the Bitcoin halving event takes place.
Bitcoin Halving
What is this 'Bitcoin Halving' event? This Bitcoin Halving event is very important because it's part of the nature Bitcoin cryptocurrency is created. Currently, every 10 minutes a new block is mined on the Bitcoin blockchain network and as a reward for miners, 12.5 Bitcoins are newly created. Next year, when the halving takes place, only 6,25 Bitcoins will be available as a reward for miners. This 'halving event' will be the third time in the history of Bitcoin to happen where the first one took place in November 2012 and the second one took place in July 2016. So this halving has a large impact on the Bitcoin supply created on a daily basis. What has this Bitcoin Halving event to do with altcoin season? Well, last season happened after the previous famous Bitcoin halving event which took place in July 2016.
New ATH for Bitcoin
The last indicator which could lead to new altcoin season is when Bitcoin finally makes a new ATH. The last ATH Bitcoin made in USD was dated 16 December 2017 at about $19665. When the price of Bitcoin breaks through this technical heavy resistance, all options are open again. This will be a new market catalyst and FOMO kicks in. The total cryptocurrency market will benefit from this and as a result several altcoins will go' to-the-moon' again.