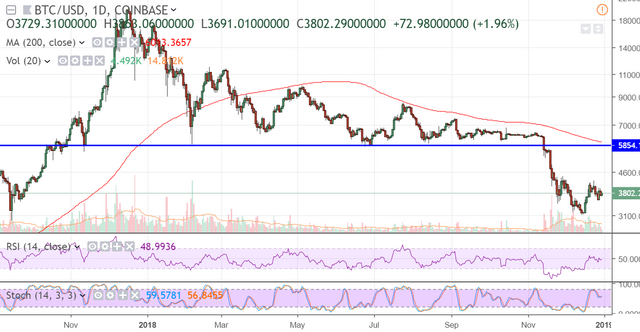 Bitcoin has been relatively out of the news for the last quarter of 2018 considering the year long bear market it has been in since January. Due to the US Market tanking and entering bear, cryptocurrency and bitcoin has been put to the side and somewhat forgot about for the most part in main stream media. This is a good thing by the way.


You can see in the chart that we are in a mega bear market and my only advice is that you take this tie to ACCUMULATE for the next run. This is a multi decade plan that has just started. Currently it appears that an intermediate term bottom has been made and we are going to rally back up into the 5000-5800 range where we are likely to stall the first, second, and third time. This is MASSIVE resistances that will likely need to be worked off through time here. This is a short term buy here IMO, but just accumulate and HODL.
I am a FIRM believer in cryptocurrency and you can already see the globe becoming more tokenized weekly. I believe cryptocurrency is able to reach millions and millions of people with minimized fees and all the good stuff. Blockchain technology is going to EVOLVE going forward and it will change in ways that we cannot even imagine now.
---
Published by Hey I'm Snuffles
on

with SteemPress
https://mentormarket.io/heyimsnuffles/lets-talk-some-bitcoin-btc-crypto-blockchain/
---