Bitcoin (BTC) Morning: Short Term & Long Term All Jive & Point to Higher Highs

SUMMARY
Note: Video has much more details than this summary is able to provide. If you only rely on this summary, much can be missed.
Note: Because ALL my comments are now being downvoted by the Trolls and Haters, a discord link will be provided so all followers can use it to carry on engaging discussions and put forth questions and requests for analysis. This will also eliminate the risk of commenters from random troll and hater downvotes as they will be barred from entering the discord private group discussion.
Bitcoin (BTC) overnight has likely completed the first five wave sequence up and has corrected in an abc (red) fashion. It has probably also initiated the second sequence of impulse waves as shown by the blue. The first five are labeled as subwaves to the higher degree of trend yellow 1 and 2 has also completed. The blue waves represent the subwaves to yellow wave 3. IF this is correct, we can target $9,700 or so area.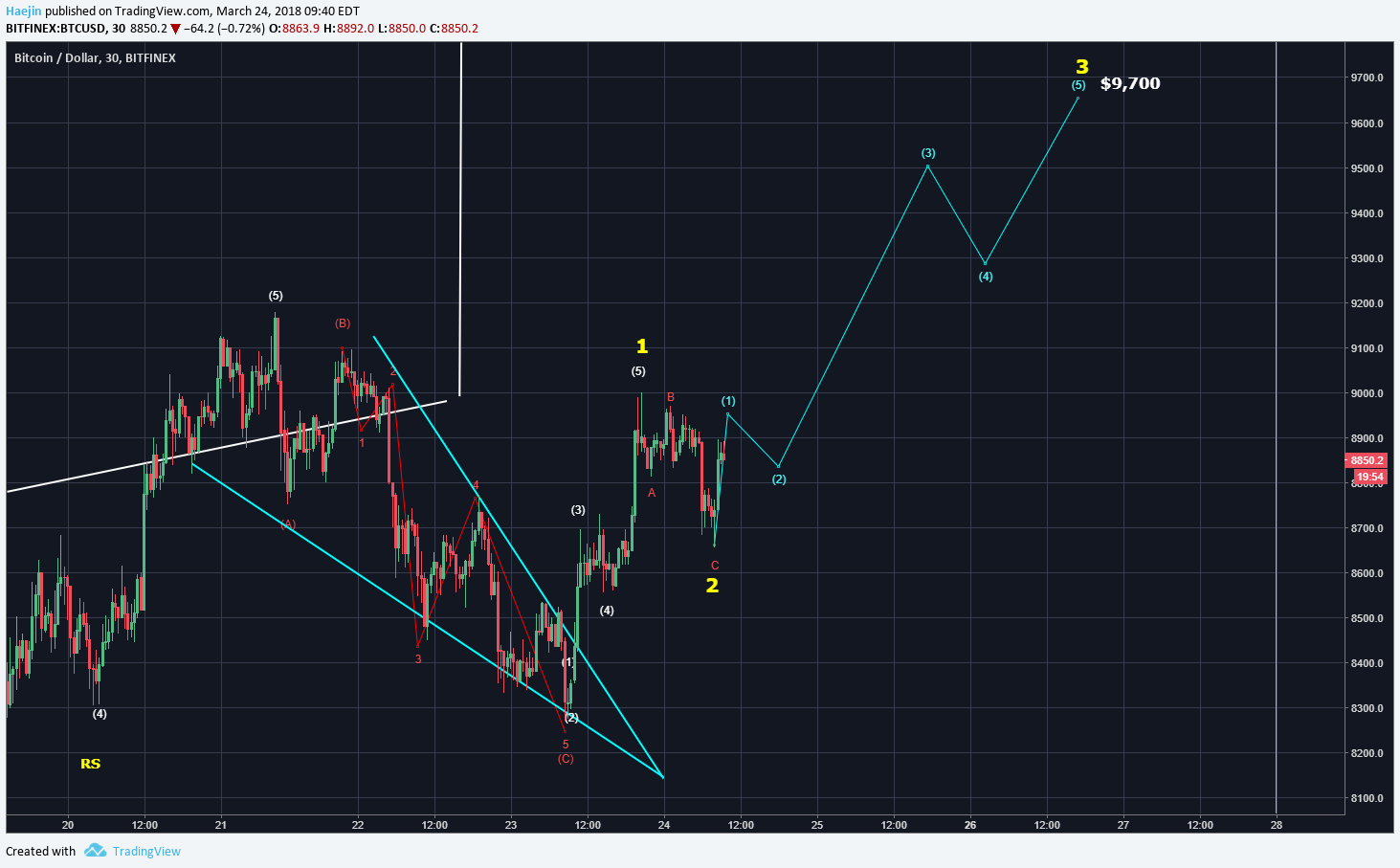 The bigger picture still stands where the white wave 2 has completed and given the MACD buy signal, the subwaves of white wave 3 coulds tart stacking in. IF white wave 3 has started, then we're in for some fireworks and vertical price movements upward. IF the buy signal remains valid, then the upcoming price actions of white wave 3 could be jaw dropping. The condition for this is that the blue waves MUST be placed as shown. Again, the video puts into much better context the shorter to longer term and how all Elliott Wave counts and patterns jive at all degrees of trend. It's important to conceptually understand this.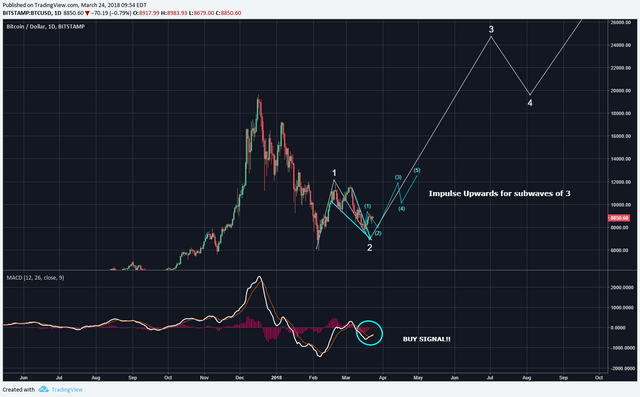 Legal Disclaimer: I am not a financial advisor nor is any content in this article presented as financial advice. The information provided in this blog post and any other posts that I make and any accompanying material is for informational purposes only. It should not be considered financial or investment advice of any kind. One should consult with a financial or investment professional to determine what may be best for your individual needs. Plain English: This is only my opinion, make of it what you wish. What does this mean? It means it's not advice nor recommendation to either buy or sell anything! It's only meant for use as informative or entertainment purposes.
Please consider reviewing these Tutorials on:
Elliott Wave Counting Tutorial #1
Elliott Wave Counting Tutorial #2
Elliott Wave Counting Tutorial #3
Laddering and Buy/Sell Setups.
Laddering Example with EOS
Tutorial on the use of Fibonacci & Elliott Waves
@haejin's Trading Nuggets
Essay: Is Technical Analysis a Quantum Event?
Follow me on Twitter for Real Time Alerts!!
Follow me on StockTwits for UpDates!!
--
--