According to CoinDesk analyst Omkar Godboul, a clearly negative correlation between gold and bitcoin can serve as a kind of indicator for traders.
So, on November 13, the price of gold began a strong upward movement from the level of $ 1,196. By January 4, possibly due to a weakening US dollar, the valuable metal had reached $ 1,300.
In the past two months, the dollar has slightly declined against other world currencies. This happened against the backdrop of expectations of a decline in the Federal Reserve interest rate.
Bitcoin, however, did not strengthen at all against the backdrop of a weakening dollar. On the contrary, the first cryptocurrency continued the bearish trend. On November 14, BTC completely collapsed the long-suffering level of $ 6000, which for a long time served as strong support.
It is noteworthy that on this background troy ounce began to grow steadily from $ 1200.
All this indicates a pronounced inverse correlation between the noble metal and "digital gold". According to Godboul, the current value of the 90-day correlation coefficient between these two assets is -0.593.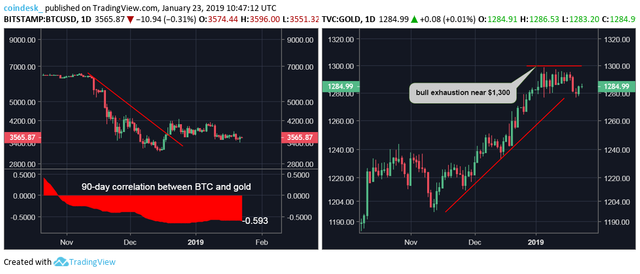 Bitcoin and gold plots, as well as a correlation indicator
As can be seen in the graphs above, from the end of November, bitcoin and gold move in opposite directions. Within seven weeks, until January 4, gold rose by 8.33%. During the same time, Bitcoin fell by about half.
After that, gold stabilized at $ 1,300, and Bitcoin - around $ 3,500. The analyst does not exclude that BTC may start a strong upward movement when the price of gold falls.
Earlier, the partner of the venture capital firm CryptoOracle Lou Kerner expressed the opinion that sooner or later Bitcoin will surpass and replace gold as an investment asset.